Walter Abram Freed
(1884-1952)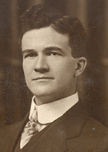 Walter Abram Freed was born on Oct. 22, 1884 in Vanderbilt, Fayette County, PA, the youngest of five children of Christian Stoner and Esther (Barnhouse) Freed.
On Valentine's Day 1906, said the Connellsville Weekly Courier, he "was among those who were at Dawson Monday evening and took in the Valentine ball given by the Rambler Club..."
Walter was married three times -- to Jennie Martin (1886-1913), Leona Colbert (1897-1938), and Harriet Glen Reddy ( ? -1952). In all, he had five children -- Christian Stoner Freed II (to his first wife) and Mildred Hrezo, Helen Prevette, James Freed and Eugene Freed (to his second wife).
His first wife, Jennie Martin, was the daughter of Mr. and Mrs. Charles Martin of Vanderbilt, Fayette County. She "resided at Vanderbilt for a number of years," said the Connellsville Weekly Courier, "and was widely known in that vicinity." Suffering from appendicitis, shortly after childbirth, she underwent surgery at the South Side Private Hospital, and tragically did not recover. She died at age 27 on Aug. 6, 1913, leaving behind her husband and son Christian.
Walter was a carpenter early in his career, and later became a lumber and building supplies contractor. When the federal census was taken in 1920, Walter, Leona and Christian resided together in Dunbar Township, near Connellsville, Fayette County.
His second wife, Leona (Colbert) Freed, was the daughter of I.J. and Ida (Shaffer) Colbert, and "was born in the Tri-Town community where she spent her entire life," said the Connellsville Daily Courier. "She had a pleasant disposition and was an active member of her church and the Faithful Friends Class."
The 1930 census shows the family remaining in Dunbar Township.
In August 1932, Leona and her sisters in law Bertha Means and Sara Freed accompanied Walter's elderly, widowed father to the Minerd Reunion in August 1932, held at Lake Forest Park near Scottdale, Westmoreland County. Writing in the Huntingdon (PA) Daily News, their cousin Laura Jane (Minerd) Williams reported: "Everyone seemed to enjoy the fine fellowship that existed among all the reunionists and the innumerable baskets that provided dinner and supper for the party were bottomless."
Sadly, Leona died in October 1938, at St. Francis Hospital in Pittsburgh, and was laid to rest at Dickerson Run Union Cemetery.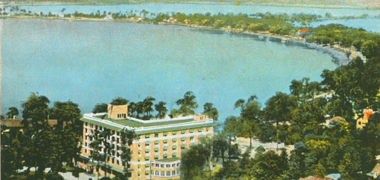 Winter Haven, Florida
Walter remarried again and moved to Winter Haven, FL, where he "was engaged in the builders' supplies business in which also shared two of his sons," said the Courier. "He had been engaged similarly in Connellsville and Vanderbilt, while living in those communities."
Walter's unmarried sister, Sarah Freed, also lived in Winter Haven at the time.
Tragedy struck in June 1952 when Walter and Harriet were killed in an automobile accident en route to a hospital in Winter Haven. They had been in Miami to attend the national Shriner convention, and were returning home when the accident occurred. "The automobile was practically demolished and the two occupants were badly crushed."
~ Son Christian Stoner Freed, II ~
Son Christian Stoner Freed II (1913-? ) was but a baby when his mother died. Circa 1930, when the federal census was taken, and he was age 17, he lived with his father and step-mother in Dunbar Township, Fayette County.
~ Daughter Helen (Freed) Prevette ~
Daughter Helen Freed ( ? - ? ) moved to Winter Haven with her father and step-mother.
On Dec. 16, 1950, she wed Ernest I. Prevette, son of Mr. and Mrs. K.D. Prevette of Stedman, NC. Rev. E.E. Miller led the ceremony at the First Christian Church of Winter Haven. Their first home together was at 532 H.S.E. Winter Haven.
Copyright © 2001-2002, 2008, 2011 Mark A. Miner