Belilla Gaumer

Possibly Jesse
Jesse Gaumer was born on July 2, 1827 in or near Adamsville, Salem Township, Muskingum County, OH, the son of Daniel and Hannah (Baughman) Gaumer. Three times married, he was wounded twice in action during the Civil War, and later was a pioneer settler of Illinois, Kansas and Missouri.
Jesse's first wife was Belilla "Betsy" Wagoner (1828- ? ), a native of Ohio, and the daughter of James Wagoner. Their wedding took place in 1848, at the New Hope Lutheran Church in Adamsville, Muskingum County, OH. At the time, he was age 21 and she 20.
They bore a dozen children, of whom seven were living at the time of the Civil War -- Elizabeth A. Gaumer, George A. Gaumer, Charles H. Gaumer, Sarah C. Gaumer, Mary A. Gaumer, Lydia E. Gaumer and Lovisa Evelyn Sneegas.
In 1856, Jesse and Belilla, along with his brother and sister in law Daniel and Amelia (Wisecarver) Gaumer, were charter members of the St. Paul Church of Cochocton County. This church was said to have been "virtually a child" of Jesse's home congregation, New Hope Evangelical Lutheran Church of Adamsville, as all of the charter members except one were raised and members of New Hope, and Rev. Samuel Kaemmerer was pastor of both. Belilla's kin, Harrison and Malinda Wagoner, and Elijah and Elizabeth Wagoner, also were inaugural members.
At the time of Jesse's enlistment, they lived at Newcomerstown, Tuscarawas County, OH, where they were farmers. Jesse stood six feet tall, with a light complexion, grey eyes and brown hair.
During the first year of the Civil War, on Oct. 14, 1861, Jesse joined the 80th Ohio Volunteer Infantry, and was assigned to Company B. He later was promoted to corporal. Jesse was "severely wounded" the first time in the shoulder during the Battle of Iuka in Mississippi on Sept. 19, 1862. In his words, he was hit by "a gunshot wound ... in the left shoulder blade, the bone being fractured, several pieces were taken out, this wound cause my shoulder & arm to perish away considerably." He spent the next few months convalescing in a military hospital in Chattanooga, TN, before returning to his regiment.

Rev. Kaemmerer, the Gaumers' pastor
At the Battle of Mission Ridge, TN, on Nov. 25, 1863, he was shot again in the left arm while making a charge. Even thought the ball passed through, it shattered more of his humerus bone. He was treated at the army hospital in Louisville, KY, where resection surgery was done, the bone being removed about four and one-half inches from the shoulder. A surgeon noted that the arm was attached to the shoulder only by the deltoid muscle.
He was furloughed between Feb. 9 and May 13, 1864, at which latter date he was honorably discharged, due to uselessness of his arm. He returned home, and immediately was awarded a monthly military pension of $8 for his debilitating injury.
While Jesse and Belilla made their wartime home at Bacon Run, Coshocton County, OH, they began making plans to move west. In 1866, they migrated as pioneers to Illinois, settling at Brush Creek, Wayne County. In 1884 or 1885, they relocated again to Salina, Saline County, KS.
While in Salina, Jesse joined the local post of the Grand Army of the Republic (GAR), a Union Army veterans' organization.
Dr. E.W. Boyles, writing in 1868 from Clay City, KS, said of Jesse: "This man can grip anything placed between his thumb and index finger. (The three remaining fingers are powerless.) But this advantage I considered overbalanced by the disadvantage of having a useless arm dangling at his side in his way, and discharging pus constantly causing debility of the whole system by the constant drain upon it."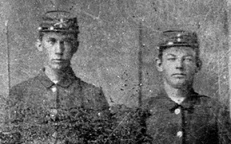 Civil War image -- is Jesse at right?
By 1885, the pension payments had increased in value to $24 per month, and by 1899 were $36 monthly. The wound never fully healed, and he was plagued with ulcers and "running matter" as part of the broken bone would protrude through the skin. In Jesse's words, the wound was equivalent to:
... the loss of an arm above the elbow. Wound of left upper arm fractured the bone, the shoulder joint is removed, and 3 1/2 inches of the upper end of the bone of the arm is removed, being a case of resection. My arm is perished away, nearly one half, and is entirely useless. The hands and fingers drawn out of shape by rheumatic pain, of which I am suffering constantly. My constitutional health is gone, my occupation is farming, but I cannot farm with one arm with a crippled hand on it. You can rest assured that a man in my condition can't make a living by labor.
Charles Shirar was one of Jesse's neighbors in Salina, living about a mile and a half apart. In an affidavit, in support of Jesse's pension matters, he wrote:
[I have] changed work and neighbored with him right along from time to time and ... well know that the only work he can do is such as he can attend to with his right hand, such as carrying water and such work as requires no particular strength. He can manage a team if it is very gentle. His wound in his left upper arm is a continual draft on his system, being constantly discharging matter.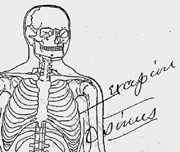 Surgeon's sketch of Jesse's wound
A surgeon's sketch of Jesse's wounds is seen here. Jesse's brother Daniel Gaumer Jr. testified on his behalf circa 1886, and is believed to have resided in Kansas at the time.
At some point, Jesse is believed to have left his wife and family, or perhaps she left him, although the truth may never be known. He filed for divorce in the Circuit Court of Jasper County, MO, with the case advertised for four consecutive weeks in the Jasper County Bee newspaper. The divorced was granted in Missouri on May 11, 1893.
Belilla's niece, Hannah O. Knicely, of Washington, DC, was an observer of the marriage, and wrote:
... [W]hen he enlisted in 1861-1865 ... the burden of supporting [their seven living children] fell entirely upon her. On his return from the war he had a running sore in his shoulder, the result of a gunshot wound and my aunt washed and dressed that wound, I do not know how many times a day nor for how long a period. Subsequently the family removed to Illinois and after that to Kansas and then Mr. Gaumer treated my aunt and her children very badly and finally left them altogether and the next she heard of him was that he had obtained a divorce from her from some alleged court in the State of Missouri, she not having had any notice that such suit was pending and the court did not order any alimony for her and now in her old age she would like to have the pension to which we think her properly entitled.
Five months after their divorce, Belilla lived in Salina, KS and received word that her ex-husband's nephew, Dr. Thomas Melancthon Gaumer, a prominent Ohio newspaper publisher, had died at the untimely age of 45. She wrote a letter of condolence to her brother and sister in law in Muskingum County which later was published as part of a memorial anthology. Her note read as follows:
Dear Friends: -- This week I received a Signal which brought the sad news of the death of your oldest son. I do truly sympathize with you, for it is hard to give up a dear child, but when it is God's will we must obey. The paper states that he was a faithful Christian. What a great comfort that is, to know that your loss is his gain. He cannot come to you any more but you can go to him, and according to age it will not be long until you and I too will be laid low. With love and sympathy to all.
Not longer after the divorce, Jesse married Ettie E. Saggart (? - 1895). Their marriage only lasted a short time, until Ettie's passing on Nov. 6, 1895. Friends Hattie V. Judd and Eli Buxton, who had known Ettie for about a year, both testified: "I was not present when she died by saw her soon after and recognized the corps as that of Ettie E. Gaumer..."
On Dec. 2, 1896, Jesse married his third wife, Faraba (Miller) Kelley (1857-1913), the daughter of Henry Miller and a native of Indiana. At the time of marriage, she was a resident of Brest, Jasper County, MO. The ceremony was performed at Webb City, near Carthage, Jasper County, by justice of the peace M.M. Hunter. Jesse was 30 years older than his bride.
Faraba was divorced from Henry S. Kelley (on Nov. 25, 1896, under the decree of the Circuit Court of Jasper County), and she brought three sons to the marriage with Jesse -- David Henry Kelley, William Clayton Kelley and Benjamin Franklin Kelley.
Jesse and Faraba received rental income from about "50 acres of very poor land" that they owned, she wrote. They lived together as man and wife "until she became an invalid," according to friends Thomas L. Cone and Thomas F. Titus. "He paid her board, and furnished her clothing to the time of his death."
Sadly, Jesse passed away in Brest on March 26, 1900, at the age of 73. Family friend G.S. Brooks was at his bedside at the time of death.
His old hometown newspaper, the Adamsville (OH) Register, published an obituary outlining the details of his life. (The obituary has been posted on the RootsWeb.com website.) At the time, only his brothers Charles (in Lawrence, KS) and George (in Pittsburgh, PA) were still living. He was named in J. Hope Sutor's 1905 book Past and Present of the City of Zanesville and Muskingum County, Ohio, which erroneously stated that he was still living and residing in Illinois.
The following year, the niece of Jesse's first wife, Belilla, wrote to the U.S. Pension Commissioner. She alleged that the divorce between Jesse and Belilla had been approved by "false and fraudulent divorce courts." She asked if anyone was receiving his pension payments, and asked that they be awarded to Belilla since she had been his spouse during the war, and at the time the wounds had been received.
Faraba made her home as a widow in Jasper County. She was still living in Alba, MO in 1910, when she was writing letters, continuing to try to obtain her late husband's pension. Circa 1913, she was residing at 515 North Allen in Webb City
Faraba suffered from cancer of the uterus as well as hardening of the arteries. She passed away of their effects in Jasper County on March 18, 1913, at the age of 56. She was laid to rest in the Carterville Cemetery.
~ Daughter Elizabeth A. Gaumer ~
Daughter Elizabeth A. Gaumer
~ Son George A. Gaumer ~
Son George A. Gaumer
~ Son Charles H. Gaumer ~
Son Charles H. Gaumer
~ Daughter Sarah C. Gaumer ~
Daughter Sarah C. Gaumer
~ Daughter Mary A. Gaumer ~
Daughter Mary A. Gaumer
~ Daughter Lydie E. Gaumer ~
Daughter Lydia E. Gaumer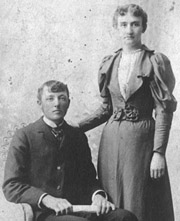 Lovisa and Frank Sneegas
~ Daughter Lovisa (Gaumer) Sneegas ~
Daughter Lovisa Gaumer (1857- ? ) was born in about 1857.
She married Frank Wilhelm Sneegas (1872- ? ), a native of Kansas. The ceremony took place on Jan. 5, 1895. There was a 15-year difference in their ages, with Lovisa as the older spouse. The couple is seen here, perhaps on their wedding day.
The Sneegases had at least one son, Walter Byron Sneegas (1900- ? ).
More about this family will be added here when learned.
~ More ~
In 1936, Lucie Burditt Gaumer, wife of C.S. Gaumer of Lawrence, KS, wrote to the U.S. Veterans Bureau in Washington, asking for Jesse's Civil War record. At the time, C.S. and Lucie were residing at 940 La. in Lawrence.
For more information, contact descendant Garold W. Sneegas. Be sure to visit his website, Aquatic Kansas Images, and read his informative professional biography.
Copyright © 2006, 2008, 2011, 2015, 2018, 2020 Mark A. Miner