Nettie (Hanshaw) Wright Shutt
(1871-1957)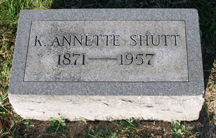 Bluemont Cemetery, Grafton
Katherine Annette "Nettie" (Hanshaw) Wright Shutt was born on Nov. 7, 1871 in Grafton, Taylor County, WV, the daughter of Charles Francis Wayne and Martha Jane (McClusky) Hanshaw.
In about 1895, when she was age 24, Nettie was united in wedlock with her first husband, 26-year-old Alfred Asher Wright (1869- ? ). The Wheeling Register reported that their marriage license had been filed and that Alfred was a native of Allegheny, in Pittsburgh, while "Kathleen" was from Grafton.
By the time that the federal census was taken in 1900, Nettie and Asher had relocated to New York, where they made their home on West 102nd Street in Manhattan, New York County. Alfred was employed in Manhattan as a bookkeeper. Boarding with the Wrights that year were Nettie's brother Harry Hanshaw and his wife Bertie and their son Lansdale. Residing next door were Nettie's brother Frank Hanshaw Sr. and his wife Mary Gertrude and young son George, who also had boarders who in fact were cousins Charles and Katherine (Purinton) Haller and their young son Carl.

Grafton Sentinel, 1957
The Wrights are believed to have divorced.
In 1908, at the death of her uncle Dr. Guy Hanshaw, Nettie was named as an heir, and was entitled to a 1/24 share of the estate, which included lucrative oil and gas wells. She received an immediate payout from the estate of $77.08 in 1909. At intervals over the years, she received royalty payments from the wells. The high point was in 1918, when she received $32.72. The last payment was made in 1946, which included an extra amount as the share of her late brother Harry, who had died two years earlier. Collectively over the years, she received about $376 in inheritance.
Nettie relocated to White Plains, Westchester County, NY circa 1924, perhaps to be near her mother and brothers, who also had moved there.
In 1927, when her brother Frank died in New York, Nettie was mentioned in the obituary in the Grafton Daily Sentinel.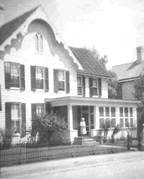 Nettie at her home in
Weston, Sept. 1951
According to research by family biographer John Woodruff, Nettie moved to Florida and worked on the "Mar-A-Lago" estate of Post Cereal heiress and socialite Marjorie Merriweather Post in Palm Beach. As the house was constructed circa 1924-1927, her work there would have been during that timeframe or later. Today the estate is owned by President Donald Trump and considered his "Winter White House."
On April 24, 1933, Nettie married her second husband, 49-year-old bachelor Harry B. Shutt (1884-1964), the son of John F. and Georgia Ann (Harrel) Shutt of Indiana. He was 13 years younger than his bride. Harry likely had met Nettie when he was a boarder in the New York hotel kept by Nettie's brother Frank. Federal census records for 1930 show that Harry worked for a steamship company in New York City and lived by himself on Convent Avenue. Harry later obtained a position with Southern Pacific Railroad, a position from which he retired.
After retirement, the Shutts relocated to to Weston, Lewis County, WV.
In Weston, Nettie and Harry resided at 121 East Third Street. Their two-story house is seen here circa September 1951, featuring gingerbread bric-a-brac decoration in the eaves. Nettie is the older woman standing on the front porch.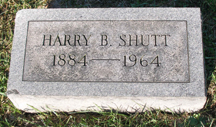 Bluemont Cemetery, Grafton
Sadly, on Nov. 24, 1957, at age 86, Nettie passed away at home. The cause was renal failure and hardening of the arteries. The Grafton Sentinel said she was survived by "several nieces and nephews."
When Harry died of heart disease on April 18, 1964, at the age of 79, no obituary appeared in the Grafton newspaper. He was buried with Nettie in the Hanshaw lot in the picturesque Bluemont Cemetery.
It once was hinted that Nettie might have been married to a man named Haller circa 1927, but in fact this was her cousin, Kathryn (Purinton) Haller, also a resident of New York.
Copyright © 2002-2003, 2009, 2012, 2017 Mark A. Miner