Harry M. Hanshaw
(1866-1944)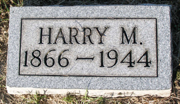 Bluemont Cemetery

Harry M. Hanshaw was born in 1866 in Grafton, Taylor County, WV, the son of Charles F.W. and Martha Jane (McClusky) Hanshaw.
As a boy growing up in Grafton, with a father who ran a prominent local mercantile business and was active in politics, Harry was involved with many community activities. In 1876, to celebrate the nation's centennial, Harry and his cousin James "Edgar" Hanshaw marched in a parade in Grafton among "100 young lads dressed in costumes made up of red caps, white blouses and blue pants and were led by their captain, David Lilly," said The History of Taylor County by Charles Brinkman. "These lads portrayed young America, and proudly stepped to the martial music of Marion Barker's band from Webster in the line of march."
In about 1894, when he was age 28, Harry was joined in wedlock with 18-year-old Marion A. "Bertie" Rogers (1876-1930). She was 10 years younger than he.
They together produced one son, Richard Lansdale "Dale" Hanshaw.
Like his brother Frank, Harry was an entrepreneur, and in the mid-1890s was in a partnership with Charles V. Gough "in the business of Restaurant and Confectionary and Baking." He also was a member of the Grafton Benevolent and Protective Order of Elks (BPOE) in Grafton.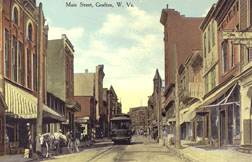 Grafton's Main Street

In 1895, the Hanshaw & Gough partnership sued the Fairmont & Grafton Gas Co. in a dispute over what likely was the pioneering installation of natural gas infrastructure in the town and for their place of business. In the complaint, they said that at great expense, they had made "all necessary arrangements ... to conduct the said gas into their place of business" from the town's piping system, starting in November 1894. However, in a dispute over payment, the company threatened to shut off their supply of gas.

Hanshaw & Gough's complaint said they used the gas "in manufacturing candies and other confectionaries and in baking bread as well as to heat their place of business and living apartments." The outcome of the case is not known, but apparently the business shut down shortly afterward.

According to research by biographer John Woodruff, the Hanshaws moved to Pittsburgh in about 1897, and then to New York City in about 1900, both times to join his brother Frank. The brothers were close and lived in the same residences in Pittsburgh and Manhattan.

In 1908, at the death of his uncle Dr. Guy Hanshaw, Harry was named as an heir, and was entitled to a 1/24 share of the estate, which included lucrative oil and gas wells. He received an immediate payout from the estate of $77.08 in 1909. At intervals over the years, he received royalty payments from the wells. The high point was in 1918, when he received $32.72. Collectively over the years, Harry received about $350 in inheritance.

The federal census of 1910 lists Harry, Marion and Lansdale making their home on Amsterdam Avenue in Manhattan, NY. Harry's work that year was as a traveling salesman for a grocery company, and Marion's as a sales lady in a suit company. Perhaps not coincidentally, two of Harry's first cousins also lived on Amsterdam Avenue in New York in the early 1900s -- sisters Helen (Purinton) Menear Liady White and Kathryn (Purinton) Haller Tower, also having migrated from West Virginia.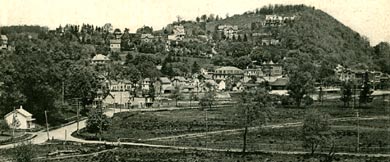 Picturesque Mt. Kisco, New York, early 1900s
Research of the New York City Directory of 1915 shows that Harry ran a billiards parlor. The 1915 New York State Census lists him as proprietor of a cigar store.
When the federal census was taken in 1920, Harry, Marion and Lansdale were enumerated in their residence on East Main Street Mt. Kisco, Westchester County. Harry was listed as unemployed, but 25-year-old Lansdale was marked as "Director" of "Motion Pictures." Residing next door was Harry's brother Frank W. Hanshaw Sr., age 45, listed as a "keeper" of a "boarding house."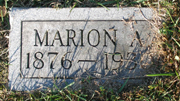 Bluemont Cemetery, Grafton

By 1927, Harry was working as a salesman.

Bertie died in 1930, of causes unknown. She was buried at Bluemont Cemetery in Grafton.

Harry outlived her by 14 years. During that period, he would have watched the ebb and flow of the success of his son in the film industry, and then endured the heartache when the son and his actress wife jointly committed suicide in 1938.

Obituary, 1944

He passed away at age 75 on May 20, 1944. His remains were returned from New York to Grafton, where the funeral was held in the Bartlett Funeral Home, conducted by Elks Club members. His obituary was published on the pages of the Grafton Sentinel.

When the final payout was made from the Guy Hanshaw estate in 1946, two years after Harry's death, it was paid to Harry's sister, Nettie Shutt. The amount was $13.33.

Harry and Bertie are buried in the Hanshaw lot, near his father and sister Nettie, at the beautiful Bluemont Cemetery in the heights above Grafton.



~ Son Richard Lansdale "Dale" Hanshaw ~

Son Lansdale "Dale" Hanshaw (1896-1938) was born on Jan. 5, 1896 in Grafton, WV. In boyhood he relocated with his parents to Manhattan, NY. As an adult, he was tall and of medium build, with grey eyes and black hair.

The 1915 New York State Census shows the unmarried 20-year-old living with his parents in New York City and employed as a "photographer."

He returned to the Grafton area in the late spring of 1918 to help produce a comedy as a member of the Goldwyn Players. He avoided near death on June 11, 1918 when riding in a car with Charles Colburn and (?) Russell. Said the Pittsburgh Post-Gazette, "The party was returning from Valley Falls, 12 miles west of [Grafton], and, in endeavoring to evade a washout in the road, the last machine skidded and went over the embankment." The vehicle plunged down 45 feet, with Colburn seriously hurt.

When required to register for the military draft during World War I, he made his residence at 539 West 155th Street, New York City, and his occupation was listed as "Moving Picture Director" for "Famous Players," located at 465 Fifth Avenue.

The 1920 United States Census lists him as continuing to dwell with his parents, who had relocated to East Main Street Mt. Kisco, Westchester County. That year, the 25-year-old Lansdale was marked as "Director" of "Motion Pictures."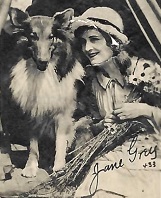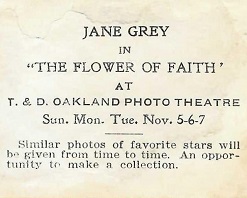 Actress Jane Grey in a promotion for Dale's film Flower of Faith, 1916
Dale became an assistant director on at least three silent films. The first was Flower of Faith, directed by Burton L. King, starring Jane Grey and Frank Mills, released Oct. 2, 1916, produced by Superb Pictures Corporation and distributed by International Film Service Inc. Another was Spell of the Yukon, also directed by King, starring Edmund Breese and Arthur Hoops, released May 15, 1916, produced by Popular Plans and Players Inc., distributed by Metro Pictures Corporation. Spell was filmed in the Sleepy Hollow area near New York City, in snowy weather, replicating Alaska scenery. The third was The Grain of Dust, released in February 1918, directed by Harry Revier, starring Lillian Walker and Ramsey Wallace, produced by Ogden Pictures Corporation and distributed by Crest Pictures Corporation.
The Dec. 10, 1921 edition of the industry publication Exhibitors Trade Review reported that he was incoming secretary of the board of directors of National Exchanges, Inc., saying he:
...has had a long career as an executive in the producing end of the motion picture industry. Mr. Hanshaw has been associated with Metro, Fox, World Film, Universal, Goldwyn and Vitagraph. He himself was the moving spirit in the Healthograms series of one-reelers and in the Physical Culture Production series. More recently he has been Western production representative for National Exchanges Inc.
Dale's first bride is believed to have been Jane Loring (June 6, 1890-1983). Their marriage lasted from circa 1919 to about 1922. She went on to a career as a film editor and producer through the 1940s.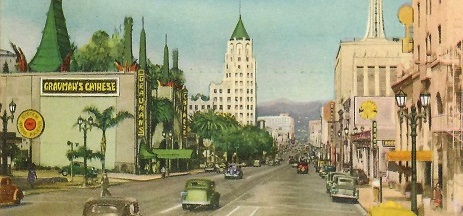 Hollywood Boulevard, with famed Grauman's Chinese Theatre at left
His second spouse was actress Lucile Dorrington ( ? - ? ). On Dec. 6, 1923, in Los Angeles, she filed for divorce. The Los Angeles Evening Express reported that the two had traveled for a year as she performed in a vaudeville troup, but"refused to live with her afterwards... Instead of remaining in partnerships with his wife, Hanshaw joined a motion picture concern, she testified."
Circa 1923-1927, he in fact was president of a filmmaking business, Sierra Pictures, in partnership with Horace B. Carpenter and Oscar Anderson. Their offices were located at 316 Taft Building in Hollywood. During that time, he is known to have worked as associated producer on The Last Chance, released July 15, 1926, directed by Carpenter and produced by George R. Batcheller.
After borrowing about $500 from actress Clara Whipple in 1923, he was only able to pay back $50 plus a radio which she sold. She sued in October 1925 to collect the debt. The outcome of the matter is not known.
Dale in May 1927 acquired for Sierra the rights to The Fighting Prince, a story penned by Frances Faith Lorn, and in June 1927 The Wild Ace written by L.V. Jefferson, to be directed by Carpenter. Other rights purchases around that time were Richard Philip Israel's The Girl Who Didn't Dare (July 1927) and John R. Ramsey's Something for Nothing (Aug. 1927). For the Something film, reported the Los Angeles Evening Citizen News, "Richard Philip Israel and Roy Berrick are working on the adaptation and comedy construction. The film will star T. Roy Barnes and will be directed by H.B. Carpenter." Then in October 1929, he named Les Goodwin to adapt the story There He Goes into a comedy to feature Earle Douglas.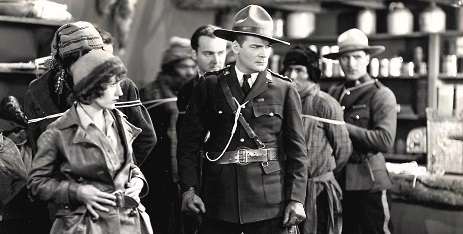 Dale's 3rd wife, Ethlyne Clair, with Walter Miller in Queen of the Northwoods
On June 8, 1928, during a trip to Tijuana, Mexico, Dale wed red-haired movie actress Ethlyne Williamson ( ? -1996), daughter of Lou [Louise?] Williamson. She was a native of Talladega, AL who used the stage name "Ethlyne Clair." Dale purportedly induced her into marriage at the point of a gun.
Ethlyne had risen to fame in the late 1920s in Hollywood with roles in the comedy The Newlyweds and Their Baby. Her reputation grew further when appearing in the serial pictures The Vanishing Rider (1928) and Queen of the Northwoods (1929). She was named in 1929 as one of 13 "Baby Stars" by the Western Association of Motion Picture Advertisers (WAMPAS) -- two of the others were Loretta Young and Helen Twelvetrees. She once told a newspaper that she "wanted to do big things and become a big star, not ride horses through the desert. I thought I was above all that. I just wanted to be a beautiful vamp." In the months leading up to their marriage, Ethlyne briefly had been engaged to two other men, film co-star Tom Tyler and advertising man Danny Danker.
The Hanshaw marriage ended within two-and-a-half months, with the couple separating on Aug. 25. The New York Daily News quipped that the union may not have "run smoothly after the Tijuana haze has worn off." Ethlyne then filed for divorce in Los Angeles in mid-September. She claimed he had made "promises of stardom" which were "never kept" and that he " 'nagged, pestered and badgered her' until her life wasn't worth living." She testified in court that "he was cruel, irrational and insanely jealous" and "would not allow her to dance with another man." Mrs. W.K. Nourse served as the key witness at trial. When the divorce decree was made on Feb. 14, 1929, she received from friends the gift of a heart symbolizing a "reverse valentine."
At the time of the divorce, Dale continued his entrepreneurial ways by teaming with Richard C. Kahn to form Beverly Productions. The company was to produce talking movies "for the marketing through independent exchanges throughout the world, of six, six-reel features and twelve two-reelers," said the Times.
He went on to marry movie actress Christina Agnes "Miriam" Will (March 26, 1892-1938), who used the stage name "Miriam de Will." It was her fourth marriage. Her previous spouses were James William Herd (1889-1964) in 1910 -- Jack Clifford "Rube" Cooley (1888-1974) in July 1915 -- and Milton Isadore Latourell (1903-1961) in 1933. All three of the earlier marriages had ended in divorce.
The couple settled in North Hollywood. Sadly, both Richard and Miriam gave up on life in early 1938. On April 4 of that year, they and their fox terrier dog sat together in the back seat of their sealed automobile in their driveway, and turned on the engine. The carbon monoxide fumes worked as intended, and all died. News articles reported that a suicide note was sent to to their friend Albert D. Kidder Jr., saying "We are both too tired, discouraged and ill to carry on. Today the last vestige of hope was dispelled. We have nothing to go on with, nothing in sight. So tonight, we are going to sleep together, never to awaken." Other news stories appearing across the country said that their "struggle... against Hollywood's rip tide was over... Kidder told officers the Hanshaws had met several financial reverses in the past several months and at the time of their suicide were facing dispossession [[sic] of their home."
Former wife Ethlyne continued to act for films. Said the Los Angeles Times, "Although her career spanned less than a decade, [she] enjoyed a colorful life both on- and off-screen during Hollywood's adolescence. She achieved her greatest popularity in Westerns opposite cowboy stars of the day. She made three films with Hoot Gibson, whom she rated decades later as her favorite actor, and two with Tom Tyler, to whom she was briefly engaged." The final film of her career was the 1931 God's Gift to Women, directed by Darryl Zanuck. When she rejected Zanuck's sexual advances, he retaliated by sabotaging her movie career. She married again twice -- in 1930 to movie makeup artist Ernest "Ern" Westmore, with whom she had a daughter Muriel, with the couple divorcing in 1937. Her third and final spouse was automobile dealer Merle Arthur Frost Jr. ( ? -1968). She passed away at the age of 91 in Tarzana Hospital in Los Angeles on Feb. 27, 1996. Interment of the remains was in Forest Lawn Hollywood Hills Cemetery.


Copyright © 2002-2004, 2008, 2022 Mark A. Miner