Katharyn (Purinton)
Haller Tower
(1873-1939)
Katharyn "Kate" (Purinton) Haller Tower was born in 1873 in or near Independence, Preston County, WV, the daughter of Thomas and Matilda "Tillie" (Hanshaw) Purinton.
As a young girl, Kate and her sisters were introduced to their father's cousin, Dr. Daniel Boardman Purinton, who went on to a prominent career as president of Denison University and later West Virginia University. As an old man, many years later, he wrote to Kate's sister, saying: "I should like to know more about yourself and family, and your sisters as well. I remember you as nice, bright, promising children, and would much enjoy renewing our acquaintance."
Circa September 1890, she resided in Courtland, NY, but traveled home to Kingwood to spend a visit with her young, widowed sister Helen Menear. The vacation was noted in an edition of the Preston County Journal.
Kate's first husband was Charles William Haller (1873- ? ). They were married in 1894, when both bride and groom were age 21. They had at least one son, Karl W. Haller, who was born in 1894 in Wheeling, Ohio County, WV.
When the federal census was taken in 1900, Charles and Kate and young son Carl were counted as living at West 102nd Street in Manhattan, New York County, NY. They boarded with cousin Frank Hanshaw Sr. and his wife Mary Gertrude and young son George. Living next door were Kate's cousin Asher and Nettie (Hanshaw) Wright and their tenants Harry Hanshaw and his wife Bertie and their son Lansdale.
Circa 1902 and 1908, the Hallers resided in New York City. Kate's sister and brother in law, Helen and Michael H. Liady, also lived in New York in that era. One of their addresses is believed to have been 1253 Amsterdam Avenue.
In 1908, at the death of her uncle Dr. Guy Hanshaw, Kate was entitled to a 1/32 share of the estate, which included lucrative oil and gas wells. She received an immediate payout from the estate of $57.81 in 1909. At intervals over the years, through 1942, she received royalty payments from the wells. The high point was in 1918, when she received $24.54. In total, Kate received $267.18 in inheritance.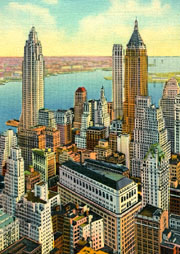 The federal census of 1910 shows the Hallers living on West 124th Street in Manhattan. Charles was employed with an advertising agency.
Kate's second husband was John Bawden Tower (1882-1952), whom she married sometime before 1918. She was nine years older than her husband. John apparently brought no children to the marriage, and they had none together.
Their entries have not yet been found on the U.S. censuses for 1920 and 1930.
By law, John registered for the military draft when our nation entered World War I, in 1918. On the card, he listed his employment as manager of export tire sales for U.S. Rubber Export Co., Ltd., located at 1790 Broadway. He had brown eyes and dark brown hair, as marked n the card.
In September 1927, at the age of 54, Kate traveled back to her home state to attend the funeral of her sister Helen Menear Liady White. Kate was mentioned in both of her sister's obituaries in the Webster (WV) Echo newspaper. At the time, she was residing in Pleasantville, Westchester County, NY.
Kate died in at the age of 66 on April 26, 1939. In a brief death notice published in the New York Times, she was said to be the "beloved wife of John B. Tower, mother of Karl W. Haller, grandmother of June and Betty Tower. Service at her late residence, 7 Withington road, Scarsdale, N.Y., Friday, April 28, at 1:30 P.M." She was laid to rest in a crypt at the Ferncliff Cemetery in Scarsdale, Westchester County. In 1942, son Karl received the final royalty payment as her "sole heir."
John outlived Kate by 13 years. He died "suddenly" on May 5, 1952, said the New York Times, at the age of 70. In a brief death notice, the Times added that he was the "brother of W. Warren, uncle of Eugene C and David B. Tower, granduncle of June A. Gardner and Ruth E. Bousman." His remains were placed beside his wife's at the Ferncliff Cemetery mausoleum.
~ Son Karl W. Haller ~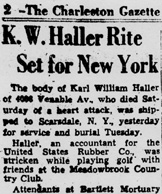 Son Karl William Haller (1894-1950) was born in 1894.
He was united in matrimony with Ruth E. (?) (1897- ? ). He served in World War I, and when he registered for the military draft, he was single and worked as an office clerk in New York City. After marriage, they lived on Haven Avenue in New York City in 1920, as shown on the U.S. census.
They had two daughters -- Mrs. Marshall Gardner of Silver Springs, MD and Mrs. William Bausman of Danville, VA.
Karl apparently later married Frances (?). He returned to West Virginia, and resided at 4068 Venable Avenue in Charleston, Kanawha County. There, he was employed as a general accountant for U.S. Rubber Company. He maintained his membership in the St. James Episcopal Church of Wheeling.
Karl suffered from many blood clots which ultimately led to his death. Tragically, while golfing one October day in 1950 (Oct. 21), at the age of 56, he suffered a massive heart attack on the ninth green at Meadowbrook Country Club in Charleston,. He was dead before medical help could arrive. In an obituary, The Charleston Gazette noted that he "was a Mason and Shriner and member of the Scottish Rites Bodies. He was affiliated with the Wilson Lodge No. 30, A.F. and A.M., Wheeling, West Virginia Consistory and Scottish Rite, Osiris Shrine, elks Lodge No. 28, all of Wheeling, and American Legion Post No. 52 at Scarsdale..." His remains were shipped back to Scarsdale for a final funeral service and burial in the Ferncliff Cemetery Mausoleum. Today he reposes there alone.
Copyright © 2004, 2006, 2008 Mark A. Miner