Frank Wayne Hanshaw Sr.
(1873-1927)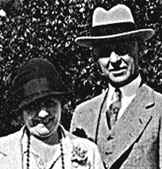 Frank and Mary Hanshaw
Frank Wayne Hanshaw Sr. was born on June 2, 1873 in Grafton, Taylor County, WV, the son of Charles F.W. and Martha Jane (McClaskey) Hanshaw.
Frank's father was proprietor of the well-known "Hanshaw & Bro." store on the Main Street of Grafton, and the son may have been groomed from childhood to someday succeed him.
Sadly, however, when Frank was 15, his father died, leaving the teenager's future in Grafton in grave doubt. Within a few years, Frank relocated to Pittsburgh, Allegheny County, PA, where he worked as a salesman and resided at 612 Smithfield Street.
In October 1896, when Frank was age 23, he was united in matrimony with 20-year-old Mary Gertrude McCoy (1876-1959) at the stately old Trinity Cathedral (Episcopal) in Pittsburgh, by the hand of Rev. W.L.H. Benton.
Mary was the daughter of John and Mary Elizabeth (Gregory) McCoy, and grew up in the industrial Braddock section of Pittsburgh, where her father had labored in the Edgar Thomson plant of the mighty Carnegie Steel Co., later to become part of United States Steel Corporation. Mary's father had emigrated from Ireland in 1870, and had two other children besides Mary -- Peter McCoy and Frank McCoy.
The Hanshaws went on to have three children -- George Hanshaw Sr., Catherine "Annette" (Hanshaw) Rose Kurtin and Frank Wayne Hanshaw Jr. They followed the religious faith of Mary's heritage of Roman Catholicism.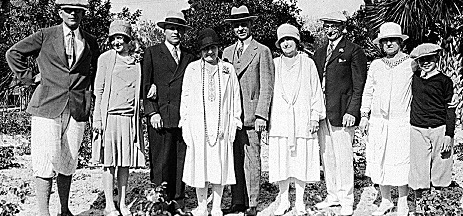 The Hanshaws in Florida in the 1920s, L-R: Unknown man, either Kathryn R. Hanshaw or Annette Hanshaw, George L. Hanshaw, Mary, Frank, (?), (?), (?) and Frank W. Hanshaw Jr.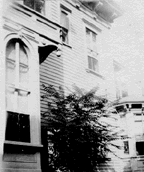 Back of the Hanshaw
residence in Scarsdale, NY
Frank have juggled business interests in Pittsburgh, Grafton and Manhattan, NY. The federal census of 1900 shows Frank and Mary and young son George making their home on West 102nd Street in Manhattan, New York County, NY, where Frank was employed as a "salesman - grocer." Boarding with them that year were cousins Charles and Katherine (Purinton) Haller and their young son Carl, and 11-year-old sister in law Nellie McCoy. Living next door were Frank's sister and brother in law, Nettie and Asher Wright, and Nettie's brother Harry Hanshaw and his wife Bertie and their son Lansdale.
According to the Grafton (WV) Daily Sentinel, in about 1902 he left Grafton altogether "to take up residence in New York ... [where he] was engaged in the hotel business."
How Frank decided to make this move, or what friends he had there who could help him, are not known. In this new phase of his life, he focused on running hotel properties in Mt. Kisco near White Plains, Westchester County, NY; the Hotel Dunedin in Pinellas County, FL; and New Port Richey, Pasco County, FL.
Their children were born in different locations -- George Lee Hanshaw Sr. in Pittsburgh (1897), Annette Rose Kurtin in Manhattan (1901) and Frank W. Hanshaw Jr. in Golden's Bridge near White Plains (1915).
At some point, Frank's mother moved from Grafton to join the family in New York.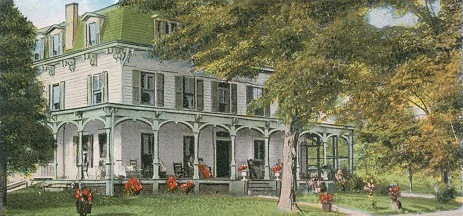 Hanshaw Hotel in Mt. Kisco, New York

Grafton Daily Sentinel
In 1908, at the death of his uncle Dr. Guy Hanshaw, Frank was named as an heir, and was entitled to a 1/24 share of the estate, which included lucrative oil and gas wells. He received an immediate payout from the estate of $77.08 in 1909. At intervals over the years, he received royalty payments from the wells. The high point was in 1918, when he received $32.72. After his death, Mary then became the beneficiary. The last payment was made in 1946. Collectively over the years, Frank and his widow and children received about $363 in inheritance.
The census of 1910 marks the family making its home on 47th Street in Brooklyn, Kings County, NY. Frank, age 37, was a salesman of "sign wood." Their household also was home to Frank's mother Martha (age 65), sister in law Nellie K. McCoy, and boarders M.V. and Frances Van Vern and their children Henry and Florence.
Among many millions of American men, Frank was required to complete a military draft registration during World War I, in 1917. On his card, he listed his residence as R.F.D. No. 2, Brewster, Putnam County, NY, and his occupation as "Farming and Summer [illegible]." At that time, his physical description was given as medium height and build, with grey eyes and brown hair.
When the federal census was taken in 1920, the family was enumerated in their residence on East Main Street Mt. Kisco, Westchester County. Frank, age 45, was listed as a "keeper" of a "boarding house," while the employment of son George, age 22, was given as "clerk" at a "brokers." Also in the household were Finnish emigrant Anna Grendler, who worked as a cook, and Joseph Marmichals, a servant. Harry Shutt (age 35) and Frank Floyd (40) were named as boarders. (Shutt later would marry Frank's divorced sister, Nettie [Hanshaw] Wright.) Living next door was Frank's brother Harry Hanshaw, who was listed as unemployed, but whose 25-year-old son Lansdale was marked as "Director" of "Motion Pictures."
Tragically, like his father, Frank died young, at age 54, on Sept. 10, 1927. Though he had been away from Grafton for almost 40 years, the news of his death was telegraphed there. His obituary appeared with a large headline on the pages of the Grafton Daily Sentinel, which said that he was "known to many of the older citizens of the community ... [including] many more distant relatives [who] reside in this city and county."

New York Times, 1959
Frank is buried in the Hanshaw family plot at Mt. Calvary Cemetery near White Plains.
Mary lived for another 32 years. She ran a rooming house on Post Road in Scarsdale, apparently known as the Briar View Manor Apartments.
She passed away on the Fourth of July, 1959, at the Mayflower Nursing Home in New York City. Following requiem mass at the Church of Our Saviour on Park Avenue, she was laid to rest beside her husband. Her obituary was published in the New York Times and the White Plains Reporter Dispatch, as well as in The Billboard, which stated that her husband had been "for many years a prominent hotel operator in the East and in Florida."
Copyright © 2002-2010, 2021 Mark A. Miner