Albert W. Inks
(1871-1962)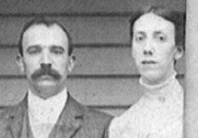 Albert W. Inks was born on Jan. (or June) 8, 1871 near Farmington, Fayette County, PA, the son of Andrew J. and Minerva (Minerd) Inks.
He and his in-laws are prominently mentioned in a history book entitled Fairchance Through The Years. According to the history, Albert worked as a miller in a prominent flour mill that was said to be the "second oldest building in Fairchance."
Little is known of his early years. In 1903, Albert sold a town lot in Fairchance to his mother. At some point, he married Etta M. Frederick (1873-1959), the daughter of August and Ruth Frederick. She was a native of Menallen near Uniontown, Fayette County.
They had no children of their own, but adopted an orphaned cousin as their daughter.
The adoption was a result of the untimely deaths of Albert's cousin Elmer Maurice Whetzel, who in turn was married to another first cousin, Hazel (Whetzel) Whetzel. Elmer died of a heart attack in July 1913, and Hazel passed away five months later, in January 1914. The Whetzels left behind five children, ranging in age from eight years to infancy. The children were split up and while some were raised by friends and family, others were committed to the Children's Aid Society of Fayette County. Albert and Etta immediately took one of the girls, Edith Sevilla Whetzel, into their home. They legally adopted Edith on March 20, 1914, and raised her under their "Inks" name.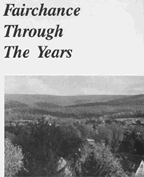 Albert and Etta lived in Point Marion, Fayette County, PA circa 1918. By 1920, they had moved to the home of Etta's parents on Railroad Street in Fairchance, Fayette County.
According to the 1989 book, Fairchance Through The Years:
In addition to the major businesses and industries..., the borough of Fairchance relied on the services and products of a number of smaller industries and businesses. One of these businesses was a flour mill which eventually became the Banner Feed Mill and operated until 1979.
...It is known that the A.M. Frederick Jr. family, along with Albert Inks, owned and operated the flour mill before the Rallys bought it [in December 1933]. Both the Frederick and Inks families lived on property directly behind the feed mill. The Frederick's property consisted of several houses and small buildings. One of these, a green house, was owned at one time by John White, of East Church Street.
The properties were eventually sold to the Albani family with the exception of the Frederick's largest home. It was sold to Mr. and Mrs. Reed. Reed, a local undertaker, was affiliated with the Sharps and later, the J.W. Goldsboro Funeral Home. After selling their properties, the Frederick and Inks families moved from this area.

The book goes on to say that the Baltimore & Ohio Railroad "served several businesses" in Fairchance, including the Frederick mill, by building sidings that were "used extensively over the years." The mill is seen here in a page from the book.
While in Fairchance in 1938, Etta was a founding member of the Fort Gaddis Unit of the Daughters of the American Revolution. The history says that she was elected "regent for the newly formed chapter" which held its inaugural meeting on Jan. 24, 1938, at the home of Mrs. William S. McIntyre, North Morgantown Street. At the meeting, Etta had the privilege of introducing Mrs. Joseph M. Caley of Philadelphia, who was the DAR's State Regent of Pennsylvania.
In addition, the Inkses were members of the Presbyterian church in Fairchance, where Albert served as an elder, and "represented his church at a General Assembly session," said the Gettysburg Times.
Sometime after 1941, Albert and Etta migrated to Tarentum, Allegheny County, PA. Then by 1945, they moved again, to New Cumberland, Cumberland County, PA. Why they made these moves is unknown, but may have been for employment or business reasons.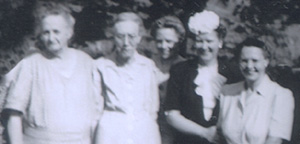 L-R: Harriet Frederick, Etta Inks, Mary Bryan, unknown and Edith Toward - at the Mill House, Arendtsville, PA in 1945
In 1949, Albert and Etta were in Grantham, Cumberland County, at the time of death of Albert's brother Calvin. In 1953, they relocated for good to Arendtsville, near Gettysburg, Adams County, PA. They resided at the Robins Home on Buford Avenue, and were members of the local Presbyterian church.
Etta died at age 84 at the Warner Hospital, Arendtsville on Jan. 15, 1959. Pallbearers at her funeral were John Frederick, Walter Frederick, John Walter, J.E. Wells, Dr. Herbert Bryan, Oren Wilson and Norman Toward. She was buried at Fairview Cemetery, Arendtsville.
Albert passed away on Feb. 18, 1962, and is buried with Etta. At the time of his death, he was residing at the Green Acres nursing home facility in Gettysburg.
~ Daughter Edith (Inks) Toward ~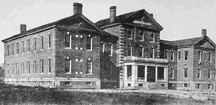 Daughter Edith Inks ( ? -1951) is known to have been a registered nurse at the Uniontown Hospital circa 1932. (The hospital is seen here in a rare old postcard view.) She later married Norman Toward.
She died at age 42 in 1951. They are buried near her adoptive parents in the Fairview Cemetery.
Their daughter Etta Beth Toward lived in Mechanicsburg and Pittsburgh, PA.
We are grateful that nephew Bert Frederick shared information for this page.
Copyright © 2001-2005, 2007-2008, 2020 Mark A. Miner