Sarah (McKnight) Newell
(1899-1990)

Emmett Newell
Sarah Barbara (McKnight) Newell was born on June 1, 1899 near Dawson, Fayette County, PA, the daughter of Charles and Keziah (Stimmell) McKnight. She was named in part for a grandmother she never knew, Barbara (Minerd) McKnight.
In about 1919, when both were age 20, Sarah married Emmet Carlton Newell (Jan. 2, 1899-1963), the son of George and Lydia (Dillinger) Newell.
They bore a family of four children -- Robert Carlton Newell, Lydia Ruth French, Dorothy Mae Harkins and Clara Barbara Peden.
A year after the Newells were married, they lived at Florence Mines near Dawson, with Emmet working as a brakeman on the "electric railroad," as shown in the 1920 census. Among their neighbors that year were Sarah's uncle Osman Theodore McKnight, widowed cousin Mary Hester (McKnight) Strauch, and Oliver F.M. Nicolay, a family friend who formerly had resided near Mill Run, Fayette County, and attended the 1920 Minerd Reunion.
Emmet also made a living in the field of farming, and was a member of the Dawson Grange. They belonged to the Bryan Methodist Church in Dawson.
When the United States Census was enumerated in 1930, Emmet and Sarah and their four children made their home with his parents near Dawson in Lower Tyrone Township. That year, his occupation was given as "farmer."

Dawson Fairgrounds, from an old postcard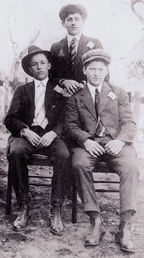 Emmet, Leroy and Jay
Emmet seems to have been close with his in-laws, especially with wife's brothers Clarence "Jay" McKnight and Daniel "Leroy" McKnight. They once had their photograph taken together, seen here. (Emmet sits at left, beside Leroy, with Jay standing behind.)
The Dawson Grange was one of Emmet's interests. When the Connellsville Kiwanis formed a Strawberry Club in 1938 to help young people belong to local Granges learn more about raising berries with plants and fertilizer, he and other Grange leaders helped to mentor the youth and to serve as judges of their berry specimens.
The federal census of 1940 shows the family having remained in Dawson. That year, as the nation was emerging from the grip of the Great Depression, Emmet was employed in road maintenance for the Pennsylvania Department of Highways. Residing just two houses away was the family of Sarah's brother Charles "Edward" McKnight, his wife Clara and their family.
Emmet volunteered as secretary/treasurer in 1946 for a Connellsville Curb Market, a joint effort between City Council, the Kiwanis Club and the Chamber of Commerce. It was held along West Crawford Avenue, behind the war memorial. Then when a farm tour was organized in June 1949 for bankers, public officials and businesspeople, the guests visited Emmet's farm among a dozen in total. At his location, the visitors saw "a pasture of ladino clover-orchard grass," said the Daily Courier, "which had been carrying 15 cows on three acres of ground."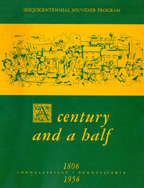 Book naming Emmet
In mid-August 1956, when Connellsville, Fayette County celebrated its sesquicentennial (150th) anniversary, Emmett served on the Agricultural Day Committee along with distant cousins Graydon Work and Lawrence Leonard. Emmett was named in the official program booklet, today preserved in the Minerd- Minard- Miner- Minor Archives. A number of other cousins were active volunteers with the celebration, including former Connellsville Mayors Dr. Harold "Daniel" Minerd and Ira David Younkin who were members of the Executive Committee.
Emmet helped found a trust fund in 1961 for the self-support of the Bryan Cemetery located at the Bryan Methodist Church in Dawson, where Sarah's parents were buried. He was elected president in July 1961. Reported the Daily Courier, "The committee in charge asked that each family having someone buried in the cemetery support the plan with a cash donation or pledge to be paid during the year. Funds will be placed in the Fayette National Bank and Trust Co. of Uniontown, and only the interest will be used for cemetery maintenance." Among the initial donors were Sarah's sister and brother in law, Luzetta and William Henry Cottom, as well as their distant cousins on the Minerd side, Mary (Luckey) Malone and Martha (Luckey) Bailey.
The tireless Emmet also was named chairman of the Fayette County Unit of the Keystone Milk Producers Association of Western Pennsylvania. Circa 1952, the organization had "spearheaded the fight that led to the reorganization of the State Milk Control Commission," reported the Daily Courier, and the advocated for "a drastic change in the milk price schedule."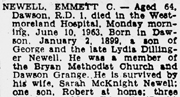 Obituary, 1963
Sarah was active in the community in her own right. Circa 1962, she served on an Election Day Dinner committee with the Willing Workers Class of the Bryan Methodist Church in Dawson.
Emmett, his father, and three generations of descendants attended Sunday School together in 1962 at Spring Grove Union Chapel near Dawson.
Bad news blanketed the family in mid-1962 when Emmet was diagnosed with colon cancer. From then until his death 12 months later, the cancer spread. He was admitted to Westmoreland Hospital in nearby Greensburg, Westmoreland County. There, at the age of 64, Emmet passed away n Aug. 10, 1963.
Following the funeral held at their home church, his remains were lowered to eternal rest at Green Ridge Memorial Park in Connellsville. At the time of Emmet's death, he and Sarah had produced 10 grandchildren and one great-grandchild.
Sarah outlived him by almost three decades. At the age of 91, she died on Nov. 1, 1990.
~ Son Robert Carlton Newell ~
Son Robert Carlton Newell (1919-1999) was born on April 27, 1919.
He dwelled with his parents in 1963. After their deaths, he continued to reside in Dawson.
The spectre of death carried him away on March 26, 1999.
~ Daughter Lydia "Ruth" (Newell) French ~
Daughter Lydia "Ruth" Newell (1921- ? ) was born in 1921.
She married Martin Edward French (Feb. 6, 1917-1976), son of Paul M. and Mary Ellen (Geary) French of Scottdale, PA.
Their three children were Martin Edward French Jr., Martha Jane French and Robert Paul French.
The Frenches lived in Dawson. Martin earned a living as a heavy equipment operator. The family held a membership in the Tyrone Presbyterian Church.
Sadly, Martin passed away in Connellsville State General Hospital, at the age of 59, on Dec. 1, 1976. His obituary was printed in the Connellsville Daily Courier.
Son Martin "Edward" French Jr. ( ? - ? ) was born in (?). He was a 1956 graduate of Perry-Lower Tyrone High School. After graduation, he found employment with Rathway Brothers. On July 29, 1961, he was united in matrimony with Nancy Lee Ruffcorn (Sept. 13, 1940 -2001), daughter of Clyde and Carrie (Crossland) Ruffcorn of Scottdale and Dawson. The nuptials were held at Jacobs Creek Methodist Church, by the hand of Rev. Jacob Duty. News of the marriage was announced in the Connellsville Daily Courier, which reported that Nancy "appeared in a floor-length gown of white Chantilly lace, worn over satin and tulle. It was styled with a fitted bodice, long tapering sleeves, scoop neckline and bouffant skirt. Her pillbox headdress was of lace and tulle, trimmed with pearls, to which was attached a fingertip veil of illusion." Nancy was a 1958 alumna of Perry-Lower Tyrone and the Atlanta School of Business. At the time of marriage, she earned a living with Connellsville Sportswear Company. The couple stayed together for 39 years. Together, they produced an only daughter, Carrie R. French. Circa 1976-2001, their home was in Scottdale, and they belonged to the Trinity United Methodist Church. They endured the heartbreak of the death of their daughter in 1987. Nancy died without warning at home, at the age of 60, on Feb. 24, 2001. Rev. Roger Applebee, of the Bryan Methodist Church, led the funeral. The remains were laid to rest in Scottdale Cemetery.
Granddaughter Carrie R. French (1962-1987) was born on July 25, 1962. Sadness blanketed her family when she died on Feb. 20, 1987, at the age of 24. Interment was in Scottdale Cemetery.
Daughter Martha Jane French ( ? -2005) resided with her parents in 1976. She appears not to have married. At the age of 59, making a home in Dawson, she succumbed to the spectre of death on April 16, 2005. Rev. Keith McIlwain led the funeral service. Interment was in Dickerson Run Cemetery.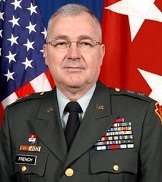 Maj. Gen. Robert P. French

Courtesy National Guard
Son Robert Paul French ( ? - ? ) was born in (?). He received a bachelor of science degree in 1972 from Mansfield (PA) State College. During the Vietnam War, he served in the U.S. Army, receiving training in light weapons infantry, mortar and recoilless rifle and high explosives specialties. After his tour of duty ended, he went back to Mansfield. He was joined in wedlock with Elizabeth "Libby" Morse, Ph.D. ( ? - ? ). Circa 1974, he was a selective service officer with the Pennsylvania Army National Guard in Harrisburg. He built a long career with the Guard. His assignments in 1974 included medical supply and operations postings in Wellsboro, PA. Then in 1977, he completed infantry officer basic training at Fort Benning, GA. He rose through the military ranks and in 2001 earned a master of strategic studies degree from the United States Army War College in Carlisle, PA. As Commander of the 28th Personnel Service Battalion, he was mobilized in support of Operation Joint Guard, the United Nation's peacekeeping effort in the Balkans. He also served as director of personnel and chief of staff for the Headquarters State Area Command, Pennsylvania Guard. In 2007, Robert assumed duties as assistant adjutant. As such, he was responsible for overseeing the readiness of the Guard, including the manning, training and logistical support required to accomplish federal and state missions. He retired as a major general and was inducted in 2020 into the Pennsylvania National Guard Hall of Fame.
Accomplished in her own right, Elizabeth received two degrees from Mansfield, a bachelor of science in elementary education in 1972 and a master's of education in 1975. She eventually earned her doctorate degree from Widener University. Included in her professional credits have been a reading specialist certification from Penn State University/Harrisburg campus and principal and special education certifications from Immaculata University. Her teaching career spanned three decades. She has played a role on a state committee for online teaching, published in the Global Education Review Journal, written a book review for the Journal of the Assembly for Expanded Perspectives on Learning and given a number of presentations. In more recent years she has been an assistant professor emerita at Lebanon Valley College in Annville, PA, focusing on special education and supervision of student teachers. She is a 2017 recipient of a Distinguished Educator Award from Mansfield, recognizing outstanding service, dedication, and leadership to education.
~ Daughter Dorothy Mae (Newell) Harkins ~
Daughter Dorothy Mae Newell (1923-2012) was born on June 5, 1923 in Lower Tyrone Township.
She wedded Henry Lewis Harkins (Dec. 28, 1920-1992).
They produced three children together -- Nancy Jean Heisterman, James Lewis Harkins and Kenneth "Ken" Harkins.
During World War II, Harry served as a sergeant in the U.S. Army Air Forces.
The family dwelled in Dawson. Dorothy liked to bake and work in her garden, and was a member of the Bryan Methodist Church.
Sadly, Henry died on Aug. 23, 1992.
Dorothy outlived her spouse by two decades. As her health failed, she was admitted as a patient to Westmoreland Hospital in nearby Greensburg. She surrendered to death there at the age of 89 on July 16, 2012. Burial was in Cochran Cemetery in Dawson, following funeral services in the family church led by Rev. David A. Bell. Her obituary was published in the Norwin Star and Monessen Valley Independent.
Daughter Nancy Jean Harkins ( ? - ? ) married (?) Heisterman ( ? - ? ). She was quoted in the Greensburg Tribune-Review in August 2001 about her decision to return to the Bryan Methodist Church in Dawson after an absence of three decades. Her home in 2012 was in rural Dawson.
Son James Lewis Harkins ( ? - ? ) made his home on the outskirts of Dawson in 2012.
Son Kenneth "Ken" Harkins ( ? - ? ) wedded Vicky ( ? - ? ). Circa 2012, they resided in Belle Vernon, PA.
~ Daughter Clara "Barbara" (Newell) Peden ~
Daughter Clara "Barbara" Newell (1930- ? ) was born in 1930.
She was united in wedlock with William Michael "Stoney" Peden Sr. (May 15, 1929-2003), son of Thomas and Hazel (Huss) Peden of Sutersville, PA.
The couple's marriage endured the ups and downs of a remarkable 52 years.
Together, the pair bore five children -- Barbara Ann "Bunny" Matheny, Deborah Jean "Debbie" Peroney, William Michael "Good" Peden Jr., Thomas Carlton Peden and Robert "Bob" Peden.
The family's longtime residence was in Smithton, Westmoreland County, PA.
William and his brothers owned and operated a trucking business known as Peden Brothers Inc. The company transported lumber and milk products. Later in his working career, he joined Mill Service Inc. as a truck driver and retired in 1990.
In his spare time, William liked to tend his garden and work on mechanical projects. The family belonged to St. Timothy Roman Catholic Church in Smithton, with William holding a membership in the Knights of Columbus.
At the age of 73, on April 13, 2003, William slipped away into death while seated "in his favorite kitchen chair," said the Greensburg Tribune-Review. His funeral mass was held in the family church, officiated by Rev. Fr. Paul Stivason. The remains were lowered into the sacred soil of St. Timothy's Cemetery in South Huntington Township. He was survived by a baker's dozen grandchildren. In an obituary, the family asked that any memorial donations be made to the American Cancer Society or Diabetes Society.
Barbara has spent her widowed years in Smithton.
Daughter Barbara Ann "Bunny" Peden ( ? - ? ) was united in wedlock with Robert Matheny ( ? - ? ).
Daughter Deborah Jean "Debbie" Peden ( ? - ? ) was joined in matrimoy with Brad Peroney ( ? - ? ), son of Leonard E. and Mary L. (Jenkins) Peroney. They have made a home in Belle Vernon, PA.
Son William Michael "Goon" Peden Jr. ( ? - ? ) wedded Patricia "Pat" ( ? - ? ).
Son Thomas Carlton "Tom" Peden ( ? - ? ) married Janet ( ? - ? ).
Son Robert "Bob" Peden ( ? - ? ).
Copyright © 2008, 2010, 2020-2021 Mark A. Miner