Home

Ostman Theodore
'Todd' McKnight
(1859-1944)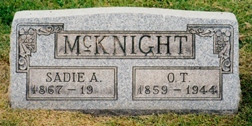 Dickerson Run Union Cemetery
Ostman Theodore McKnight -- also spelled "Ostin" -- was born on May 27, 1859 in Fayette County, PA, the son of Henry and Barbara (Minerd) McKnight. His first name also has been spelled "Osman," "Austin," "Oscar," "Opta" and "Oustman," and his common nickname was "Todd."
When the 1880 federal census enumeration was made, the 21-year-old Todd was unmarried and lived with his widowed father, laboring as a coal miner near Dawson, Upper Tyrone Township, Fayette County.
On Nov. 1, 1884, when he was 25 years of age, Todd was joined in holy matrimony with Sadie A. Workman (June 9, 1867-1952), a native of Wheeling, Ohio County, WV and the daughter of Robert and Martha Jane (Norris) McKnight.
They resided for many years on a farm near Dawson.
The McKnights bore four known offspring, but only one lived to adulthood -- Charles "Henry" McKnight. Sadly, the other three died young -- Robert on April 3, 1888, at about 14 months; Bessie, on April 30, 1895, from the effects of whooping cough; and Roy McKnight, date unknown, also from whooping cough.
In 1900, census records show that Todd worked as a coal hauler and that 12-year-old Cora Stimmel lived in their home, working as a servant girl.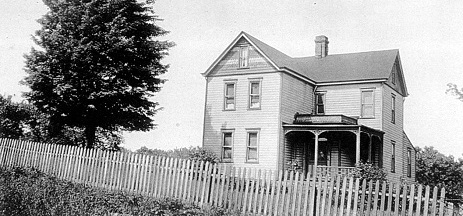 The McKnights' home, Dawson
Todd also was a farmer, and had stands of apple and peach trees on his land. Sadie enjoyed playing piano for the Sunday School classes in their church.
When the federal census enumeration again was made in 1910, the McKnights dwelled near Dawson, with Todd laboring as a coal miner. Their married son Henry and his wife and young granddaughter resided in their household.
For the last four years of his life, Todd suffered from kidney disease, and for the last three with hardening of the arteries. At the age of 84, on May 1, 1944, he passed away at home.
Sadie survived her husband by eight years. She succumbed to a cerebral hemorrhage at the age of 84 on May 4, 1952. Son Charles, living in Dawson, signed the death certificate.
They are buried at Dickerson Run Union Cemetery near Vanderbilt, Fayette County.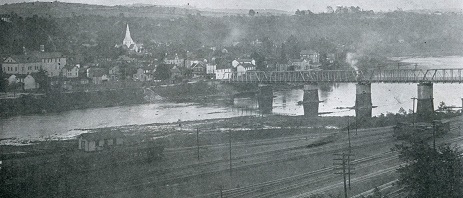 Dawson, PA along the Youghiogheny River
~ Son Charles "Henry" McKnight ~
Son Charles "Henry" McKnight (1884- ? ) was born on June 5, 1884 or 1885 in Dawson.
On Christmas Eve 1906, Henry was united in matrimony with Jean Napier "Jennie" McWhirter (Feb. 10, 1885-1967), a native of Maryland and the daughter of Hugh and Jean (Napier) McWhirter. Their nuptials were held at Hecla (pronounced locally as "Heckley") near Mount Pleasant, Westmoreland County, PA.
Five children born to the couple were Edith Winifred Reilly, Donald Ray McKnight, Franklin Clifford McKnight, Orville Curtis McKnight and Howard Richard McKnight.
Henry earned a living as an electrician in an office setting.
The United States Census of 1910 shows the young family making a home with Henry's parents near Dawson. By 1915 the McKnights had moved to West Virginia, where their four sons were born -- Donald in Coalburg, near Charleston, Kanawha County, and Franklin and Orville in 1917-1918 in the Buffalo District near Wellsburg, Brooke County.
At some point Henry became employed in Scranton, Lackawanna County, PA with the Stanton Electric Company. Their address in 1942 was 1625 Vine Street. All four of their sons served overseas with the U.S. Army during World War II. When their son Orville returned home from France in February 1945 after suffering a serious wound, Henry and Jennie traveled to see him in Staten Island, NY.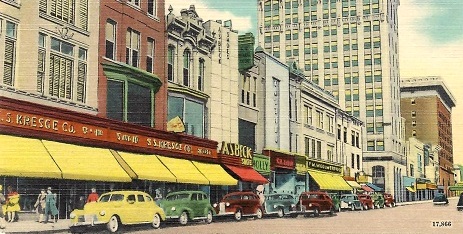 Lackawanna Avenue in Scranton
Henry became chief engineer of Stanton Electric, later becoming the Stanton plant of Pennsylvania Power and Light Company in Harding, near Pittston. He retired in 1951.
In Henry's free time he liked to hunt, smoke his pipe, play the violin and read. He was a member of the Wheeling, WV lodge of the Masons for more than half a century. Jean enjoyed crocheting and quilting and was a member of the Order of Eastern Star.
Henry's residence in 1952 was back in Dawson but the couple may have alternated between living there and in Scranton.
Sadness cascaded over the family when Jennie, at the age of 81, died in Scranton's Mountain Rest Nursing Home on Jan. 14, 1967. The cause of death was hypertension and a stroke-type cardiovascular accident. Son Orville signed the official Pennsylvania certificate of death. Interment of the remains was in Abington Hills Cemetery in South Abington, Lackawanna County.
Henry outlived his bride by 11 years and dwelled in the Casey Inn. After becoming ill, he was admitted to the Adams Convalescent Home, where at age 93 he passed away on Dec. 29, 1978. His remains were laid to rest in Abington Hills Cemetery near Clarks Mills, PA. An obituary in the Times-Tribune gave his father's name as "Oscar."
Daughter Edith Winifred McKnight (1907-1988) was born on Sept. 21, 1907 in East Liberty near Vanderbilt, Fayette County. She entered into marriage with William James Reilly Jr. ( ? - ? ). They became the parents of two sons -- John P. Reilly and William "James" Reilly III. Edith trained in the health care field and became a registered nurse. Circa 1932-1934, at the birth of their sons, and at least through 1940, the family was in Dansville, Livingston County, NY, with William earning a living as a cutter in a meat market. They later made a home in Corning, Steuben County, NY, where in 1950 Edith worked as a nurse in a doctor's office and William as manager of a retail meat market. Then in 1975 she relocated to DeBary, FL, along Lake Monroe, between Orlando and Daytona. There, they joined St. Anne Catholic Church. Her address in 1988 was 18C Dogwood Trail. Edith died at the age of 80 on June 15, 1988. The Orlando Sentinel published an obituary saying that the headcount of her survivors was seven grandchildren and six great-grandchildren.
Grandson John Paul Reilly (1932-1989) was born in 1932 in Dansville, Livingston County, NY. On Jan. 20, 1954, he married Shirley Catherine Hill (Jan. 7, 1934-2021), daughter of Fred J. and Verna Hill of Pittsburgh, and a 1952 graduate of Oliver High School in Pittsburgh. Their wedding was held in her hometown. Having met in the U.S. Air Force, their union endured for 35 years until the separation of death. Together, they produced four children -- Glenn Reilly, Karen Reilly-Morton, Beth Young and Janet Wilson. The newlyweds soon moved to Clark Air Force Base in the Philippines, where John had been posted. They transferred in 1956 to Syracuse, NY and then again in 1961 to Charleston, WV. The family migrated once more in 1965 to Erie, PA and for the final time in 1971 to Longwood, FL. John was employed as a financial planner with the local office of Waddell & Reed, Inc., an asset and wealth management firm now part of LPL Financial. Shirley studied journalism and mass communications at Seminole Community College and University of Central Florida. Said the Orlando Sentinel, "Shirley was an accomplished artist, winning first place in the Chautauqua Art Festival and thirds place at the Winter Park, FL art festival. She was one of the first Red Cross Instructors, a swim instructor for persons with disabilities, a Certified Dog Trainer and an active member in the Seminole Audubon Society and working with the Scrub Jays. Shirley loved baseball (especially the Pirates and the Cubs), photography and art, the outdoors, and pontoon boat rides along the St. Johns River." They held a membership in the Nativity Catholic Church. The Reillys' address in the late 1980s was 27 Stonegate South. Sadly, at the age of 57, John died on Aug. 22, 1989. His obituary appeared in the Orlando Sentinel. His remains were laid to rest in Oaklawn Park Cemetery. Shirley survived her husband by more than three decades and dwelled in Winter Springs, FL. Having contracted lung cancer, she passed away at the age of 87 on May 15, 2021, in Central Florida Regional Hospital. The family asked in her Sentinel obituary that any memorial contributions be made to the Seminole Audubon Society.

Great-grandson Glenn Reilly was born in the Philippines. He made a home in 1989 at Lake Mary, FL. Sadly, he was deceased by 2004.

Great-granddaughter Karen Reilly was born in Syracuse, NY and grew up in several locales before relocating to Florida. She is a 1975 graduate of Lake Brantley High School and studied business administration at Seminole State College of Florida. She wed Texas native Gary Donald Morton (Sept. 4, 1950-2018), son of Grover Dean "Salty" and Anita Ray Morton. They bore four children together -- Kateri Morton, Michael Morton, Mark Morton and Megan Lawless. Said The Dialog, a Catholic publication, he "was the southern gentleman of the Dialog news operation... Easygoing and likeable, Gary could somewhat limit his Texas drawl, but not completely. His mild manner and courteous charm were matched only by his skills as a professional journalist..." He spent half a century in the field of journalism, with the Fort Worth Press, Waco Tribune, and Abilene Reporter News. Said the Dialog, "He then aligned his work with his faith, working for diocesan newspapers The Florida Catholic and The Dialog." Gary held a membership in the Catholic Press Association and was an avid fan of the Texas Rangers and Dallas Cowboys sports teams. Their residence in 1989 was in Sanford, FL. When transferred to the Wilmington Diocese, and making a home in Newark, DE, he received his share of friendly teasing from Baltimore and Philadelphia fans. Among the stories he covered later in his career were a hospitality center at Jesus House Prayer and Renewal Center, the Good Shepherd parish and school anniversary celebrations in Maryland and the diocesan sesquicentennial. Grief blanketed the family when Gary died at the age of 68 in Wilmington on Sept. 29, 2018. His mass of Christian burial was conducted at the Resurrection Parish. Karen has outlived her spouse by many years. Today she is owner of Aquapets and SwimMasters of Florida and Delaware, and treasurer of the Persimmon Park Place Condominiums.

Great-granddaughter Beth Reilly was born in Syracuse, NY. She was united in matrimony with (?) Young. Circa 1989, she was in Apopka, FL and later moved to Orlando, where she was in 2004. By 2021, she had migrated to Tucson, AZ.

Great-granddaughter Janet Reilly was born in Erie, PA. She made her residence in 1989 in DeBary, FL. Janet was joined in marriage with Tim Wilson ( ? - ? ). The pair was in Sorrento, FL in 2021.

Grandson William "James" Reilly III (1934-2016) was born on Jan. 31, 1934 in Dansville, Livingston County, NY. He was a 1953 graduate of Corning Free Academy and played lineman for the school's undefeated football team in his senior year. He then joined the U.S. Army, serving from 1954 to 1956. Upon his return home, in 1956, he was joined in matrimony with Patricia Ann Rossettie ( ? - ? ). Their wedding nuptials were held in St. Patrick's Church, Corning, NY. James enrolled at the State University of New York at Buffalo, and the newlyweds relocated to Buffalo. The trio of offspring born to this union were Kathryn Blakeslee, Linda Doty and Kevin Reilly. James earned his bachelor of science degree from SUNY in 1961 and went on to a long career as an educator. His first assignment was from 1961 to 1966 as a special education teacher and football coaoch for the Corning-Painted Post School District, followed by a position with the district as a home-school counselor in 1966-1973. Undoubtedly during that span of time, he would have known a distant cousin, Frank "Errold" Wydman Jr., at the end of his career as a Corning-Painted Post sports coach, and his son Gary Wydman, Corning-Painted Post alumnus and the starting quarterback for the Penn State Nittany Lions in 1964. Subsequently, in 1972, James received his master's of science degree from Alfred University. He joined the faculty of East High School in 1974 and remained until 1989, working as a guidance counselor. He retired in 1989 and pursued further education with the Cornell Cooperative Extension, with the goal of becoming a master botanist. His retirement era included roles as chairman of the Corning City Republican Committee, 911 Information Education and the Greater Corning Area Health and Welfare Committee; as a board director of the Steuben County Economic Community Program; as Corning Fire Commissioner; and with the local Elks, Lions and Wings of Eagles clubs. Sadly, James died at home in Corning at the age of 82 on Sept. 19, 2016. His mass of Christian burial was sung at St. Mary's Church, Corning, with interment in St. Mary's Mausoleum. In an Elmira Star-Gazette obituary, the family requested that any memorial donations be made to the American Cancer Society or to the National Pancreatic Cancer Foundation.
Great-granddaughter Kathryn Reilly wed (?) Blakeslee. Her residence in 2016 was in Binghamton, NY.

Great-granddaughter Linda Reilly married Eric Doty. Their home in 2016 was in Elmira, NY.

Great-grandson Kevin Reilly entered into wedlock with Christine and put down roots in Corning.
Son Donald Ray McKnight (1915- ? ) was born on March 23, 1915 in Coalburgh, southeast of Kanawha County, WV. Dr. G.G. Hodges assisted in the birth. On Sept. (?), 1934, he was united in wedlock with Pearl McNew ( ? -1983). They became the parents of Charles "Sonny" McKnight. Donald served in the U.S. Army Corps of Engineers during World War II. Circa 1944, when posted to New Guinea, and hospitalized, his brother Frank came for a visit. He was in the Philippines as of February 1945. Donald and Pearl relocated after the war to Oregon. In 1978, their home was in Harrisburg, OR. Pearl passed away in Florence, OR on Jan. 5, 1983.
Grandson Charles "Sonny" McKnight ( ? - ? )
Son Franklin Clifford "Frank" McKnight (1917-1979) was born on July 23 or 24, 1917 in Wellsburg, Brooke County, WV. When he was 24 years of age, on May 28, 1942, he was joined in matrimony with Helen O'Neill ( ? -1984). One son borne by this couple was Craig McKnight. As with his brother Donald, Frank joined the U.S. Army Corps of Engineers during World War II. While deployed to New Guinea in July 1944, he visited his brother who was hospitalized there. He remained in New Guinea as of February 1945, and in total spent 30 months in the Pacific Theatre prior to his discharge in November 1945. He returned home and got a job at the General Electric plant in Philadelphia. Their address at that time was 122 Chelton Avenue. On the fateful day of Aug. 1, 1946, at work, Frank lost four fingers when his right hand was caught in a machine. He was admitted to Lankenau Hospital and within a week was released to go home. At some point they lived at 1706 Jefferson Avenue in Dunmore. Franklin and Helen eventually relocated to Sacramento, CA and put down roots at 3050A Montclaire Street. There, he was employed in an airplane manufacturing company. After becoming ill, he was admitted to the Veterans Administration Hospital in Oakland, CA, where he died on April 19, 1979. An obituary was printed in his hometown newspaper, the Scranton Times. The widowed Helen lived for another five years in the town of Carmichael near Sacramento. At the age of 63, she died on July 12, 1984. An obituary in the Sacramento Bee listed her surviving sisters as Ann Cox, Lois Mangan, Marion VanArtsdalen and Joan O'Brien.
Grandson Michael "Craig" McKnight ( ? - ? ) was born on (?). He is believed to have been a 1969 graduate of Mira Loma Linda High School. Circa 1972, at the age of 21, he is believed to have wed 17-year-old Rebecca Sue Clemons of Sacramento. He was the father of Nicholas McKnight. Circa 1979, Craig was living in Sacramento.

Purple Heart medal
Son Orville Curtis McKnight (1918-1998) was born on Dec. 17, 1918 in the Power community of the Buffalo District of Brooke County, WV. Dr. F.T. Dare aided in the birth. He grew up in Scranton, PA and in June 1938 was elected captain of the varsity swimming and track team at Technical High School. He graduated in 1939 and went on to join the workforce of Condenser Service and Engineering Company. On Jan. 10, 1942, he wed high school sweetheart Gloria Ellen Metcalf ( ? -1987), daughter of Orville C. and Mabel (Compton) Metcalf and a native of Timpas, CO. The pair's wedding ceremony was held in the parsonage of the Myrtle Street Methodist Church of Scranton, PA, officiated by Rev. Clarence Hickok, and announced with her photograph in the Scranton Tribune. She wore a grey wool suit with luggage accessories and a corsage of white roses and talisman. The newlyweds' first home was in the Stonier Apartments on Mulberry Street, and at the time Gloria worked for the International Correspondence Schools. They went on to produce a trio of daughters -- Donna Kiser, Cindy McKnight and Bonny Mae Phillips Kerekes Zebrowski. Orville served in the U.S. Army during World War II, enlisting in November 1943 and training at Fort McClellan, AL and Fort George Meade, MD. He was assigned to the 180th Infantry, 45th Division. He was deployed to Italy in mid-1944 and then the invasion of Southern France. While in action on Oct. 30, in Benoit, France, he received a serious wound, with a bullet severing two nerves in his thigh. He was shipped home and arrived in New York in early February 1945, to receive further hospital care. His Purple Heart medal was sent home to Gloria. After the war, the McKnights put down roots in Dunmore, PA. Orville secured a job as a meter reader for Scranton Electric, while Gloria was employed in the office of Plottle Advertising Company and the Aronson Silk Mill. Orville's working career spanned 35 years with Scranton Electric and Pennsylvania Power and Light Comopany. In 1967, they made their home at 1105 Taylor Avenue, Dunmore. Orville was known for playing the guitar and harmonica at the same time, while Gloria liked cards and games and playing the piano. They are known to have hosted meetings in their home of the Juniors of the American Legion Auxiliary and were members of the Myrtle Street church. They also were active with the Parent-Teacher Association of Lincoln School and he with the East Scranton Memorial Post of the American Legion. Stricken with cancer, Gloria surrendered to the angel of death on Jan. 8, 1987 in Dunmore. Her obituary was printed in the Scranton Tribune. Orville as a widower remained in Dunmore but was treated in the Veterans Affairs Hospital in Daytona, FL. Death enveloped him there on Aug. 11, 1998, at the age of 79. His photograph accompanied his obituary in the Scranton Times-Tribune.
Granddaughter Donna McKnight (1949- ? ) was born in 1949. She was joined in wedlock with Wayne A. Kiser (July 24, 1947-2015), the son of Grover D. and Evelyn (Eyster) Kiser of York, PA. Their union endured the ups and downs of 45 years. The couple did not reproduce. An Eagle Scout in his youth, Wayne was an alumnus of York High School, York Junior College and the Temple University School of Pharmacy in Philadelphia. He also was a member of the U.S. Army National Guard. Wayne spent his career as a pharmacist. At one time he owned Crooked Oak Pharmacy, and his final position was with Weis Markets located in Red Rose Commons. He belonged to the Medical Dental Hypnosis Society, Berks Photographic Society, Lancaster Photography Club and the Elks Club of York. In 1987-2015, Donna dwelled in Lancaster, PA. Sadly, and without warning, Wayne was cleaved away by the angel of death, at the age of 68, on Oct. 11, 2015. His photograph appeared with his obituary in LPN Lancaster, in which the family asked that any memorial donations be made to the Wounded Warrior Project or Heifer International. Wayne's sister, who officiated at his funeral service, was Rev. Dr. Brenda J. Kiser of Shippensburg.
Granddaughter Cynthia J. "Cindy" McKnight (1951- ? ) was born in 1951 in Hahnemann Hospital, Scranton. News of her birth was published in the Scranton Tribune. Circa 1974, she entered into marriage with Richard Michael Jones (1952- ? ) of Royersford, PA. Their wedding ceremony was conducted in the Myrtle Street United Methodist Church, Scranton. Together, they bore two children -- Matthew Curtis Jones and Rebekah Ellen Jones. The Joneses made their residence in Scranton. After about 16 years together, Richard sued for divorce, with the decree handed down in February 1990 and announced in the Tribune. Richard married again to LeeAnn ( ? - ? ) and made a home in Scranton in 2015.

Great-grandson Matthew Curtis Jones (1980- ? ) was born in 1980. He is a 1998 graduate of Scranton High School and that year earned his Eagle Scout rank. He established a home by 2015 in Frederick, MD.

Great-granddaughter Rebekah Ellen Jones (1982- ? ) was born in 1982. She is a 2001 graduate of Scranton High School. Rebekah wed (?) Rauch ( ? - ? ). Circa 2015, she was in Montrose, PA.

Granddaughter Bonnie Mae McKnight (1956- ? ) was born on July 24, 1956 in Dunmore, PA. She was a 1974 graduate of Dunmore High School. Bonny is believed to have been four-times married. One of her husband was (?) Wegforth ( ? - ? ), and the son they bore together was Todd Wegforth. She also was united in matrimony with (?) Phillips ( ? - ? ) and produced two more children, Clifford Phillips and Jane Phillips. Bonnie is known to have lived in Scranton in 1987. By 1998, she had married to (?) Zebrowski ( ? - ? ). Her final spouse was Robert Kerekes ( ? - ? ), and they made a residence in Satsuma, FL. Bonny earned a living toward the end of her life with Animal Health Center. Sadness shrouded the family when Bonny died at the age of 51 on Sept. 4, 2007. An obituary in the Scranton Times-Tribune, in which she was pictured, and her surname given as "Kerekes-Zebrowski," said she "had a passionate love for animals and worked tirelessly for their well-being." Her remains were cremated.

Great-grandson Todd Wegforth ( ? - ? ) married Jamie. Their two children are Alexander Wegforth and Nicholas Wegforth. In 2007, they lived in New Bern, NC.

Great-grandson Clifford Phillips ( ? - ? ) wed Jennifer. Four offspring in this brood are Brittany Phillips, Austin Phillips, Miranda Phillips and Samantha Phillips. The family has dwelled in Deltona, FL.

Great-granddaughter Jena Phillips ( ? - ? ) is the mother of Kaylee Mae. Their residence in 2007 was in Deland, FL.
Son Howard Richard McKnight (1920-1980) was born on June 23, 1920 in Power, Brooke County, WV. He enlisted in the U.S. Army in 1942 during World War II and trained at Camp Polk, LA. He received a commendation from Major Gen. Willis D. Crittenberger for his work during a maneuver exercise and was pictured in a related story in the Scranton Tribune. The commending officer wrote: "...you maintained a smoke screen at Toledo Ferry by constructing rafts, wiring smoke pots on these rafts, and swimming the Sabine River a number of times for the purpose of pushing these rafts back and forth across the river in order to put smoke whee it would cover the operations of engineers and crossing of troops. You were in and maintained a smoke screen for about three hours..., an outstanding accomplishment and contributed to the successful operation of the Third Armored Corps. In addition you performed various technical services in connection with maintenance and inspection of chemical warfare equipment." He was posted to France with a chemical warefare unit and as of February 1945, he was on assignment in Holland. He married Dorothy ( ? - ? ). Howard relocated to Southern California and dwelled in Los Angeles in 1978. He died in San Diego County on July 28, 1980.
Copyright © 2000-2001, 2011, 2018, 2023 Mark A. Miner
Cindy (McKnight) Jones and Beth Lynne Radcliffe have shared valuable content for this biography.