Ostman Theodore
'Todd' McKnight
(1859-1944)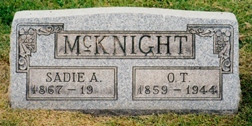 Dickerson Run Union Cemetery
Ostman Theodore McKnight -- also spelled "Ostin" -- was born on May 27, 1859 in Fayette County, PA, the son of Henry and Barbara (Minerd) McKnight. His first name also has been spelled "Austin" and "Oustman," though his common nickname was "Todd."
When the 1880 federal census enumeration was made, the 21-year-old Todd was unmarried and lived with his widowed father, laboring as a coal miner near Dawson, Upper Tyrone Township, Fayette County.
In the early 1880s, Todd was joined in holy matrimony with Sadie A. Workman (June 9, 1867-1952), a native of Wheeling, Ohio County, WV and the daughter of Robert and Martha Jane (Norris) McKnight.
They resided for many years on a farm near Dawson.
The McKnights' home, Dawson
The McKnights had perhaps two children, but only one lived to adulthood -- Charles Henry McKnight. Tragically, at least one other son -- Robert McKnight (1888) -- died in childhood.
In 1900, census records show that Todd worked as a coal hauler and that 12-year-old Cora Stimmel lived in their home, working as a servant girl.
Todd also was a farmer, and had stands of apple and peach trees on his land. Sadie enjoyed playing piano for the Sunday School classes in their church. Little else is known of their lives.
For the last four years of his life, Todd suffered from kidney disease, and for the last three with hardening of the arteries. At the age of 84, on May 1, 1944, he passed away at home.
Sadie survived her husband by eight years. She succumbed to a cerebral hemorrhage at the age of 84 on May 4, 1952. Son Charles, living in Dawson, signed the death certificate.
They are buried at Dickerson Run Union Cemetery near Vanderbilt, Fayette County.
~ Son Charles Henry McKnight ~
Son Charles Henry McKnight (1884- ? ) was born in June 1884.
His home in 1952 was in Dawson, Fayette County.
Nothing more is known.
Copyright © 2000-2001, 2011, 2018 Mark A. Miner