Martha Rebecca (Luckey) Bailey
(1903-2000)

Martha Bailey
Martha Rebecca (Luckey) Bailey was born on April 16, 1903 in Dawson, Fayette County, PA, the daughter of Joseph M. and Sarah Catherine (Minerd) Luckey.
She was petite, and only stood 5 feet, 2 inches tall.
Martha was a longtime educator in Fayette County. She taught in the schools of Lower Tyrone Township and Vanderbilt. She also was a member of the Vanderbilt Methodist Church, Elizabeth Bower Chapter of the Order of Eastern Star and a charter member of the Dawson Grange.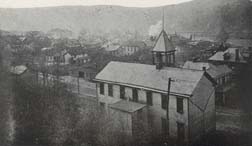 Bird's eye view of Dawson
At the age of 26, on June 12, 1929, Martha wed James "Waide" Bailey (1900- ? ). They eloped to Morgantown, Monongalia County, WV, just over the Pennsylvania state line.
The couple did not reproduce.
They initially resided with Martha's parents near Dawson circa 1930-1940, when the federal census enumerations were made. After the parents passed away, they maintained their own home in Dawson.
Waide was employed with the Pittsburgh and Lake Erie Railroad for 49 years, starting as a boxcar inspector at the age of 16. He registered with the U.S. Armed Forces to serve in World War I, but the conflict ended before his active service could begin.
He was an inspector until 1920, then worked as a stoker/fireman for 25 years (1920-1945) and then was an engineer for 20 years (1945-1965). His regular route was the line from Dawson to Youngstown, Mahoning County, Ohio.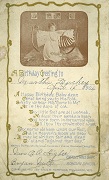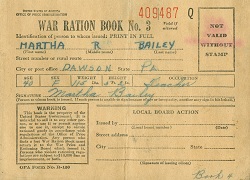 Paper artifacts from Martha's life: At left, a birthday card received at age 1 from the Cradle Roll Department of Bryan Methodist Church. Right: her World War II ration book.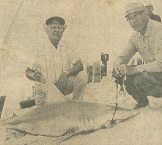 Brothers in law Chick Evans
(left) and Waide deep sea fishing
In retirement, Waide and his brother in law Charles "Chick" Evans enjoyed deep sea fishing. During one outing in Florida, he caught a 150-lb. shark at Englwood Beach on the Gulf of Mexico. A photograph and extended caption were published in their hometown newspaper, the Connellsville Daily Courier. They also snagged "several grouper, blue fish, and trout wile fishing in the Gulf of Mexico," said the Daily Courier, "plus snook and sheephead while fishing in Lemon Bay."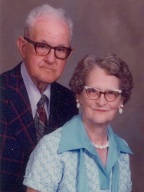 Martha and Waide
When the Borough of Dawson celebrated its centennial anniversary in 1972, Waide and Martha made a donation to the event, as did her brother Andrew, and they all were listed in the official program booklet as "patrons."
In the fall of 1990, during an unexpected stop at their trailer home, Minerd.com's founder visited with Martha and Waide for a few hours. From them, he learned much about the Luckey branch of the family.
Martha spent her final years at Lint's Personal Care Home in Connellsville. She was pictured in a Uniontown Herald-Standard article on Nov. 17, 1994, headlined "Personal Care Home Residents Helping Dog Hit By Vehicle." The story centered on Martha's pet springer spaniel, "Penny." who was struck by a motorist but survived.
She passed away there at the age of 97, on Oct. 14, 2000. Following a funeral at the Ralph E. Galley Funeral Home, led by Rev. Roger Applebee, she was laid to rest at the Dickerson Run Union Cemetery.
Copyright © 2012, 2018 Mark A. Miner