Mary (Leonard) Potter
(1849-1925)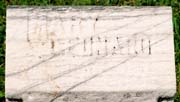 Irwin Memorial Cemetery

Mary (Leonard) Potter was born on March 17, 1849 in Fayette County, PA, the daughter of Benjamin and Sarah (Harbaugh) Leonard. Her husband George was a veteran of the Civil War. Her memorial marker south of Ohiopyle was barely legible when photographed in May 2001.

Mary was single for many years. Then, when she was age 35, she married widower George Perry Potter (1832-1910), the son of Samuel and Sarah (Leonard) Potter. The ceremony took place at Farmington, Fayette County, on Sept. 21, 1884 by the hand of George Washington Hansel, a justice of the peace. George was 17 years older than Mary.

George's father built and operated a gristmill, saw mill and buckwheat/corn flour mill at Meadow Run near Ohiopyle, Fayette County, PA.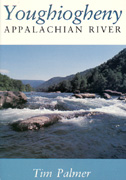 Book naming George

George is mentioned in at least three books about the Ohiopyle region. The 1882 book History of Fayette County, authored by Franklin Ellis, may be the most authoritative, and features several paragraphs about George and his father in law and brothers in law of the Leonard family:

Benjamin Leonard was reared in the family of Reuben Thorpe, and after attaining manhood made an improvement on the bottoms below the mill owned by Potter. He afterwards cleared up the farm which is now owned by his youngest son Robert. Other sons were Eli, Amos P. (a minister of the Methodist Episcopal Church), Reuben, Christmas, and Robert. Nearly all of these continue to reside in the township... On the same stream the manufacture of splint chairs is carried on by George P. Potter. The factory has been in successful operation since 1860, and several hundred fine chairs are made annually. Below that point, also on Meadow Run, Reuben and Christmas Leonard carry on a split-chair factory and more than sixty years ago their father, Benjamin Leonard, carried on this industry in the township, some of the chairs he the made being yet in use.

The 1984 volume, Youghiogheny: Appalachian River , states that he lived next to his brother John B. Potter. Together, they "operated a splint chair factory in 1860, building several hundred chairs a year," wrote the author. (The book was published by the University of Pittsburgh Press and authored by John B.'s great-great grandson, Tim Palmer.)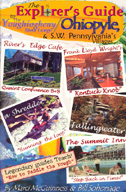 Book naming George

George also worked with his father-in-law Benjamin Leonard, and the two men were "the first to manufacture splint chairs on Meadow Run," says the 2000 book, The Explorer's Guide to the Youghiogheny River Gorge, Ohiopyle, & S.W. Pennsylvania's Villages, by Marci McGuinness and Bill Sohonage. George's brothers in law Reuben and Christmas Leonard "kept [the father's] business going long after his death."

As a young man, George stood 5 feet, 11 inches tall, with a dark complexion, grey eyes and dark hair. He married his first wife, Elmira Jane Collins (1839-1879), on Nov. 22, 1858. She was the daughter of John and Rachel Amanda (Von Sivert) Collins, and a native of Virginia.

The first marriage produced six children who lived to adulthood, including Clarence Potter, Miriam Potter, Charles Potter, Josephine Potter, Angeline Potter and Horace Potter.

Tragically, several other children of the first union died young. Isaac (age two) and Joseph (four months) died eight days apart in 1868, and Eunice (one year, 11 months) passed away in 1871. Of all of their nine children, three were born before George went to war.

Drafted during the Civil War, George first served for four months in Company D of the 199th PA Infantry. After his discharge, in February 1865, he re-enlisted in the 97th PA Volunteer Infantry, Company H.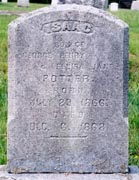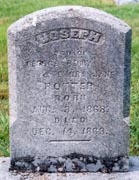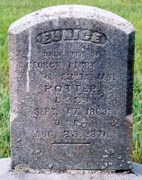 Markers of identical design at the graves of George and Elmira Jane's young children, left to right: Isaac (1868), Joseph (1868) and Eunice (1871)
One of his fellow soldiers, Marcus W. Church, recalled that while George was on duty in March 1865 in Goldsborough, NC, he:
...became disabled by reason of exposure while marching, cold rains, wading streams and sleeping in wet clothes with out Blankets. He incurred what appeared to be rheumatism, disease [of the] bowels and kidneys being affected with severe pains and weakness in back... I also remember of his complaining of chills + fever which was caused by being in malarial districts for several months, first near Richmond, Va. + afterwards in North Carolina. Fever + Ague was a very common disease among the soldiers at that time.
Another private in Company H of the 79th, Ephraim A. Vansickle, recalled that George "was taken sick, his skin being of a yellowish color, and his symptoms indicating liver disease."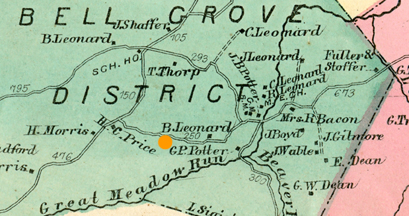 The orange dot marks the location of the farm of "G.P. Potter," next to the farm of his future father in law "B. .Leonard," in the 1872 Atlas of Fayette County, south of Ohio Pyle
George was discharged at Raleigh, NC on June 28, 1865, after the war had ended. He returned to Ohiopyle. He arrived back home on a Sunday morning, July 9, 1865. Among those there to greet him were two other Union Army veterans -- his wife's relative, Isaiah L. Collins, and his boyhood friend and future brother-in-law, Reuben Leonard. Collins resided about one-eighth of a mile away, and later said that he saw George "at least twice a week and [had] worked for and with him at different times." Collins also wrote:
He also complained of Piles by times unable to lift heavy weights or to stoop over or raise up when in a stooping position. Without great care to stoop quick or rise up quick would be nearly sure to produce the paines in his back which would cripple him for days. I have often seen him unable to turn himself in bed and at all times he has to be careful how he takes hold of anything.
After the war, George and Elmira Jane had three more children, bringing the number of their offspring to six.
In 1869, George and kinsman Charles Minerd served as school directors of Steward Township. Their terms apparently lasted only one year each.
Sadly, on April 29, 1879, at age 40, Elmira passed away. She was buried at the Thorpe Cemetery (later renamed the Belle Grove Cemetery, and today known as the Irwin Memorial Cemetery). Attending her funeral were Morris Morris and Plummer F. Hall, both of Ohiopyle.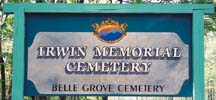 Mary's burial site

When Mary Leonard married George five years later, in 1884, she thus became a stepmother to his children, and considered them as her own.

She and George went on to have several more children, including Jessie W. Potter and Logan Potter. They resided in Ohiopyle.

After the war, in 1889, George was awarded a military pension of $4 a month for the maladies he contracted in the Army. In 1904, his payments were increased to $12 a month, and then by 1907 were up to $15 monthly. He suffered from his wartime illnesses, but rarely used a doctor. He once wrote:

I live in a mountain county where Doctors are not handy and are expensive if got. I generaly depend on patent medicines and herbs. I only employ Doctors in extreme cases as my means are very limited.

Ohiopyle's sleepy South Commercial Street, early 1900s. Note the ever-present mountains in the background.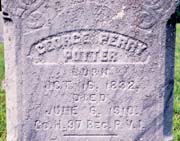 Irwin Memorial Cemetery, Ohiopyle

In 1905, Mary and George held "the neatest and most brilliant surprise party of the season" at their home at Potters' Mill to celebrate their son Logan's 17th birthday, reported the Connellsville Courier. "The evening was spent in games and music. Dainty refreshments were served at 10:30 and after wishing Logan many happy birthdays the assemblage departed for their respective homes, expressing themselves as having spent a very enjoyable evening." Among the attendees were Alice Collins, Mabel Leonard, Bessie Linderman, Ella Leonard, Celia Collins, Sadie Leonard, Jessie Potter, Mildred Potter and Edward Butler, Benjamin Leonard, John Collins, Ernest Butler, Mr. and Mrs. Dalton Potter and Mr. and Mrs. James Rush.

George died of uremic poisoning at age 77 on June 6, 1910, caused by chronic inflammation of his bladder. He was buried beside with his first wife and infant children at Irwin Memorial Cemetery. His grave marker is seen here. Son Charles was the informant for his official Pennsylvania certificate of death.

Of their children, circa 1910, Clarence and Miriam resided in Youngstown, OH; Charles in Monessen, PA; Horace in Wyoming; Angeline in Montana; Joseph in Ohio; and Logan and Jessie in Ohiopyle.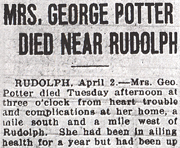 Obituary, 1925

Widowed at age 61, Mary survived George by 15 years. In 1915, she relocated to Rudolph, Wood County, OH, to reside with her married son Logan and unmarried daughter Jessie. Their residence was "a mile south and a mile west of Rudolph," said a Bowling Green newspaper.

In about 1924, Mary began to suffer from organic heart disease, as well as chronic nephritis, though she was able to be "up and around," said the newspaper.

Just two weeks after her 76th birthday, Mary passed away, on March 31, 1925. After a funeral held at the South Liberty Church, she was laid to rest at the Wingston Cemetery in or near North Baltimore, Wood County. There also is a memorial marker for her beside her husband George's grave at Irwin Memorial Cemetery in Ohiopyle, so it's not known if her remains later were moved.

Book picturing George

In 1994, a photograph of George was published in the book, Yesteryear in Ohiopyle and Surrounding Communities, Vol. II, compiled by author Marci Lynn McGuinness. He is pictured at a Civil War veterans reunion at the original Ohiopyle House, standing beside his brother in law, Reuben Leonard. The same image also has been published in McGuinness's 1998 book, Stone House Legends and Lore, in which this website's founder also is named.

~ Stepson Clarence Potter ~

Stepson Clarence Potter (1859-1919) was born in 1859.

He moved to Ohio and married Luella Poland (1866-1944) in April 1891. She was a native of Hancock County, OH.

They resided in Youngstown, Mahoning County, OH (circa 1910) and later moved Rudolph.

The Potters had at least one son, Charles Augustus Potter (1904-1975).

Clarence died in Ohiopyle on Nov. 22, 1919.

Luella outlived him by a quarter of a century, and passed away in Wood County in March 1944. Their granddaughter, Shirley Jane (Potter) Drain, wife of Donald Wesley Drain, has been interested in the family genealogy. Her ancestry charts (circa 1982) are on file today in the Family History area of the Wood County District Public Library in Bowling Green.

~ Stepdaughter Jessie Potter ~

Obituary, 1953

Daughter Jessie Potter (1887-1953) was born in 1887.

She never married.

"For many years she lived on a farm in Liberty Twp. [near Rudolph] where she had many friends," said a Bowling Green newspaper.

After contracting influenza in the winter of 1953, at age 66, she passed away from its effects, on Feb. 19, 1953. Her funeral was held in the South Liberty Methodist Church, followed by burial at Wingston Cemetery. The informant on her death certificate was John B. Wilson Jr., connection unknown.

~ Stepson Logan Potter ~
Obituary, 1965

Son Logan Potter (1889-1965) was born in 1889.

He married Adda Banks ( ? - ? ).

Logan relocated to Wood County in about 1915, at the age of 26. He was employed by the Wood County highway department for many years, as was a distant cousin, Hugh Valentine Miner.

While their primary residence was Route 1 in Rudolph, the family apparently lived in Findlay, Hancock County, OH circa 1943, when their son was born.

They had at least three children -- George Perry Potter II, David L. Potter and Marian Potter.

Heartache rocked the family in June 1944 when 15-year-old son George, a high school student, drowned accidentally while swimming about one and a half miles south of Rudolph. Burial was in Wingston Cemetery.

After an illness of eight years' duration, Logan died at age 76 on Oct. 24, 1965. He also was laid to rest in Wingston Cemetery.

Step-grandson David Potter (1943-1995) never married, and resided with his mother in Rudolph.

Step-granddaughter Marian Potter resided in North Baltimore, Wood County later in life, although circa 1965, she was working in Thailand with the U.S. Department of State.

~ Stepson Charles Potter ~

The Youghiogheny book states that son Charles "became an architect and designed the Mitchell house that is now the American Youth Hostel."

Copyright © 2001-2007, 2009-2010, 2022 Mark A. Miner