Large Crowd Enjoys 'Untold' Custer Story, Gospel Band
120 Cousins Attend 2002 Reunion from 27 PA Towns, 11 States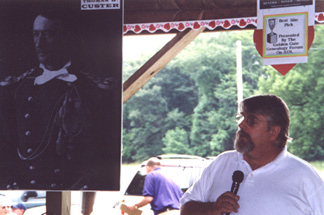 Carl Day under the watchful eye of his subject, Thomas W. Custer

Carl Day
JULY 13-14, 2002 - A large crowd at the recent two-day National Minerd-Miner-Minor Reunion heard author and high school educator Carl Day describe the life of overlooked Civil War hero Thomas W. Custer, who was killed with his more-famous brother George at the Battle of Little Big Horn.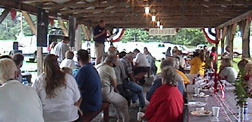 Large group
The reunion, held in Kingwood (Somerset County) and Ohiopyle (Fayette County), PA, drew at least 120 cousins from 27 Pennsylvania towns, and from 11 states.
~ Saturday's Activities ~
Carlís recently published biography, Tom Custer: Ride to Glory, discusses the unusually close relationship between the Custer and Minerd families in the mid-1800s, including new research showing that Thomas Custer and our cousin, Rebecca Minerd, produced a son out of wedlock.
Beverly (Hansen) Miner, a volunteer with the Wood County (OH) Genealogical Society, gave a short talk on the fate of Rebecca and her son, "Tommy."

Rare photos displayed
Enlarged photographs of the Custers, Minerds and the Little Big Horn battlefield (seen at right) were on display throughout the picnic pavilion, as well as large red hearts and roses. These visuals helped reunion-goers get a better feel for the special connection between the two historical families spanning three generations and two counties in Ohio.

New Inspirations gospel band
The highlights of our clanís 17th annual reunion also included great live music by the country gospel band "New Inspirations" of Connellsville, PA (seen here), who played many wonderful familiar songs.
The band featured lead guitarist Mark Hamilton (standing, far left) whose wife Anjie is one of our cousins, of the Irene (Miner) Welsh branch. The band volunteered their services for us, saying they "love to play where there are good people having fun."
There was a long chow line for the potluck lunch. Cousins brought a bountiful variety of delicious homemade meat and side dishes, as well as desserts and drinks. Absolutely no one should have gone away hungry.

The long food line -- well worth the wait!

Prez Miner
Reunion president Mark Miner (seen here) of Beaver, PA, read a special report by cousin Marilyn (Jenkins) Prinzing of Libertyville, IL. In the report, Marilyn described the effort she is leading to obtain a grave marker for Revolutionary War patriot Jacob Minerd Sr. at the Indian Creek Baptist Church Cemetery in Mill Run, PA. Mark discussed the familyís possible future 'Adopt-A-Monument' efforts at the Gettysburg National Battlefield.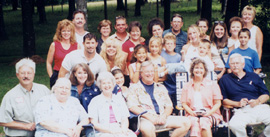 Schultz group
Some 27 descendants (seen at right) of the late Jack and Jessie (Miner) Schultz of Washington, PA attended, the largest such group in the reunionís history.
Together for the first time in many years, the Schultzes came from Florida, Georgia, Indiana and Maryland as well as Western Pennsylvania.
Seen here, cousins Brian Schultz (left) and Pam (Schultz) Nagy displayed a poster that Pam's daughter Natalie made for a sophomore English "My Heritage" project at Trinity High School in Washington, PA. Using facts and photographs from our website, Natalie's poster traces the migrations of the Schultz-Nagy branch from the original German immigrant settlement near Reading, PA to the family's current residence south of Pittsburgh, spanning 10 generations.
Prizes were awarded to Mary Gene Minerd of Wheaton, MD as the oldest family member in attendance; Lucretia Swope of Mill Run as the youngest; Melinda and Rich Brooksher of Pittsburg, KS, for traveling the furthest; Doug and Michelle Schultz Jr. of Washington, PA, as the most recent newlyweds; and co-winners Shirley King of Markleton and Boots Norton of Pittsburgh as the longest married. Alvin and Pauline Leslie of Fort Hill, PA donated jars of locally-produced 'Somerset County' honey as door prizes. Doris Hawker of Morgantown, WV, and Wendy Zeller of Stevensville, MD, led games for the children, including bingo, a three-legged race and pin the tail on the donkey.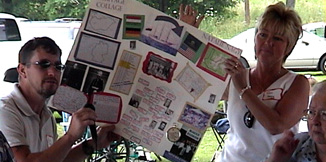 The Nagy-Schultz poster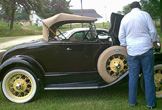 Model A Ford
The Brookshers were the first members of their branch of our family to return to Western Pennsylvania in 116 years, since 1886, when their forbears Samuel and Rebecca (Smalley) Minerd left Uniontown to become pioneer settlers of Kansas.
Two of our cousins from Uniontown, PA arrived in a wonderfully restored antique Model A Ford (seen here), a style of automobile that would have been popular in the late 1920s. This particular Model A had been used for many years as a US Mail delivery vehicle before being restored by its current owner. Many reunion-goers spent time admiring its beauty.
~ Sunday's Activities ~
Sunday morning's events, held under a canopy at Ohiopyle State Park (seen here), drew 20 cousins. The session included a genealogy roundtable to gain insights into the best, most effective ways to research family history; a discussion of future plans for the familyís award-winning website; and a visit to the site near the old Ferncliff Hotel in Ohiopyle, where the clan's first ever reunion was held in 1913.

Our Sunday morning gathering under a canopy at Ohiopyle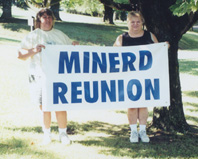 Lora Crabtree & Barb Minerd
Seen at left, at the Sunday roundtable, cousins Lora Crabtree Brown (left) and Barb Minerd stood beside Route 381 to let cousins know where to turn into the parking lot.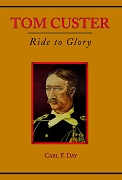 Carl Day's book
This year's theme is part of our ongoing research to measure the long-term impact that a single Western Pennsylvania clan can have on society, and to share these with our cousins and the public. In past years, reunions have honored the family's pioneer ancestors; hundreds of coal, coke and steel laborers; military veterans, and educators, and have envisioned what 21st century families will be like.
Other members of the reunion committee are vice president Sid Miller of Mont Alto, PA and secretary Rosella (Resh) Miner of Grantsville, MD.
The Custer book is a must for any family library. If you'd like your very own copy, you can order it online from Amazon.com. If you do so, please click here and be sure to place your order within 24 hours. If you follow these instructions, Amazon.com will ship the book to you directly, and give us a small rebate as a finder's fee, which we will use to offset our website costs.
Next year's reunion, our 18th, will be held the weekend of July 12-13, 2003.

Copyright © 2002 Mark A. Miner.
Photos by Bernard Charnovich Sr., Anjie (Welsh) Hamilton, Sharon (Sheldon) Kern
and Mark A. Miner. Book jacket courtesy of Arthur H. Clark Co.