2004 Reunion: 'Fallingwater:
A Long Family Affair'
26 Cousins Honored Who Have Worked
at the Nation's Most Famous Modern House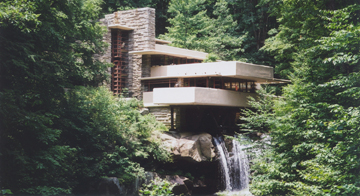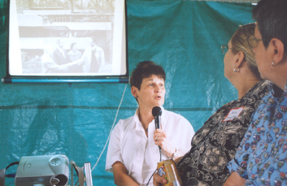 Guest speaker Joy Miller
KINGWOOD AND MILL RUN, PA - A smaller-than-usual but highly interested crowd of 87 cousins attended the 2004 National Minerd-Minard-Miner-Minor Reunion, held the weekend of July 10-11 in Somerset and Fayette Counties, PA.
This year's theme was "Fallingwater: A Long Family Affair." It featured Fallingwater employee and cousin Joy Cunningham Miller as our guest speaker, and honored 26 cousins past and present who have worked at what is widely known as the nation's most famous modern house, designed in the 1930s for the Edgar J. Kaufmann Sr. family by Frank Lloyd Wright. Fallingwater® is a property of the Western Pennsylvania Conservancy.
Our theme caught the attention of the news media. The day before the reunion, newspapers across Pennsylvania printed an Associated Press wire story about our event, entitled "Family Celebrates Its Ties to Fallingwater." The story was published in the Harrisburg Patriot-News, Beaver County Times, Uniontown Herald-Standard, Connellsville Daily Courier, Johnstown Tribune-Democrat, Waynesboro Record-Herald and Wilkes-Barre Times-Leader, among many others.
Next year's reunion will be held the weekend of July 9-10, 2005.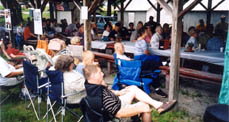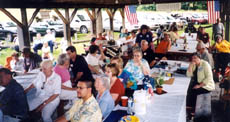 Joy Miller's talk on Fallingwater kept the group focused in their attention
Saturday Picnic Featuring Cousin Joy Miller
At the Saturday picnic at the Kingwood Odd Fellows Grove, our guest speaker delighted the audience with a powerpoint presentation about Fallingwater past and present. She showed rare old photographs of the Kaufmann family and the Bear Run property before and during the time Fallingwater was built. Joy also described the original construction problems that caused the house's cantilevered patios to sag significantly over time, causing the need for a recent reconstruction and post-tensioning process that has now stabilized the structure.
Large photograph panels on the side of the picnic pavilion displayed enlarged photos of six cousins who were employees of Fallingwater over several decades spanning the 1930s through the 1990s – Ralph Miner, Lester and Mildred (Anderson) Miner, Oakey and Gertrude (Shroyer) Harbaugh, and Frank Miner.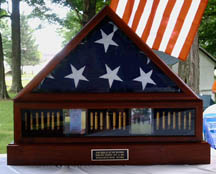 Jacob Minerd Sr. patriot display
Four direct descendants of Fallingwater employees were in attendance – Donna Miner, Denise (Kessler) Miner, Gladys (Harbaugh) Kellner and Norma (Harbaugh) Liston.
A four-page booklet -- also entitled Fallingwater: A Long Family Affair -- was distributed to all attendees. It features text and rare photographs never before published and based on archival research in the Fallingwater archives. Author and reunion president Mark A. Miner told the crowd that the family's collective labors during the transitional period of 1955 to 1963 -- between when Edgar Kaufmann Sr. died and when his son Edgar Jr. deeded it to the Conservancy -- have protected and preserved an architectural masterpiece. Today Fallingwater is toured by more than 144,000 visitors annually and has been designated as a national historic landmark.
The reunion committee presented a flag case to the group. It features a wooden frame with beveled glass – containing the VFW's triangle-shaped folded flag presented to us at last year's dedication of the Jacob Minerd Revolutionary War grave marker. The case also includes the shell casings from the 21-gun salute by the VFW and American Legion, as well as photographs of the grave marker and ceremony. The case is intended to be brought every year in perpetuity for all cousins to see and appreciate.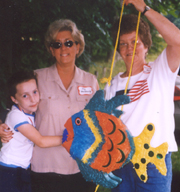 Reunion officers Peg Mansberry
and Doris Hawker
At our brief business meeting, Peg (Grimm) Mansberry was elected vice president, succeeding Sid Miller.
Peg led children's games, including a piñata hung from a tree. Peg and her granddaughter Alyssa, and reunion treasurer Doris Hawker are seen here with the pinata.
We held a moment of silence for 69 cousins who have died since last year. We also took note of the sugar maple tree that we planted in 2000 that is still growing nicely.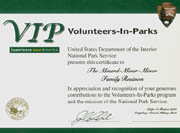 National Park Service citation
Cousin Sid also gave the group an update on his "Adopt a Position" cleanup efforts at the Gettysburg National Battlefield Park. He presented the reunion committee with a special "Volunteers in Parks" certificate that had been provided by the National Park Service of the U.S. Department of the Interior. (Click to see an enlarged view.)
Lunch included delicious main dishes, side dishes and desserts brought by our cousins. If anyone went away hungry, shame on them!
After lunch, a group photo was taken by Cousin Sid, who is a longtime photographer with the Waynesboro (PA) Record-Herald.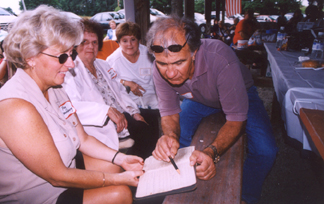 Above, cousins Peg Mansberry, Mae Grimm, Bonnie Morell and Tony Enos share a look at an old family bible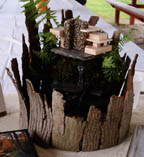 Fallingwater model
by Doris Hawker
Prizes were awarded to the following:
Youngest – Myah Fogarascher of Homewood, OH

Oldest – Freda (Swaney) Minerd of Fairchance, PA

Longest Married – Ralph & Rhoda (Darby) Kinkead of Greensburg, PA

Shortest Married – Mark & Liz (Zoeller) Miner of Beaver, PA

Furthest Traveled – Bob & Marilyn (Jenkins) Prinzing of Libertyville, IL
Reunion treasurer Doris (Sands) Hawker led a raffle and door prizes to help raise funds to offset our costs. Donated prizes included a Christmas tree skirt donated by Bernetha (Ullery) Pritts; knitted afghan donated by Betty (Heinbaugh) Hall, magnets and plants donated by Cousin Doris; items from Barb (Holly) Minerd; and Somerset County Honey produced by Alvin and Pauline (Ream) Leslie. Boots (Daw) Norton won both the skirt and the afghan.
Cousin Doris also assembled a waterfall fountain featuring her own homemade model of Fallingwater.
Sunday Activities at the 'Barn at Fallingwater'
On Sunday, the group toured the Fallingwater Home Coming exhibit at the Barn at Fallingwater facility. Among other artifacts on view were an old newspaper with the byline of the late Ferne (Minerd) Work, and transcripts of oral history narratives by the late Leola (Skinner) Miner.
Afterward, we had lunch together at picnic tables outside of the barn. Several cousins took scheduled tours of the actual Fallingwater house.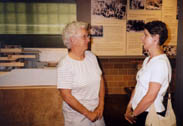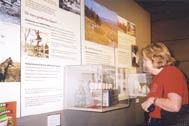 Left: Norma (Harbaugh) Liston chats with cousin and Fallingwater public tour manager Denise (Kessler) Miner. Right: Carolyn (Miner) Means takes in the Fallingwater Home Coming exhibit.
This year's reunion theme is part of an ongoing research to measure the long-term impact of the family on society. Previous reunions have honored the family's Revolutionary War service and pioneer settlers; coal, coke and steel laborers; and military veterans and educators; and have envisioned what future families will be like. The clan's reunion began in 1913 and continued until the Great Depression. After a layoff of 50 years, the reunion was re-established in 1986. The 2004 reunion was the family's 19th annual modern outing.
Members of the reunion committee are president Mark A. Miner of Beaver, PA; vice president Peg (Grimm) Mansberry of Normalville, PA; treasurer Doris (Sands) Hawker of Morgantown, WV; and secretary Rosella (Resh) Miner of Grantsville, MD.
Click to see the remarkable story by a Kansas cousin whose reunion-visit to Western Pennsylvania in 2002 was the first by her branch of the family in 116 years.
Copyright © 2004-2005 Mark A. Miner.
Photograph of Fallingwater used with permission of the Western Pennsylvania Conservancy.