Lillian Day 'Lillie' (Miner)
Sheaks Little
(1882-1963)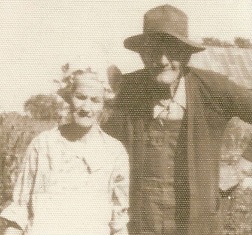 Lillian and Charles Little
Lillian Day "Lillie" (Miner) Sheaks Little was born on one of four dates provided by historical sources -- July 20, 1882 - July 20, 1883 - Jan. 25, 1883 - or July 1884 -- in Sidney, Shelby County, OH. She was the daughter of Joseph and Mary Jane (Courtney) Miner.
As a young teenager, Lillie lived with her widowed mother and older brothers in Lafayette, Hardin County, near the Allen County border. In a tragic event in November 1895, she witnessed her mother and brothers Simon and William fatally beating a neighbor, William Rumbaugh, who had come to their home to reclaim a stove. During the confrontation, Simon told Rumbaugh that he wasn't going to get the stove, and that they would kill him. William pulled a revolver from his coat and said, "We intend to kill you and now is as good a time as any other."
Neighbor William Stell took the gun away from William, but in the scuffle that ensued, the mother was knocked to the ground. Simon jumped on Rumbaugh, and beat him senseless, inflicting a fatal brain hemorrhage. Said the Kenton Republican, "After Rumbaugh had received his death blow at the hands of Simon Miner, the mother and other son [William] sprang upon his almost lifeless body and beat him with clubs and a hoe handle." Daughter Lillie screamed, "Don't kill him, mother!" and Mary Jane replied, "Yes, I will kill the ---."
The mother and Simon were sentenced to 10 years of hard labor in the Ohio state penitentiary in Columbus, although the mother's sentence later was reduced in March 1896 to three months in jail.
When the opportunity arose to marry and leave home, Lillie jumped at the opportunity. While she was 14 years old at the time, Lillie disclosed her age as 16 when she married 24-year-old Henry Hiram ("Harry") Sheaks (1873-1930), also spelled "Sheets," on June 30, 1897. Justice of the peace S.J. Goodman performed the ceremony in Putnam County. A scribbled note on their marriage license shows that Lillie's mother signed her consent to the union, with the additional note that "said Lillian is likely soon to be com a mother." Interestingly, marriage license applications for this couple also have been found in Van Wert County and Port Clinton, Ottawa County. Henry was the son of Christopher and Rhoda Catherine (Decious) Sheaks.
Lillie and Henry had one son, Curray Rollo "Curry" Sheaks, born in October 1897.
Lillie's first marriage ended quickly in divorce. Rumors abounded that Hiram had been imprisoned for receiving stolen ducks in Auglaize County, but no evidence has been located. He married again to Amanda Vorhees and Sally Caldwell and resided at 112 Motts Street in St. Marys, Auglaize County, OH. He died there pf paralysis at the age of 57 on Dec. 28, 1930, with burial in Elm Grove Cemetery.
She wed again, at age 18, to 27-year-old Charles Andrew Little (1873-1963), a resident of Kalida, Putnam County, OH and the son of James Thomas and Sarah E. (Hight) Little. The nuptials were performed by H. Parson, a Methodist Episcopal minister of the Gospel, on Nov. 19, 1900, in Putnam County. Charles was tall and slender, with blue eyes and brown hair.
Lillie and Charles had eight known children -- Gleadus Little, Huldah Elizabeth Underwood, Zella Kirkendall, David Little, Lillian Katherine Margaret Little, Jenetta Carder, James Little and William T. Little.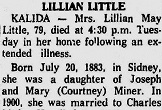 Lima News, 1963
Heartache rocked the family over and over -- starting when newborn son James died of spasms on Dec. 12, 1910, at the tender age of 21 days; when four month-year-old daughter Lillian died of cholera infantum caused bottle feeding on Sept. 24, 1919; and when son William died at the age of two months of bronchio-pneumonia, on Jan. 29, 1923. The little ones were buried in the cemetery in Kalida.
When the federal census was enumerated in 1910, Lillie and Charles and their children lived in the village of Kalida, Putnam County. Charles' occupation was as a railroad laborer. Charles registered for the military draft during World War I, in September 1918. He was age 45 at the time, employed as a "laborer" by John T. Nartker of Kalida, and his nearest relative was "Lula Day Little" of Kalida.
By 1920, when the census of Putnam County again was taken, Charles was listed as a "laborer - clearing land."
The census of 1930 indicates that the Littles lived on Plum Street in Kalida, with Charles laboring at a local stone quarry. Only their two youngest children resided under their roof that year.
Grandchildren recalled that Lillian enjoyed rocking in her chair, smoking a cob pipe and spitting tobacco in a spittoon while listening to the Grand Ole Opry. When the grandchildren would climb his trees, Charles would use his cane to prod them into coming back down.
In 1956-1959, Lillie made her home in Kalida, and was mentioned in a Kalamazoo, MI newspaper obituary of her sister Martha Conner and the Lima News obituary of her sister Sarah Josephine Moore. She was a member of the Kalida Methodist Church.
Sadly, Charles died in 1957, at the age of 90.
Lillie outlived him by six years. After enduring "an extended illness," reported the Lima News, she died at home on Jan. 22, 1963, at the age of 79. The News disclosed that she was survived by 23 grandchildren and 51 great-grandchildren.
~ Son Curray R. "Curry" Sheaks ~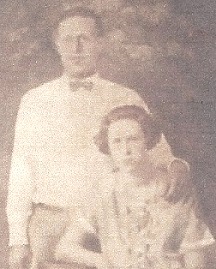 Curray and Beatrice Little
Son Curray R. "Curry" Sheaks (1899- ? ) (or "Sheets") was born on Oct. 9, 1897 (though reported on other records as 1898 or 1899). He was raised with his mother, step-father and half siblings in Kalida.
At the age of 25, he resided in Kalida, and made his living as a laborer.
On Aug. 11, 1924, Curry married Beatrice Decker (1906- ? ), daughter of W.M. and Cora (Lelky) Decker of Kalida. Because Beatrice was legally underage, her father appeared in court before a judge to declare his approval of the union. Rev. C.L. Buckler, of the Kalida Methodist Episcopal Church, officiated. Curray was age 25, and Beatrice 17, at the time.
The couple produced five children -- Mrs. Donald Beemer, Mrs. Henry Fought, Junior Sheaks, Adam Sheaks and Larry Sheaks.
For many years, Curry was employed by Baldwin Lima Hamilton Corporation. They resided in the Kalida/Columbus Grove area and were members of the Methodist Church.
When his mother died in 1963, he was named in the newspaper obituary. Curry died at home later that year at the age of 65. Burial was in Ridge Cemetery following funeral services in the family church.
Daughter (?) Sheaks married Donald Beemer and lived in Continental.
Daughter (?) Sheaks was wedded to Henry Fought and resided in Ottawa.
Son Junior Sheaks made his home in Kalida.
Son Adam Sheaks resided in Continental.
Son Larry Sheaks lived in Kalida.
~ Son Gleadus "Gleadine" Little ~
Son Gleadus "Gleadine" Little (1902- ? ) was born in 1902 in Kalida, Putnam County.
Circa 1963, he lived in Woodville, Clermont County (or Sandusky County) and was mentioned in the newspaper obituaries of his mother and brother.
~ Daughter Huldah Elizabeth (Little) Underwood ~
Daughter Huldah Elizabeth Little (1903-1951) was born in 1903 in Kalida, Putnam County.
At the age of 16, she married 21-year-old Olan Underwood (1898- ? ). They resided in rural Woodville Township in Sandusky County, OH.
They had at least three children -- Evelyn L. Underwood, Olan Underwood Jr. and Betty J. Underwood.
The 1930 census shows this family in Woodville Township, with Olan's occupation given as "laborer - lime plant."
Huldah passed away at St. Vincent Hospital in Toledo, Lucas County, OH at the age of 47, on Aug. 7, 1951. She was laid to rest in the Union Cemetery in Oak Harbor, OH.
~ Daughter Zella (Little) Kirkendall ~
Daughter Zella Little (1908- ? ) was born on Feb. 4, 1908 in Kalida, Putnam County.
On Nov. 21, 1927, at age 19, she wed 23-year-old Lavern Kirkendall (1904- ? ), a laborer of Greensburg Township, Putnam County. He was the son of Noah and Mary (Krohn) Kirkendall. Three years after their marriage, the Kirkendalls lived in Greensburg, Putnam County, where Lovern worked at "odd jobs."
They had at least two children - Gleadus L. Kirkendall and Margaret F. Kirkendall.
In 1963, the Kirkendalls made their residence in Fremont, Sandusky County, OH.
Son Gleadus L. Kirkendall (1928- ? ) was born in about 1928.
Daughter Margaret T. Kirkendall (1929- ? ) was born in about 1929.
~ Son David Little ~
Son David Little (1913- ? ) was born in 1913.
He lived in Kalida, Putnam County in 1963.
~ Daughter Jenetta (Little) Carder ~
Daughter Jenetta "Juanita" Little (1915- ? ) was born in 1915.
She wed (?) Carder and in 1963 made her home in Continental, Putnam County.
Copyright © 2011-2013, 2016 Mark A. Miner
Lima News obituary courtesy of Ancestry.com