Lorenzo Miner
(1858-1912)
Lorenzo Miner was born on Aug. 22, 1858 in Des Moines County, IA, the son of Nathaniel and Susan (Abbott) Miner.
He was raised in and around West Point, Pleasant Ridge Township, Lee County, IA.
When the federal census was taken in 1880, Lorenzo was unmarried and operated a farm with his single brother John near West Point, Pleasant Ridge Township, Lee County, IA. Making her home in their residence that year was 19-year-old unmarried sister Minerva.
On Oct. 29, 1884, when Lorenzo was age 25, he married 19-year-old Cora Foggy (Feb. 13, 1864-1920), daughter of George and Sarah J. (McKay) Foggy of Lee County. She was six years younger. Rev. Arthur Stott officiated at the nuptials.
The censuses of 1900 and 1910 both show the Miners living in on a farm in Pleasant Ridge Township, Lee County. In 1908, when Lorenzo's father died, their post address was Denmark, Lee County. They did not reproduce.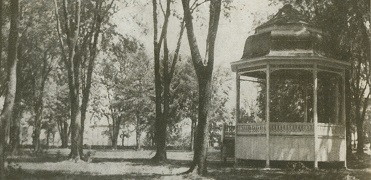 Gazebo in Denmark's Star Park, 1909
In about 1909, the Miners celebrated their 25th wedding anniversary.
Lorenzo died on Feb. 25, 1912 at the age of 54. He was laid to rest at Fort Madison.
The summer after his death, Lorenzo was named in a Keokuk (IA) Daily Gate City article in connection with the Lee County Old Settlers Association annual meeting held in Rank Park. His was among many names of deceased settlers read aloud at the event. Hon. John E. Craig gave the keynote remarks, saying "You old settlers and pioneers are well worthy of your welcome because you are the representatives of a state greater than the 'kingdom of Judea' when the fame of Solomon with his riches and glory filled the earth."
Cora joined him in death on Oct. 22, 1920. She rests with her husband at Atlee Cemetery, also known as Elmwood Cemetery in Fort Madison.
Copyright © 2000, 2007, 2009, 2017, 2020 Mark A. Miner