Home

John Miner was born in Iowa on May 12, 1853, the son of Nathaniel and Susan (Abbott) Miner.
John never married, and lived with his parents and siblings for many years.
When the federal census was taken in 1880, John operated a farm with his brother Lorenzo near West Point, Pleasant Ridge Township, Lee County, IA. Making her home in their residence that year was 19-year-old unmarried sister Minerva.
In 1900, when the federal census was taken, John made his home with his married brother and sister in law, Charles and Alice S. Miner, in Fort Madison. He had no occupation that year.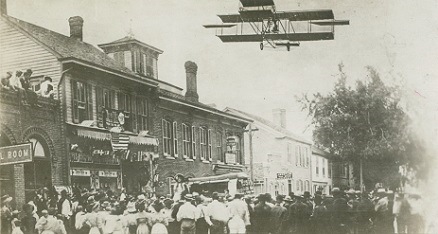 Crowds at West Point, Iowa, appearing to watch a newfangled flying machine, which looks to have been inserted into the photo.
By 1910, John lived with his married sister and brother in law Minerva and William Canaday on a farm in Denmark, Lee County, IA. The census-taker marked that John made a living from his "own income."
John died on April 7, 1919, at the age of 66. He was laid to rest in Fort Madison.
Copyright © 2000, 2007, 2009, 2017 Mark A. Miner