Minerva (Miner) Canaday
(1860-1917)
Minerva (Miner) Canaday was born on Sept. 20, 1860, presumably in Fort Madison, Lee County, IA, the daughter of Nathaniel and Susan (Abbott) Miner.
When the federal census was taken in 1880, Minerva was age 19 and unmarried, and lived with her single brothers John and Lorenzo on a farm near West Point, Pleasant Ridge Township, Lee County, IA.
In 1886, when she was age 26, Minerva married farmer William T. Canaday (Dec. 23, 1858-1926), a native of Iowa. (The name has been misspelled in census records as "Kenaday.")
Whether or not the couple reproduced is unknown.
When the federal census was enumerated in 1900, the family made their home on a farm in Franklin Township, Lee County.
In 1901 the Canadays resided at Dover, Iowa County. By 1908, they had moved to Missouri, settling in Shelbina, Shelby County.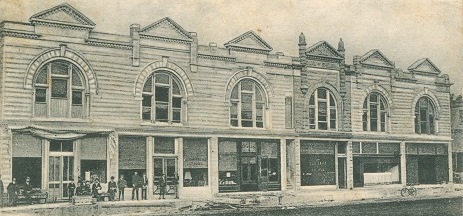 Buildings in the business district of Shelbina
When the census was taken in 1910, they were back in Iowa, residing in Denmark, Lee County. That year, Minerva's unmarried, 56-year-old brother John Miner lived under their roof, and made a living from his "own income."
Minerva died on Oct. 9, 1917, a the age of 57. She was laid to rest at Fort Madison.
William survived as a widower for another nine years. He succumbed to death on Nov. 9, 1926. Interment of the remains was in Elmwood Cemetery in Fort Madison [Find-a-Grave]
Copyright © 2000, 2006, 2009, 2020 Mark A. Miner