Burket Minerd
(1774?-1850+)
Burket Minerd was born on Jan. 26, 1774 in Oley Township, Berks County, PA, the son of Jacob and Maria (Nein) Minerd Sr.
He served in the War of 1812, and later operated one of the earliest grist mills in Preston County, WV.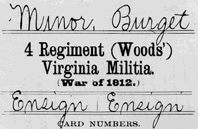 Burket's military service record
Together, Burket and his wife produced six children, 43 grandchildren and at least 108 great- grandchildren, virtually all born before the year 1900. Those numbers surely will grow as more research is done.
Burket was baptized on Aug. 7, 1774 at the Zion Lutheran Church of Alburtis, PA. As a teenager, he moved with his parents to a farm along the mountainous border of Fayette/Somerset Counties, PA.
Around 1800, Burket married Frances "Franky" Skinner ( ? - ? ), the daughter of Robert Skinner of Somerset County.
The couple produced six daughters were Phoebe Fawcett, Keziah Martin, Mary Miner, Catherine Hanshaw, Rebecca Murdock and Sarah Carroll.
In 1796, Burket was assessed taxes for land in Turkeyfoot Township, Somerset County. Sometime around 1805, he and Franky moved south across the state line into Kingwood, Preston County, WV. They continued to own land in Somerset County during that time.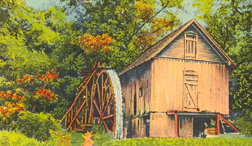 Burket's grist mill may have resembled this
Burket operated a grist mill near Kingwood, "one of the earliest in the county." The mill's precise shape and location have not been identified.
Wiley's 1882 book, the History of Preston County, reports that the mill "was built before 1800, just above Albright's mill on Green's Run. Thomas McGee many years afterward built a mill one half mile above its site." References to Burket and his mill are repeated in Core's 1976 book, The Monongalia Story, Vol. II, and the Preston County Historical Society's 1979 volume, Preston County, West Virginia, History.
In early 1809, Burket was engaged in legal controversy when a hog allegedly belonging to David Trowbridge or Thomas Butler was found in his pen. The hog in question had an identifying feature of crooked tail, and had escaped from Butler's pen. In testimony in Monongalia County Court, Burket testified that Butler had come to his mill and described his missing hog. The two men then went to the pen, with Butler pointing out the one with the crooked tail. To confirm his claim, Butler said he would ask his wife or friend Peter Mason to view the animal, "for they knew his hogs as well as he did." The case is summarized in the 1994 book, Monongalia County (West) Virginia - Records of the District, Superior, and County Courts, Volume 7, compiled by Melba Pender Zinn.
Burket is most certainly the same "Burget Minor" of Preston County who served in the War of 1812 as an Ensign in Lieuteant Christian Conn's Detachment of Troops of the 104th Regiment of Virginia Militia. Though sketchy, his military records show that he served for only 13 days, from Feb. 20 to March 4, 1815, and that he earned $8.38 for this service. His name in the military records has been spelled both "Minard" and "Minor." Said Wiley's History: "This company was drafted or volunteered at the Webster farm, two miles south of Bruceton, afterward owned by Bowen G. Trowbridge, rendezvoused at Morgantown, marched through Kingwood to the Dunkard Bottom on Cheat River, where they received orders to be discharged, as peace was declared."


Burket's mill mentioned in the 1882 History of Preston County
Burket may have been close to his brothers Daniel Sr. and Frederick Sr., and/or to some of his Skinner in-laws, who were early pioneers of Perry County, OH. In 1818, evidence hints that Burket sued Willliam Melick in Perry County for $500. According to records, the dispute arose over a broken covenant dating all the way back to 1806 for the purchase of 190 acres in Pennsylvania. Nothing more is known of this litigation.
Documents on file today at the Monongalia County (WV) Courthouse in Morgantown show that on Nov. 18, 1815, Burket signed his consent for his daughter Sarah ("Sary") to marry Anthony Carroll. Both Carroll and Godfrey Guseman signed a bond for the marriage license, which stated that the "marriage is suddenly intended to be had and solemnized..."
The Minerds sold land in Somerset County, PA, in 1824 though they were living in West Virginia at the time. Since neither of them could write, he signed his name on the deed simply with a "B," and she with an "X."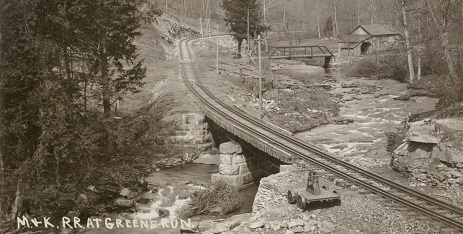 Green's Run, spanned by Morgantown and Kingwood Railroad bridge
Strangely, when his father in law died in 1823, and the estate was auctioned off, Burket did not purchase any of the 125 available items for sale.
His first name is thought to be an Americanized version of the German "Burkhardt," also used by his uncle, Burkhardt Meinert of Berks County, PA. The name also was used by his nephew, Burket Minerd, who married Susan Hartzell and moved to Preston County, WV, in the 1830s. In fact, the identity of which Burket was which in Preston County caused confusion when the history of the county was written.
Burket is mentioned by name in Morton's 1914 History of Preston County and in Wiley's 1882 history. He also is mentioned in the May 1983 and February 1997 issues of the Laurel Messenger newsletter of the Somerset County (PA) Historical Society.
The last known record of Burket alive is the 1850 census, when he was listed as a 74-year-old laborer residing with 66-year-old farmer William Roberts in Preston County.
Franky's fate is unknown, and their burial sites are lost to history.
Copyright © 2000-2003, 2006, 2009, 2019 Mark A. Miner