Bess V. (Minerd) Beck
(1889-1953)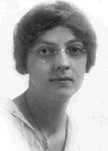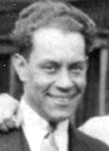 Bess V. (Minerd) Beck was born in Mt. Pleasant, Westmoreland County, PA on May 16, 1889, the daughter of Rev. Isaac H. and Margaret Jane (Sheppard) Minerd.
As a young girl, she would have moved with her parents and family to the New Haven section of Connellsville, and thence to Uniontown, both in Fayette County, PA.
She seems to have been social and outgoing. In May 1907, the Hopwood Chronicle, a small newspaper from the Uniontown outskirts, reported that Bess, "who has been away for some time, is making her home with Mrs. Deborah Semans for the present." The following year, in June, the Chronicle said she "was visiting friends here recently."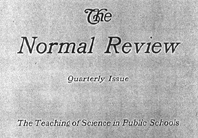 Bess followed in the footsteps of her elder brother Roy when she enrolled in the California Normal School (now California University of Pennsylvania). She studied to become a teacher, and served as an associate editor of The Normal Review. She wrote stories for the Review about Washington's Birthday celebration and "Tree Day," when the senior class planted a tree on campus. She graduated in 1912.
Bess's first teaching assignment was at East End School in Uniontown, PA. She remained there until 1915, when she is believed to have moved to Pittsburgh with her parents about that time.
In 1917 to at least 1919, Bess taught in the Wilkins Township schools, with E.E. Boyd and William Young successively serving as her supervising principal. She is listed in the typescript One Hundred and Sixteen Years of the Free Common School System in Wilkins Township, prepared in 1951 by John A. Bendot. She also was a volunteer with the Pittsburgh Chapter of the American Red Cross in the late 1910s and/or early 1920s.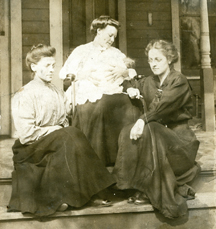 She doted over her nieces and nephews. She is seen at left, seated at right, with sister Jenne Baily and sister in law Ethel (Buchanan) Minerd, holding newborn Margaret "Peg" Minerd.
When nephew Penn Minerd was born in Philadelphia in 1915, she crocheted him a jacket. At Penn's first Christmas, she gave him a hood, plate, cup and saucer. At his first birthday, she presented him with a toy ball. She also gave him candy eggs at Easter.
Bess suffered the loss of her father in 1919. Later that year, on Oct. 29, 1919, she married Anton C. Beck. He had been born in Aurora, NY, the son of Martin and Alice (Madison) Beck of the West Indies. Bess's widowed mother came to live with them, and remained for more than a decade, until the mother's death in 1931.
She miscarried their first child, and was never able to conceive after that.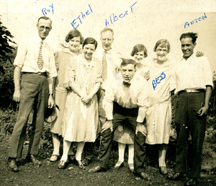 At right, Bess and Anton stand at far right, with a group of friends and Minerd relatives.
Bess died in the summer of 1953 and is buried in the Pittsburgh area. Her exact resting place is unknown. Nieces and nephews have said her burial site is either in the Mt. Hope Cemetery in Penn Hills, the Riverview Cemetery, or Sunset Memorial Park.
About four months after Bess's death, Anton got married again, to Helen M. Dickinson. Bess's brother Albert was infuriated, and is said to have called the Homewood Avenue Methodist Church and "read the riot act" to the minister who performed the ceremony. Anton is believed to have died on Oct. 17, 1956, with burial at Homewood Cemetery.
Copyright © 2001, 2010 Mark A. Miner