Sarah Jane 'Jenne'
(Minerd) Baily
(1879-1966)

Sarah Jane "Jenne" (Minerd) Baily was born on June 14, 1879 in Mt. Pleasant, Westmoreland County, PA, the only child of Rev. Isaac H. and Sarah Susanna (Schiebler) Minerd. She was but a young girl when her mother died, and her father later married Margaret Jane Sheppard.
When Jenne was 10, she was baptized at the Mt. Pleasant Methodist Church. But at age 12, she was stricken with polio, paralyzed in her legs, crippling her for life. She found the strength to be mobile, however, up until her last years.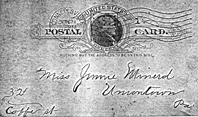 As a girl, Jenne moved with her parents and family to the New Haven section of Connellsville, PA, and then in the early 1890s to Uniontown, PA. In 1904 and '05 she corresponded with Joseph K. Brown, a cousin (perhaps on her mother's side), and copies of two penny postcards he sent in reply (seen here) are now in the Minerd-Miner-Minor Archives.
Jenne remained unmarried for many years. She felt a strong need for her family to make something of themselves. She lent money to her brother Roy so he could attend medical school, helping him become the first physician in his branch of the family.
When Jenne was 33, she married 51-year-old George Ellsworth Baily (1860-1917), the son of Ellis B. and Marietta (Gaddis) Baily, and the widower of Margaret (Lyunch) Baily. He was a native of Carmichaels, Greene County, PA, and how they would have met is a mystery.
Jenne and George's wedding was conducted by Homer B. Whitfield at Greensburg, Westmoreland County, PA. She was 19 years younger than her husband.
With the marriage, Jenne became an instant step-mother to George's adult children. They included John G. Baily, Robert W. Baily, Alma Gregg, Paul Baily and Harriett E. Baily. Stepson John eventually became a Greene County Commissioner and a county auditor.
George was a farmer and stock raiser and was said to have been "quite successful." They resided at Carmichaels, Cumberland Township. A Waynesburg newspaper once called George "a prominent early day resident of the Carmichaels area." He was a member of the New Providence Presbyterian Church, the Carmichaels Grange and the International Order of Odd Fellows (IOOF).
The Bailys had two children of their own – Grayce Beeman and James Ellis Baily.
Heartache rocked Jenne after only five years of marriage, when George contracted a deadly case of acute meningitis caused by an inner ear infection. Ill only about one day, he succumbed on June 10, 1917, at age 56. "His death came as a great shock to his family and friends," reported the Waynesburg Republican. He was laid to rest at Glades Cemetery at Carmichaels, also known as Laurel Point Cemetery.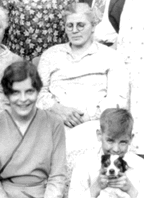 Jennie with daughter Grayce and son James
In an obituary, the Republican noted that he was survived by brothers Edgar G. Bailey, Eli G. Baily and R.L. Baily of the Carmichaels area, and married sister Mrs. George E. Luse, also of Carmichaels. The Waynesburg Democrat Messenger also published an obituary.
Jenne later moved to Pittsburgh, where her widowed mother and siblings resided.
In the photo at right, taken in the 1920s, Jenne poses with her daughter Grayce and son James. She never remarried.
When the federal census was enumerated in 1930, Jenne and her two teenage children made their home on Cora Street in Pittsburgh.
In 1940, the U.S. census shows that 60-year-old Jenne resided with her 22-year-old son James on Bennett Street in Pittsburgh. She had no occupation, but her son worked as a service man for a postage meter company.
She died "of a brief illness" on Aug. 7, 1966, in Pittsburgh's West Penn Hospital, reported a Waynesburg newspaper. She and is buried at Restland Memorial Park in the Turtle Creek section of Monroeville, near Pittsburgh. At her death, the newspaper said, she was survived by 12 grandchildren and 21 great-grandchildren.
Copyright © 2001, 2005, 2014 Mark A. Miner