Dr. Roy Sheppard Minerd
(1885-1962)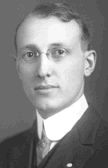 Dr. Roy Sheppard Minerd was born on March 15, 1885 at Mt. Pleasant, Westmoreland County, PA, the son of Rev. Isaac Herschel and Margaret (Jane) Sheppard Minerd. He was an early physician in our family, and helped organize our clan's first reunion in 1913.
Roy grew up in New Haven (Connellsville) and Uniontown, Fayette County, PA. Wanting to teach, he attended what is now California University of Pennsylvania, where he often played piano and organ for school events. There he met his future bride, Nell Gertrude Penn, who wrote articles for the campus publication, The Normal Review.
At California, they also knew his second cousins Edward Campbell Miner and Andrew J. 'Bud' Enos, in their class of 1909. These relationships may have sown the seeds of the first Minerd Reunion, held just four years after graduation, where Roy and his father, and Ed's father, were organizers and officers.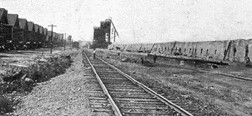 From 1904 to 1906, Roy taught at the Leith Coke Works near Uniontown. (Leith is seen here in a rare old postcard. Note how close the worker houses at left are to the railroad tracks at center and coke ovens to the right.) He later taught in the town of Belle Vernon (1910) before becoming principal of Fairchance grade and high schools (1910-1913). Botany was a favorite subject. Nell taught 8th grade at Uniontown, PA, the first known woman teacher in our family to be college-educated.
A voracious reader, Roy had a large collection of books. Among these were The Works of George Eliot, in Twelve Volumes, published by P.F. Collier & Son, and The Works of Washington Irving, in 15 volumes, published by The Co-operative Publication Society. He added the Eliot series to his personal library on Sept. 30, 1909, and so inscribed one of the books in the set.
Roy also was a family history buff, and, though unable to attend, wrote a "When We Were Young" for the Sheppard reunion at Lincoln, NE in June 1906. On Aug. 21, 1913, he and his family attended the first annual Minerd Reunion at Ferncliff Park in Ohiopyle, PA. His father was elected president, and Roy was elected secretary. He was fascinated with the family history written and prepared by cousin Allen Edward Harbaugh.
A week later, he wrote to Harbaugh:
Your card received and correction made. Just now I am deep in the systematic arrangement of the data concerning the Minerds. What can you tell me about Frederick Minerd who died in Perry Co., Ohio, in 1871? You merely mention him and his daughter, Mrs. David R. Johnson, and, to date, that is all the information I have of that branch of the family. Will you let me have this as soon as possible?
Roy was in a hurry, because less than two weeks after the reunion, on Sept. 2, 1913, he and Nell were married. A month after marriage, they left for Philadelphia, where he enrolled in the Department of Medicine at the Medico-Chirurgical College (now the University of Pennsylvania). The old Medico-Chi Hospital building is seen here in a rare old color postcard.
The Minerds had two sons -- Roy "Penn" Minerd and Robert Edwin Minerd.
After son Penn was born, Nell returned to Connellsville so that Roy could complete his studies without disruption. During that time, he devoted much of his time to working with orphan boys at the Northern Home for Friendless Children. He kept a detailed memoir of his experiences, trying to turn around the lives of boys who had lost their moral compasses, applying his background in Christian principles and elementary education. The memoir, Keep Sweet!, appears on our website, in 12 installments.
He graduated in 1917 and went to Erie to intern at Hamot Hospital.
Roy practiced in Erie until 1929, when he accepted a position as a "country doctor" in Smethport, McKean County, PA, where they lived the rest of their lives. After arriving in Smethport, they joined St. Luke's Episcopal Church. An account of one of Roy's patients, Russell Lindsley, who was Smethport's postmaster and publisher of the McKean County Democrat, can be seen by clicking here.

Wartime R&R in Smethport, left to right: Penn, Jane, Roy, Bob and Nell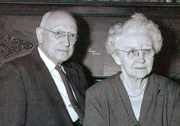 During World War II, sons Penn and Bob served in the US Navy. Bob served on the USS Frederick C. Davis, and was at age 22 the senior surviving officer of the ship when it was sunk by German torpedoes near the close of the war. (See more below.) Click to read the letter he wrote to the crew of the USS Hayter who rescued him and his shipmates from the water.
Roy and Nell are seen here in later years, posed in front of an organ, possibly the one in their home.
A voracious reader and a prolific letter-writer, Roy kept in touch over time with his father's cousins Sadie (Minerd) Luckey and Martha (Minerd) Gorsuch. In one 1961 letter he recalled his grandfather Eli and father Isaac traveling to Mill Run, Fayette County, to go fishing with Eli's brother Charles.
In a chatty letter to the Luckeys dated July 1950, he referred to a recent but brief visit he had made with them in Dawson, Fayette County. He wrote: I was so glad to see you all Monday, and sorry I couldn't stay longer and chat. When I got back to Vanderbilt or Dickerson Run -- never can keep those places right in my mind -- Hazel Leighty, Joe Stoner's daughter, had taken Nell over to Dawson to see Hazel's sister, also a second cousin of Nell's, and Clara Orbin, a cousin of Nell's."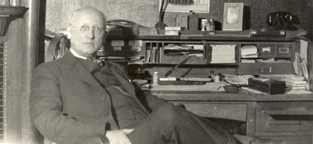 Roy at his old office desk
Sadie replied immediately, saying:
I received your letter. Was at the supper table when it came. I could not eat till I read it. I don't think I ever got a letter that I was more pleased and your visit if it was short I think of so many questions I would liked to ask you. One is where is your Dad & Mother are burried and Uncle Eli. I have forgotten, and if you have Bess and Jennie's address please send it to me. I will try and let them know I am living. There is not many of the Minerd family left.

Roy also kept detailed travel diaries of trips with Nell to New England (1947 and 1953) and to Florida (1949).
Sadly, Nell died on Feb. 20, 1961.
Roy survived her by a little more than a year. Suffering from cancer, he passed away a year later, at age 77, on June 6, 1962. Their ashes were returned to their home region of Fayette County and were buried in the Penn family plot at Hill Grove Cemetery in Connellsville.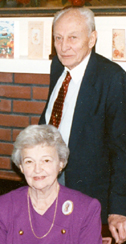 ~ Son Roy "Penn" Minerd ~
Son Roy "Penn" Minerd (1915-1997) was born on June 18, 1915 in Philadelphia.
He and his wife, Jane (Sage) Minerd are seen here. They had two daughters, Cynthia and Barbara and made their home on Long Island in Huntington, Suffolk County, NY.
Penn earned his bachelor of science degree in 1939 at Mansfield College and, after the war, his master of education degree in 1946 from Penn State University.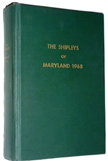 He taught instrumental music at Wesleyville (PA) Schools (1939-43); and at South Williamsport (PA), Valley Forge (PA) Military Academy, Bayshore (NY) Public Schools, three schools of BOES, Lloyd Harbor Elementary and Cold Spring Harbor Schools, NY (1946-77). In 1964, his elementary band played at the New York World's Fair.
Penn and Jane are pictured in Linwood Parks Shipley's 1971 book, The Shipleys of Maryland, in a section of the volume devoted to Penn's mother's family. The book is seen here, with an original preserved today in our family archives.
He relished his family's early ties to Southwestern Pennsylvania and memories of the region's industrial might. He was a longtime model railroader and fashioned his own layout in the basement of his home, featuring coke ovens and other scenes modeled on his observations over the years in his parents' hometowns of Uniontown and Connellsville, Fayette County, PA.
Penn passed away in Florida on Jan. 28, 1997, at the age of 82. It was the honor of the founder of this website to attend his memorial service later that year in Huntington and to read aloud a small tribute among other eulogies given at the ceremony.
Granddaughter Cynthia Moringiello spent several years as a teacher in Alaska, West Virginia and Pennsylvania. She later "switched" careers and became a top switching craftsman with New York Telephone (Ma Bell), retiring in 2001 from Verizon. Her husband, Daniel Moringiello, was a longtime engineer with the Long Island Railroad, with 31 years of distinguished service prior to retirement. They have attended many of our reunions over the years.
Granddaughter Barbara J. Minerd has served as associate professor in visual communications at Farmingdale State University of New York since 1998. She also has served as a public relations consultant serving Nassau County public libraries for more than 35 years. In the fall of 2001 and 2002, she displayed a selection of her drawings in faculty exhibitions on campus.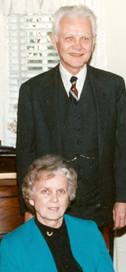 ~ Son Robert Edwin Minerd ~
Son Robert Edwin Minerd (1923-2005) was born on Feb. 22, 1923 in Erie, Erie County, PA. He married Gloria Brush, and they are seen here. Their two sons were Douglas Edwin Minerd and Russel C. Minerd.
After receiving his bachelor's degree in 1946 from Mansfield (PA) State Teachers College, and a master of arts degree the following year from Columbia University, Bob taught music for many years. He worked primarily in schools in Bronxville and Scarsdale, NY, including 15 years in instrumental music and 22 years in a classroom (1947-84).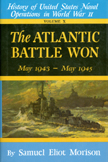 He is mentioned on page 352 of Samuel Eliot Morison's book, The Atlantic Battle Won [History of United States Naval Operations in World War II, Volume X] (1964). Morrison describes the torpedo-sinking of the USS Davis:
In a matter of seconds the engine space and several large living compartments were flooded, and within five minutes "Fightin' Freddy" was breaking in two ... The only survivor from C.I.C., Ensign R.E. Minerd USNR, broke open the jammed door of the pilothouse, where he found the helmsman lying on the deck with both legs broken; he picked the injured man up and struggled to the signal bridge, where both were swept into the sea.
He also was an avid railroad and streetcar buff, and in its edition of Dec. 11, 1970, Life Magazine published Bob's letter to the editor in connection with a photograph he had seen in the magazine regarding trolleys.
Gloria obtained her A.B. degree in 1944 from William & Mary College and then her master of arts in 1971 from New York State Teachers' College at Plattsburgh. She taught first grade for more than two decades, primarily at Ardsley, NY (1964-85). Bob and Gloria attended our national reunion in 1998, when we honored military heroes in the family. After moving in retirement to Williamsburg, VA, Bob passed away at the age of 82 on March 3, 2005.
Grandson Douglas Edwin Minerd formerly was director of entertainment at Busch Gardens, Williamsburg, and has his own music label, Minerd Music Works. In 2003, he accepted a position as Vice President of Entertainment at Sea World in San Antonio, TX. In 2005, he became Vice President of Entertainment at Sea World in San Diego, CA, where he often is quoted in stories in the San Diego Union-Tribune.
Grandson Russel C. Minerd (1953-2003) received a United States patent in 1982 for his invention for musical instrument device used for "remote-controlled key-depressing." He passed away in Brewster, Putnam County, NY on April 21, 2003, at the age of 50.
Copyright © 2000, 2002-2003, 2006, 2010, 2012 Mark A. Miner