Thomas Watt Minerd
(1849-1944)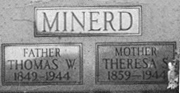 Pleasant View Cemetery
Thomas Watt Minerd was born Oct. 2, 1849 in Dunbar, Fayette County, PA, the son of Isaac and Catherine (Smiley) Minerd.
In 1895, at the age of 36, Thomas married 26-year-old Sara "Theresa" Dowling (1859-1944). They were a full decade apart in age. Her parents both were born in Ireland.
The Minerds had three children -- Thomas Michael Minerd, James William Minerd and Mary (Minerd) Baer.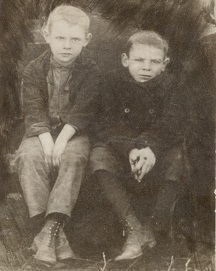 Sons Thomas (left) and James
Thomas was a coal hauler at Dunbar and miner at Helen, Fayette County, PA. In a story thought to be about him, the Dec. 5, 1878 Uniontown Genius of Liberty reported that he was injured in an explosion:
...at the mouth of the coal mine of Reid Brothers near Dunbar in this County, [that was] was the most disastrous one that has ever happened in Fayette County, causing the death of six persons and seriously wounding ten others.... Wounded-- ...Thomas Minard, hurt about the hips, and scalded on the left side of the face.... Franks, Keffer and Minard were not employees of these works. They were out hunting, and stopped to have a few minutes' conversation with the employees when the fatal explosion took place.
Tragedy struck the family in August 1911 when son James drowned in a reservoir at the Helen Works. The Uniontown Morning Herald reported that:
In plain view of Mrs. Harry Hassen and her two sons, who made a frantic effort to save him, James Minerd, aged 15, was drowned in the reservoir at the Atlas coke works, Helen, yesterday.... The boy, who was the son of Thomas Minerd, a driver in the mines at Atlas, was a cripple and while he and the two sons of Harry Hassen were swimming in the reservoir, Minerd got beyond his depth. The two boys became so excited that they could not save the drowning boy but their cries brought the Mrs. Hassen to the scene.... Minerd was well known in the vicinity in which he lived and was one of the most popular boys at Helen.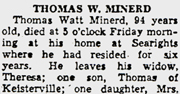 Uniontown newspaper
The Minerds resided in Helen circa 1938, when Thomas was mentioned in the Buckhannon (WV) Record newspaper obituary of his brother Charles. About that time, the Minerds moved to another coal mine patch town nearby, Searights, in Fayette County.
When the federal census was taken in 1930, the Minerds lived in Menallen Township, Fayette County. Thomas at age 76 was retired, and had no occupation. Living next door were their daughter and son in law, Mary and Allen Baer, and their children.
Both Thomas and Theresa died in 1944 -- he at age of 94 on April 21, and she at age 85 on Oct. 18. Rev. Ritter of Grindstone, Fayette County, led Thomas' funeral service.
They are buried together at Pleasant View Cemetery at Smock, Fayette County.
Copyright © 2000-2001, 2006, 2018 Mark A. Miner