Isaac Minerd was born in 1826 in Fayette County, PA, the son of Henry and Hester (Sisler) Minerd. He was a longtime coal mine laborer in Dunbar, Fayette County.
Isaac married Sarah "Catherine" Smiley (1828-1896).
Their children were William H. Minerd, Carl Minerd, Harriet Minerd, Thomas Watt Minerd, Charles A. Minerd Sr., Louvena Hixenbaugh, Martha J. Minerd, Flora Mills, Anna Lowery and Herman Minerd.
The Minerds resided at Farmington and Dunbar, where Isaac worked as a coal miner at the Mahoning Mine. Isaac's nephew Marshall Minerd also labored at the mine, as likely did others in the family.
We have found a record hinting that the Minerds may have lived for a time, during the Civil War circa 1864, in McAlester, Pittsburg County, OK. Isaac would have been age 38 at the time. What they would have been doing there at such an early date, when Oklahoma was Indian Territory not open for settlement, is a mystery, and is being researched. If the Minerds did indeed spend time in Oklahoma they soon returned to home to Dunbar in Western Pennsylvania.
On Jan. 28, 1879, the Uniontown Genius of Liberty reported that Isaac was working in a Fayette County coal mine and was "struck in the eye with a lump of coal, impairing his vision." It's possible he is the same man who later that year "was caught between two pit cars and considerably bruised..."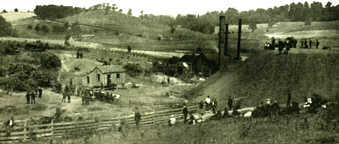 Mahoning Mine in Dunbar, circa 1890
In 1878, Isaac and Catherine sold their small lot in Dunbar to Matthew Templeton. In 1880, Templeton sold the lot to the Minerds' son, Charles. The lot was beside the road leading from "Speer's Mills to Connellsville."
Isaac borrowed $100 from George Meason in 1878. When the debt remained unpaid after Isaac and Meason both died, Meason's estate sued the Minerd estate in 1880 for repayment. Neighbor C.B. Warrington is known to have borrowed $200 from the Minerd estate the same year.
Sadly, daughter Martha came down with tuberculosis. Despite being treated by Dr. Shepler, Martha died from the effects of the illness in December 1879.
Isaac, grief-stricken, must have suffered from the same medical problem. Just a month later , the Uniontown American Standard reported that "Isaac Minerd died of consumption on the 2nd inst. Mr. M was about 50 years of age. This makes the third death in this family in a little over a year."
Under the provisions of his will, Isaac asked to be buried at the Franklin Presbyterian Church cemetery in Dunbar, although the Uniontown Genius of Liberty reported that he was buried at "Alexandria." His final resting place is not yet known.
In March 1883, Catherine was one of 88 residents who signed a petition that Dunbar be chartered as a borough. The effort was successful, and the town was incorporated on June 26, 1883.
Tragedy struck again in 1884, when their son William was the first known cousin (of many) to be killed in a coal-coke accident. Nephew Marshall Minerd likewise lost his life in the Mahoning Mine two years later, in 1886.
In her last years, Catherine lived with her daughter and son in law, Joseph and Flora (Minerd) Mills.
She passed away in 1896. At her death, her possessions were inventoried to include rent due from a boarder; carpets; four chairs; a tub, plates and coffee mill; and a bedstead, springs and bedding.
Great-granddaughters Olive (Minard) Crawford, Nettie (Minard) Rossomme and Evelyn (Minard) Augustine represented this branch of the extended family at the 1930 Minerd Reunion, held at Shady Grove Park in Uniontown.
Copyright © 2000, 2002, 2005, 2007, 2012, 2018 Mark A. Miner
Mahoning Mine image courtesy of the Dunbar Historical Society, and originally published in the 1890 Report of the Department of Mines of Pennsylvania.