Anna (Minerd) Lowry
(1868-1947)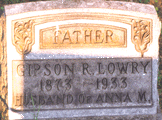 Anna E. (Minerd) Lowry was born in on May 3, 1868 (or 1879) in Dunbar, Fayette County, PA, the daughter of Isaac and Catherine (Smiley) Minerd.
On July 1, 1895, at the age of 27, Anna married 22-year-old Gipson R. Lowry (Aug. 27, 1873-1933), the son of Lewis and Mariah Jane (McKnight) Lowry of Dunbar. The ceremony was performed in Dunbar by Rev. A.R. Rush. At the time of marriage, Gipson worked as a local coal miner.
They were the parents of at least three children.
Sadly, two of their children died young -- a son, who was buried at Franklin Cemetery in Dunbar, PA, and an infant who died in December 1904 at the family home at Oliver, PA, and was buried at Mt. Auburn Cemetery in Dunbar. The Uniontown Daily News Standard reported that the elder son's remains would "soon be removed to the family lot in Mt. Auburn."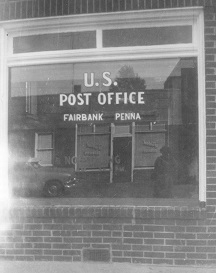 The Lowrys' only daughter surviving to adulthood was Emma Cramer Agona. She lived in Jeannette, Westmoreland County, PA.
In 1920, when the federal census was taken, Gipson and Anna resided in Harrison City, Westmoreland County, PA, where he worked as a coal miner.
When coal was mined out at one location, Gipson and Anna would relocate to find work in other, operating mines. They moved at some point to Fairbank, Redstone Township, Fayette County, a small coal patch town near Uniontown.
At age 59, stricken with cancer of the bladder, Gipson underwent surgery on April 8, 1933, but nothing could be done. He died at home at Fairbank on May 16, 1933. Daughter Emma Agona signed the official Pennsylvania certificate of death. Gipson's remains were buried at Mt. Auburn Cemetery in Dunbar. The funeral arrangements were handled by the Edward E. Minerd Funeral Home and the service was conducted by Anna's cousin, Rev. David Ewing Minerd. The Uniontown Evening Standard published an obituary.
Later that year, on Nov. 30, 1933, a fire of "undetermined origin" caused $300 worth of damage to Anna's frame-structure home in Fairbank. Both the New Salem and Uniontown fire companies were dispatched to the scene to extinguish the flames.
Anna spent her final years residing in Dunbar before moving in about 1941 to a home on Harrison Avenue in Jeannette, Penn Township, Westmoreland County.
Afflicted with hardening of the arteries, she was admitted to Presbyterian Hospital in Pittsburgh. She died there two days later on May 3, 1947. Her remains were laid to rest in Brush Creek Cemetery in Westmoreland County. An obituary was printed in the Connellsville Daily Courier.
Copyright © 2000-2004, 2010, 2012, 2018 Mark A. Miner