Home

Daniel Lucas Minerd
(1853-1932)
Mary and Daniel Minerd
Daniel Lucas Minerd was born in 1853 in Wharton Township, Fayette County, PA, the son of Jesse and Sarah (Smalley) Minerd. He was a pioneer of Illinois, Missouri and Iowa.
The photo of Daniel and his wife Mary, seen here, was in the collection of Daniel's double first cousin, Azaniah "Melvin" Minerd, who was a pioneer settler of Kansas in the 1880s.
As a young man, Daniel left home and traveled "out west," perhaps seeking his fortune. The Dec. 11, 1879 Uniontown Genius of Liberty reported that he had "just returned from the west to stay till spring."
Returning west, Daniel worked as a farm laborer in Mt. Pleasant Township, Whiteside County, IL, where he boarded with Nathan C. and Emily Thomas.
On March 12, 1883 in Mt. Pleasant, Whiteside County, IL, 27-year-old Daniel married 21-year-old Mary Elizabeth Hodges (1861-1930). She was a native of Knoxville, Steuben County, NY, and the daughter of Andrew Jackson and Mary E. Hodges. Rev. C.A. Lauder of the Universalist Church performed the ceremony.
The Minerds were farmers and lived in Illinois; Marion Township, Polk County, MO (1900 and 1910); and Cooper (Greene County) and Bagley (Guthrie County), IA.

Unpaved Main Street in Bagley, Iowa, early 1900s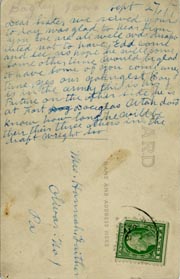 Card sent to Minerd kin, 1917
They together produced a baker's dozenknown children -- Walter H. Miner, Earl K. Miner, Effie Maud Fisher Miller, James Jesse Miner, George Henry Miner, Raymond Clarence Miner, Frederick William Miner, Sarah Elizabeth Sprague, John Robert Miner, Mary Matilda Moore, Sabina Aleeta "Bina" Johnston, Edna Eleanora Talbert, and Margaret Lavera Vaughn.
Sadly, sons Walter (1884) and James (1888) died young.
Daniel remained in contact with his sisters back home in Pennsylvania, and occasionally westward trips to see the Minerds in Iowa were planned. In late January 1917, he returned to Fayette County for the first time in 34 years to visit his dying sister Margaret. Said the Connellsville Daily Courier, "After visiting relatives in Uniontown for several days, Mr. Minerd left yesterday on foot to visit his sister, Miss Margaret Minerd. Mr. Minerd for the first two years after leaving Ohiopyle was employed on a farm in Illinois. then he went to Missouri for a short time and finally to Iowa."
On Sept. 27, 1917, when he was 64 years of age, Daniel sent a postcard to his sister Hannah Gaither. The front of the card contained a photo of their son John, wearing his army uniform, and posed in front of a United States flag. In the card, Daniel wrote:
We received yours today. was glad to hear form you. We are all well. Was disappointed not to have Edd come and see us. Hope he will come some other time. Would be glad to have some of you come any time. Yes, our youngest Boy is in the army. This is his picture on the other side. He is at Fort Douglas Utah. Don't know how long he will be there. There are three others in the draft. Wright soon.
In 1925, when sister Hannah died in Chalk Hill, near Uniontown, Fayette County, PA, Daniel and two daughters and a son in law traveled east to attend the funeral. The Uniontown Morning Herald noted that it was only his "second visit to Uniontown in 40 years."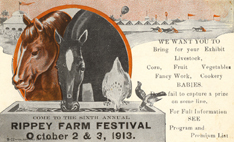 Farm festival postcard, 1913
When the federal census was taken in 1930, in Berkley, Boone County, IA, the family was residing on Fourth Street. Living in their household that year was 44-year-old, single son Earl, and orphaned grandchildren Daniel H., Gwendolyn and Hazel M. Miner (children of George).
Mary passed away in Berkley on Aug. 4, 1930. She was buried at Rippey Community Cemetery in Rippey, Greene County, just a few miles to the west of Berkley, and just over the county line.
Daniel outlived his wife by two years. He died on June 27, 1932 in Berkley, Boone County, and was laid to rest beside his wife.
For information on the Hodges family genealogy, please contact Sharon Hodge-Spencer, who has freely shared her research findings with us.
Copyright © 2000, 2005, 2007, 2011, 2016 Mark A. Miner