Hannah (Minerd) Gaither
(1848-1924)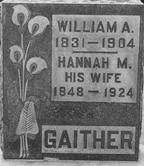 Mt. Washington Presbyterian Church Cemetery
Hannah Maria (Minerd) Gaither was born on Aug. 30, 1848 near Farmington, Fayette County, PA, daughter of Jesse and Sarah (Smalley) Minerd.
On Dec. 6, 1888, when she was 40 years of age, Hannah was united in matrimony with 57-year-old farmer William "Alexander" Gaither (1831-1904).
They lived in a large frame house along the National Highway (now U.S. Route 40) at Chalk Hill, PA.
The couple produced three children -- Grace Reiber, Stella M. McFarland and Edwin Stanton Gaither Sr.
Active in the community, Alexander was appointed in 1877 as a reviewer of National Road spur construction plans in Wharton Twp. He also was elected constable of the township in 1877 and as judge of elections in 1889. In 1874, the Uniontown Genius of Liberty reported that he had "been unable to do anything for some time on account of a severe cut on the foot, received from an ax."
The Gaithers resided nearby, and were active in helping maintain, the historic gravesite of British General Edward Braddock, who was mortally wounded in battle during the French and Indian War. The dying Braddock was brought back to Chalk Hill, where he passed away. His aide-de-camp, young George Washington, presided over the burial. Washington gave orders that the grave be dug in the middle of the road and then covered over by earth to keep Indians from exhuming and scalping the corpse. Years later, Braddock's bones were found during road repair and reburied among a stand of nearby pine trees.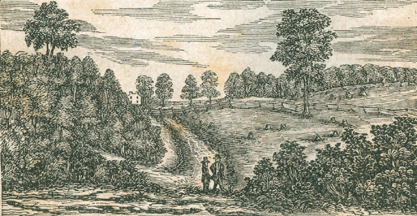 A rare sketch of Braddock's gravesite, drawn in the early 1840s
Historical Collections of the State of Pennsylvania, 1843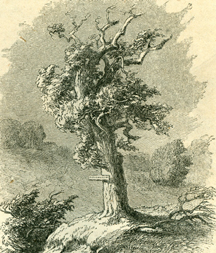 Braddock's grave marked by a board nailed to this tree.
Harper's New Monthly Magazine, 1857.
According to Sherman Day, the artist who sketched one view, "A plain shingle, marked BRADDOCK'S GRAVE, nailed to the tree where part of the bones are interred, is the only monument to point out to the traveller the resting place of the proud and brave but unfortunate hero of the old French war." Click for more images of the historic burial site.
The Pennsylvania Magazine of History and Biography, published in 1880, states that the property was "protected by American hands" and had been enclosed with a fence, and planted with trees, by Josiah King of the Pittsburg Commercial Gazette and J.R. Murdock. "They planted an English elm, two English larches, two Norway spruces, a willow descended from one imported by the late B.A. Fahnestock from the grave of Napoleon at St. Helena, and several varieties of American shrubbery," wrote an observer only identified as "G."
He added that "The grave is in a field belonging to the estate of the late James Dixon, on the north side of the old National turnpike, nine miles east of Uniontown, and William A. Gaither, who lives on the adjoining farm, has promised Mr. King to interest himself in the preservation of the trees, and the fence is to be repainted this spring." This same description was republished in the 1923 book, History of Pittsburgh and Environs, Vol. 1, by George Thornton Fleming.
The 1932 book, Fort Necessity and Historic Shrines of the Redstone Country, published by the Fort Necessity Chapter of the Sons, said that:
In the autumn of 1871 ... the site [was] marked by the planting of an English elm, two English larches, two Norway spruce and the scion from a willow that had been imported from the grave of Napoleon at St. Helena. The group of trees was surrounded by a neat, painted board fence. William A. Gaither, who lived an the adjoining farm, was engaged as caretaker.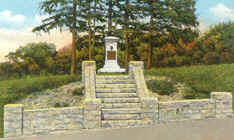 Braddock's Grave circa 1930s
In 1913, a 25-ton granite monument (seen here) was installed on the site, purchased by the Braddock Memorial Association. (One of Hannah's cousins-in-law, William A. Stone, was vice president of the association.) The landmark is a popular tourist stop today and is administered by the National Park Service as part of the Fort Necessity National Battlefield.
Alexander died on March 28, 1904.
Hannah lived as a widow for more than two decades. Afflicted with cancer of the liver, she died on Aug. 8, 1925, age 76, at the home of married daughter Grace. They are buried together at Mt. Washington Presbyterian Church at Chalk Hill.
Word of her death was sent to loved ones far away. To attend her funeral, brother Daniel Lucas Minerd and two daughters and a son in law left their homes in Iowa to travel to Uniontown. It was only Daniel's second visit to Uniontown in 40 years, said a local newspaper.
In 1925, son Edwin, a World War I veteran, was crushed to death while working on construction of the Cheat Haven Dam at Morgantown, WV. Grandson Edwin S. Gaither, Jr. was a staff physician at Pittsburgh's Children's Hospital, Uniontown Hospital and Aliquippa Hospital in the 1960s, and chief of radiology at the Veterans Administration Hospital in Marion, IL.
Sketch of Braddock's grave published in 1843 in Historical Collections of the State of Pennsylvania by Sherman Day.
Copyright © 2000, 2002, 2005, 2009, 2011, 2014, 2020 Mark A. Miner