Rachel (Minerd) Dean
(1893-1970)

Rachel as a youth
Rachel Elizabeth (Minerd) Dean was born in July 1893 in Fayette County, PA, the daughter of William H. and Missouri (Shelkey) Minerd.
Rachel married Ivan Raymond Dean (1896-1956), the son of George and Mary (Johnson) Dean of the Uniontown area. She was two years older than her husband.
The Deans produced two children -- Lois R. McCartney and William R. Dean.
They resided in Uniontown, Fayette County. In 1920, Ivan was a truck driver for a coal company in Uniontown, and a member of the teamster's union. Later, he was an assistant yard boss at Henkin Paulson's for 27 years.
In the fall of 1926, the Deans made their home at 316 North Gallatin Avenue in Uniontown. On Oct. 2, 1926, they threw a birthday party for their seven-year-old son Billy, with the news carried in the Uniontown Morning Herald. Said the article: "The guest of honor received a number of pretty and useful gifts. The home was made beautiful with decorations appropriate to the Hallowe'en season. The kiddies played games after which lunch was served by Mrs. Dean, assisted by her sister, Mrs. P.D. Minerd." Among the attendees were Kenneth Davis, Ivan Dean, Daniel O'Brian, Kenneth O'Brian, Junior Dean, Milton Maslan, Charles Drown, Geraldine Rohlf, Genevieve Daniels, Monica Buley, Patricia Buley, Marcella Buley, Doris Maslan, Elmira O'Brian, Virginia Dean, Bernice King, Daisy Belle Cramer, Donna Jean Minerd, Della Ruth Cramer, Lela Fern Minerd, Lois Ruth Dean, Katherine Dean and Laoma Cramer.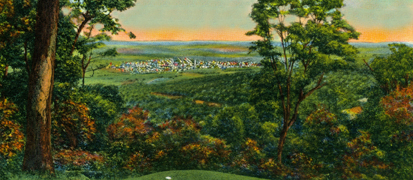 Uniontown far off in the distance, seen from The Summit
In February 1949, Ivan and his son in law Alfred W. McCartney made headlines when they filed a petition in court to incorporate the Uniontown Alliance Gospel Tabernacle at 172 East Askren Street. Their petition, said the Uniontown Morning Herald, "sets forth the Tabernacle will promulgate the doctrines and teachings of The Christian and Missionary Alliance, a corporation organized under the laws of the state of New York." Ivan remained active in the church over the years as a member of the Men's Bible Class.
Ivan died at the age of 60 on Aug. 28, 1956 at the West Side Osteopathic Hospital in York, York County, PA. His remains were returned to Uniontown for burial at Park Place Cemetery.
As she aged, she went to live in Evans Manor nursing home in Uniontown. She passed away at the age of 77 in Uniontown on Sept. 24, 1970. She was laid to rest in Park Place. At the time of her passing, she had four grandchildren and one great-grandchild.
~ Daughter Lois Ruth (Dean) McCartney ~
Daughter Lois Ruth Dean (1918-1995) was born in 1918.
When she was 22 years of age, on Feb. 2. 1941, she married Alfred Wayne McCartney (Nov. 30, 1918-2010). The wedding was held in Cumberland, MD.
The McCartneys resided in Uniontown and Masontown, Fayette County. Federal census enumeration records for 1950 show the family in Masontown, with Alfred earning a living as a furnace installer for a plumbing and heating business.
Then in the mid-1950s they moved to Cleveland, OH and later in the mid-1960s to York, PA.
They produced at least two children -- Diane Lee Miller and William Wayne McCartney.
Sadly, Lois Ruth passed away in Uniontown on Nov. 29, 1995.
The widowed Alfred survived for another nearly 25 years. He spent his final time in Deland, Volusia County, FL. He died in DeLand on May 12, 2010.
Daughter Diane Lee McCartney (1944- ? ) was born in about 1944. She was a graduate of Spring Grove Area (PA) High School. She then attended Nyack Missionary College in New York, pursuing a degree in Christian education. In 1966, she was employed in Palisades, NY by Lamont Geological Observatory of Columbia University. Circa June 1966, she entered into marriage with fellow Nyack student Marvin Earl Miller ( ? - ? ), son of Howard M. Miller of Portage, PA. The nuptials were conducted by Rev. Charles D. Weidemann in the Christian and Missionary Alliance Church. Diane's wedding portrait was printed in the Uniontown Morning Herald, which said that she "wore a floor-length gown of white satin and lace, fashioned with fitted lace bodice, bateau neckline, elbow-length sleeves and full skirt with lace panel terminating in a chapel train. Her elbow-length veil of silk illusion was attached to a white satin pillbox and she carried a cascade of cymbidium orchids surrounded by small pompons and ivy." Marvin was an alumnus of Triangle Area High School. At the time of marriage, Marvin was studying anthropology at Nyack and a social worker in Harlem, NY with Youth Development, Inc.
Son William Wayne McCartney (1949- ? ) was born in about 1949. He was a 1966 graduate of Spring Grove Area (PA) High School and then attended RETS Electronics School in Upper Darby and IBM Computer Training School in Endicott, NY. He was employed in 1969 as a field engineer by International Business Machine Corporation in Poughkeepsie, NY and made his home in Newburgh, NY. On June 27, 1969, when he would have been about 20 years of age, William was united in matrimony with Deborah Jean Reichert ( ? - ? ), daughter of Warren Reichert of 2583 Berkshire Lane, Dover, PA. The marriage ceremony was held at Shiloh Lutheran Church, conducted by Rev. Robert E. Nale. The York Dispatch published Deborah's wedding portrait and said that she "wore an A-line gown of white cotton dotted Swiss made with long sleeves and a train falling from the empire waistline. A daisy motif marking the gown was repeated on her headpiece, which held a tiered veil. She carried daisies on a Bible." Deborah was a 1970 alumna of Dover Area.
~ Son William Ray Dean ~
Son William Ray Dean (1919-2008) was born on Oct. 1, 1919 in Uniontown and grew to manhood in th family home at 316 North Gallatin Avenue.
William served in the U.S. Armed Forces from 1941 to 1945, enlisting at Fort Meade, MD on June 27, 1941 as the clouds of World War II were looming. He received his honorable discharge there on Oct. 13, 1945.
In young manhood he moved to Virginia where he was employed as a clerk by General Insurance Agency.
On April 13, 1946, in Caroline, Henrico County, VA, William wed 21-year-old Gladys Mae Boschen ( ? - ? ), daughter of George Augustus and Lillian Gladys (Tinsley) Boschen. Rev. John H. Allen of the local Baptist church officiated. Gladys was a native of Glen Allen, VA and at the time marriage earned a living as a secretary with Lee Distribution Company.
Their union endured the ups and downs of an extraordinary 62 years.
Together the pair produced a daughter, Deborah Rae Dean.
The Deans made their home in Richmond, VA in 1950 and in Glen Allen, VA in 1970. Said an obituary, Gladys "was an artist of roses and had a lifelong love of painting."
In 1950, William and Gladys returned to Uniontown to visit with his parents and attend the Dean family reunion held at the home of Mr. and Mrs. Wilbur Roby on Braddock Street.
William died on June 7, 2008.
Gladys spent her final years in Glen Allen. Death enveloped her at the age of 92 on Jan. 25, 2017.
Daughter Deborah Rae Dean ( ? - ? )
Copyright © 2001-2002, 2008, 2020, 2022 Mark A. Miner