Rachel (Minerd) Dean
(1893-1970)

Rachel as a youth
Rachel Elizabeth (Minerd) Dean was born in July 1893 in Fayette County, PA, the daughter of William H. and Missouri (Shelkey) Minerd.
Rachel married Ivan Raymond Dean (1896-1956), the son of George and Mary (Johnson) Dean of the Uniontown area. She was two years older than her husband.
The Deans produced two children -- Lois R. McCartney and William R. Dean.
They resided in Uniontown, Fayette County. In 1920, Ivan was a truck driver for a coal company in Uniontown, and a member of the teamster's union. Later, he was an assistant yard boss at Henkin Paulson's for 27 years.
In the fall of 1926, the Deans made their home at 316 North Gallatin Avenue in Uniontown. On Oct. 2, 1926, they threw a birthday party for their seven-year-old son Billy, with the news carried in the Uniontown Morning Herald. Said the article: "The guest of honor received a number of pretty and useful gifts. The home was made beautiful with decorations appropriate to the Hallowe'en season. The kiddies played games after which lunch was served by Mrs. Dean, assisted by her sister, Mrs. P.D. Minerd." Among the attendees were Kenneth Davis, Ivan Dean, Daniel O'Brian, Kenneth O'Brian, Junior Dean, Milton Maslan, Charles Drown, Geraldine Rohlf, Genevieve Daniels, Monica Buley, Patricia Buley, Marcella Buley, Doris Maslan, Elmira O'Brian, Virginia Dean, Bernice King, Daisy Belle Cramer, Donna Jean Minerd, Della Ruth Cramer, Lela Fern Minerd, Lois Ruth Dean, Katherine Dean and Laoma Cramer.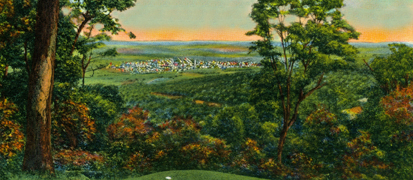 Uniontown far off in the distance, seen from The Summit
In February 1949, Ivan and his son in law Alfred W. McCartney made headlines when they filed a petition in court to incorporate the Uniontown Alliance Gospel Tabernacle at 172 East Askren Street. Their petition, said the Uniontown Morning Herald, "sets forth the Tabernacle will promulgate the doctrines and teachings of The Christian and Missionary Alliance, a corporation organized under the laws of the state of New York." Ivan remained active in the church over the years as a member of the Men's Bible Class.
Ivan died at the age of 60 on Aug. 28, 1956 at the West Side Osteopathic Hospital in York, York County, PA. His remains were returned to Uniontown for burial at Park Place Cemetery.
As she aged, she went to live in Evans Manor nursing home in Uniontown. She passed away at the age of 77 in Uniontown on Sept. 24, 1970. She was laid to rest in Park Place. At the time of her passing, she had four grandchildren and one great-grandchild.
~ Daughter Lois (Dean) McCartney ~
Daughter Lois Dean ( ? - ? ) was born in (?).
She married Alfred Wayne McCartney. They resided in Uniontown; and in the mid-1950s in Cleveland, OH and York, PA.
They had at least two children -- Diane McCartney and William McCartney.
~ Son William R. Dean ~
Son William R. Dean ( ? - ? ) was born in (?).
He wedded (?) Boschen and they made their home in Richmond, VA in 1950 and in Glen Allen, VA in 1970.
In 1950, he and his wife returned to Uniontown to visit with his parents and attend the Dean family reunion held at the home of Mr. and Mrs. Wilbur Roby on Braddock Street.
They had at least one child, Debby Rae Dean.
Copyright © 2001-2002, 2008, 2020 Mark A. Miner