At about age 10, Mattie and her parents moved to a farm at nearby Nicolay, near Mill Run, Fayette County, PA. She was close with her brother and sisters, and attended many family reunions as an adult.
On Christmas Day 1877, pregnant again at the age of 20, Mattie married 32-year-old widower Richard Mason Gorsuch (1845- ? ) a Civil War veteran of Co. K, 1st Potomac Home Brigade, MD. He had been born at Baltimore, MD, on Oct. 19, 1845. Sadly, the unnamed baby died in infancy.
Children from Richard's first marriage, whom Mattie loved and raised as her own, were Josephine (Gorsuch) Burkholder and Berzilla Gorsuch. (Berzilla, a boy, is thought to have died young.)
Before the war, Richard worked as a laborer in Baltimore and enlisted there on Feb. 17, 1864. That spring, at Maryland Heights, he received a gunshot wound on the left side of his stomach while making a charge after nightfall. In his words: "We had no surgeon with our regiment and I was tended to by a sergeon from a new york regiment. He was right on the battle field and he told me how I should do with it and I tended to it my self after that. I never took no medicine of any kind while in the army and never missed roll call with out permission..." On June 28, 1865, he was honorably discharged at Baltimore. In later years, he suffered from kidney disease.
In 1873, Richard came to Bidwell, Fayette County, PA, to work on the construction of the Baltimore & Ohio Railroad. There, Richard met and married his first wife, Sarah Knight. When Sarah became pregnant with their third child, and became deathly ill, Martha was sent to live with the family and care for the woman. Sadly, Sarah died, and Martha took the children to her parents' house. Richard 'came looking' for Martha, and they were married just four months later, on Dec. 25, 1877.
The Gorsuches moved frequently, to place such as Bidwell, Connellsville, Mt. Pleasant, Maple Summit and Vanderbilt, PA. Martha was frequently pregnant. The photo seen here is of Mattie circa 1895, when she was age 38, and is believed to have been expecting again.
The marriage was troubled. Mattie and Richard fought often, and he frequently left home for long periods of time. He drank heavily and was physically and verbally abusive. She in turn had a sharp tongue and knew how to use it. With no way to obtain alcohol in the mountains, Richard would leave home for weeks and months at a time.
In 1900, Richard robbed a store in Connellsville, and spent a year in jail in the Western Penitentiary in Pittsburgh. Martha never visited him during his imprisonment, and for all intents was a single mother.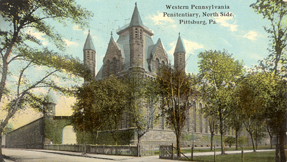 Deceptively peaceful-looking Western Penitentiary, where Richard spent a year for robbery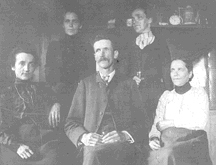 Martha and siblings, circa 1895
Seen here, circa 1895, Mattie sits at far right with (clockwise) her brother Lawson and sisters Jennie Conley-Woodmency, Sadie Luckey and Allie Overholt. Mattie appears to be covering her midsection with her left arm, and may have been trying to hide a pregnancy from the camera. She already had given birth to nine children by this time, and may have been expecting their daughter Leah.

Leah's grave
Sadly, though, daughter Leah died in infancy in 1895, and was buried in what became a line of family graves at the Maple Summit Church of God. Leah's simple grave marker is seen here circa 1993.
To provide badly needed income for her family, Martha obtained a job as postmistress at Nicolay, succeeding Oliver F.M. Nicolay (for whom the post office was named). Her home functioned as the post office. (The post office is defunct today, though the log building building is thought to have been purchased in the 1990s by the Western Pennsylvania Conservancy.)
When Richard was released from prison, he returned home, but was very sick, and may have had a stroke. They fought constantly. He left again and stayed away for seven years, living in a shanty in Vanderbilt, PA. Needing funds to support their children. she tried to get half his pension.
He battled her over this money, and sent letters to the US Pension Commissioner pleading his case. In one letter, he said that if anything ever happened to him, that his wife was never to receive his pension.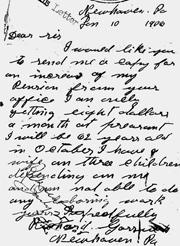 One of Richard's letters
In June 1912, Richard's story book a bizarre twist. He came back home again, but soonafter disappeared. He was last seen at the train station in Ohiopyle and said by eyewitnesses to be en route to Brownsville, PA. No trace of him was ever found. He never claimed another pension check, or had the government send it to him anywhere else in the world.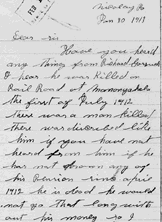 Martha's letter, 1913
In December 1913, a year and a half after Richard disappeared, Martha wrote to the Pension Commissioner, asking if he had heard from Richard. "I hear he was killed on the Rail Road at Monongahela...," she wrote. "If you have not heard from him, if he has not drawn any of his pension [since] april 1912 he is dead. he would not go that long with out his money."
To try to find her husband, Martha diligently "wrote to the Morgues along the line of the B&O, from Ohio Pyle to Pittsburgh, at Vanderbilt, Uniontown, Brownsville, Monongahela City. West Newton I think, McKeesport," she said. "And I went myself to Pittsburgh to look over their records, going there [in the fall of 1916], and examined the pictures of the unidentified persons they had received for the year 1912."
But none of the corpses was her husband, and she never knew for sure what had become of him.
As a single mother, Martha was dependent on her sons for income. She relied heavily on son John for support, but once he married, she lost that source of income. John sold his mother an 18-acre farm near the family home. She once described the tract as "rough, there is a couple acres of it can be farmed but we have no way to farm it."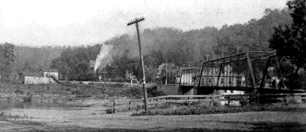 Sleepy Ohiopyle at the time of Richard's disappearance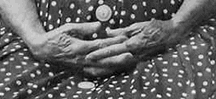 Martha's worn hands
The photo here is a close up of Martha's worn and weathered hands.
One of her sons, Floyd, was a laborer in a coal mine at Rogers Mill, Fayette County. Tragically, in 1916, Floyd was killed in the mine by falling slate, and was buried at the Maple Summit Church.
When son Richard found employment in Rockwood, Somerset County in April 1917, Martha and her younger children moved with him to Rockwood. Said Martha in 1921: "I have kept house here since and had Charlie with me all the time, though the other two stayed with me until they married, and both still live here in town." Among her neighbors in Rockwood were her cousins Daniel M. Younkin and Missouri Wingerd, who with her husband operated a grocery on Main Street.
In 1920, a government investigator came to Rockwood and Nicolay to interview family members and friends at length to resolve the issue of Richard's unclaimed and accruing pension funds. The detailed transcripts, in the words of Martha and her siblings and children, are today in the National Archives in Washington, DC, with a copy in the Minerd-Miner-Minor Archives.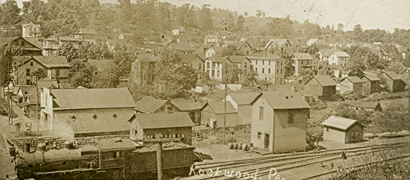 A rare bird's eye view of bustling Rockwood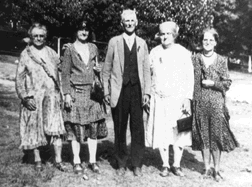 L-R: Martha, Jennie, Lawson, Allie, Sadie
Martha loved to attend family reunions of the Minerds (1920, 1924, 1927). Relatives and friends must have often asked her whether she had heard from her missing spouse. Seen here circa 1927, Martha (far left) poses at a reunion with (left to right) sister Jennie, brother Lawson and sisters Allie and Sadie.
In August 1924, Mattie, along with her daughter Edna Hyatt and sons Richard, Charles and Carl, and grandson Wilbur S. Buzzard (Zearfoss), were among a crowd of 82 who attended the annual Minerd-Miner Reunion held at Lincoln's grove, near the Western Maryland Railroad Station in Confluence, Somerset County. In an article about the reunion, the Meyersdale Republican reported: "A very successful and pleasant reunion of the Minard family was held ... A fine picnic dinner was partaken of at 12:30 p.m., after L.L. Mountain invoked a blessing." In the article the family name was misspelled as "Gorsage." In 1928, Mattie's Richard served on a committee to organize the reunion held at Confluence Park.
Finally, Richard was declared legally dead in 1921 after the investigation failed to determine his whereabouts. Martha then was awarded his pension, which she drew for the rest of her life. The funds could not have eased Martha's heartache. In the summer of 1926, son Charles passed away, and was buried beside his brother Floyd and sister Leah at Maple Summit.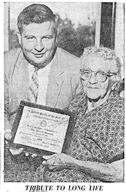 Receiving a Medical
Society plaque
Somehow Martha found the strength inside to cope with her many deep sadnesses. Years passed, and she watched with delight as her family mushroomed in size.
During this era, she enjoyed the annual Harbaugh Reunions. She is recorded to have attended in 1929, as well as virtually every year in the 1950s when she was the perennial recipient of the "Oldest Woman in Attendance Award." In 1957, she accepted a special honor for her 100th birthday, and step-daughter Josie was present and received the "Furthest Traveled Award," having traveled from Florida.
Seen at right, Martha received a "long life tribute" plaque from Dr. Arthur E. Orlidge of Shanksville, Somerset County, who was President of the Medical Society of Pennsylvania.
She liked to take an annual vacation. While in Washington, DC, she "walked up and down the steps of the Lincoln Memorial without assistance." She also visited the Gettysburg National Battlefield.

News story, 1960
In her older years, Martha resided with daughter Cecelia in Somerset. She enjoyed passing the time "quilting, crocheting, knitting and helping with the housework," said a newspaper. "One of her favorite foods was coffee soup, which she had every morning for breakfast."
In 1955, when her son John and his wife Carrie celebrated their 50th wedding anniversary at their home in Connellsville, Martha was unable to attend, but sent a note with her sentiments.
Martha celebrated her 100th birthday in 1957 in excellent health. She became somewhat of a media celebrity, and told a news reporter that if not sewing or watching TV, she liked to go to movies. The reporter wrote that she "speaks of Civil War days as though they were as close to her as the days of World War II are to us."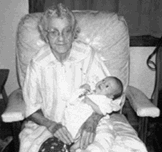 With great-great
grandbaby Kim Neave
Seen here in 1959, at age 102, Martha holds great-great grandbaby Kim Neave -- the granddaughter of her granddaughter Martha Louise (Hyatt) Hatton-Lillstrung.
In 1960, when Martha turned 103, a reporter asked what in life she had never done. When she replied "Fly in an airplane," the reporter included the quote in the story, which ran coast to coast. The president of the Piper Aircraft Co. knew a good publicity opportunity when he saw one, and arranged to give her a free ride. Martha and great-grandson Greg Zearfoss rode together.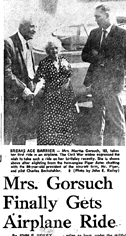 News story, 1960
A Somerset newspaper reported that "What thoughts flew through her mind as she [looked] out the window... will never be known, for in a lifetime Mrs. Gorsuch was seeing land that she probably had farmed, and white ribbons of highways which never existed when she left her birthplace ...." The airplane leveled off at 1,000 feet, where she was able to see the home of daughter Edna in Confluence. She "seemed to be seeing with new eyesight, for as the plane flew over the Yough Dam, she noticed the boats skipping across the water like the 'skippers' she used to watch when she was a little girl strolling beside a slow moving stream."
When the plane finally touched down, 500 people were gathered at the airport. "Wonderful! I feel just wonderful," she said. "I'd like to go up again." The story ran on WTAE-TV in Pittsburgh and on WFBG-TV in Altoona, PA.
Four months later, Martha fell getting out of bed and broke her hip. Pneumonia set in, and she died on Dec. 14, 1960. She had been born before Abraham Lincoln was elected President, and died after Bill Mazeroski hit his famous home run to win the World Series for the Pittsburgh Pirates.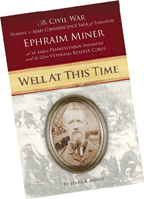 2011 book naming Martha
Martha was buried at the Lutheran Church Cemetery in New Centerville, Somerset County, not far from her daughter Cecelia's grave. Ironically, the cemetery is directly across Route 281 from a small graveyard in a farm field where her great-grandfather, Casper Harbaugh, is buried.
The year after Mattie's death, she received a moment of respect from her relatives at the Harbaugh Reunion.
She and Richard are mentioned in a 2011 book about one of her cousins who also served in the Civil War -- entitled Well At This Time: the Civil War Diaries and Army Convalescence Saga of Farmboy Ephraim Miner. The book, authored by the founder of this website, is seen at right. [More]
In 2014, material from this Minerd.com biography was published in the fourth edition of In Search of the Turkey Foot Road — Unraveling the Mystery, Charting New History, Plotting the Route, co-authored by Lannie Dietle and Michael McKenzie, edited by Nancy E. Thoerig and produced by the Mount Savage Historical Society in Maryland. [See page 457.]
Copyright © 1994, 2000-2004, 2006, 2011, 2015, 2017 Mark A. Miner