Home

Sketch of Minerd Families -
Historical and Traditional
By Allen E. Harbaugh, Mill Run, PA, Aug. 8, 1913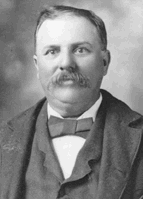 Editor's note -- This first draft history was written on August 8, 1913 by Allen E. Harbaugh, seen here. He read either it -- or a similar but expanded version -- aloud 13 days later at the first-ever reunion of the Minerd family, held at Ferncliff Park at Ohiopyle, PA. It was reprinted for the 1993 Minerd-Miner-Minor Reunion, edited and annotated by Mark A. Miner.
Harbaugh was a family member as his beloved grandmother was a Minerd. At that first-ever reunion, the following officers were elected: president, Rev. Isaac H. Minerd; vice president, Martin Miner; secretary, Roy S. Minerd; treasurer, Esther Barnhouse Freed. The next day's edition of the Connellsville Daily Courier reported that "there was a large attendance and good weather." Harbaugh's work is the only known source of much of the information available today about the early Minerds, and despite a few errors is vital to our understanding the history of the family.
Any attempt to write a clear and accurate genealogy of early pioneer families is futile; from two causes: (1) Illiteracy, and (2) Burning of cabins, destroying records, if any were made.
The earliest Minerd of which the writer has any account is Jacob Minerd, who in the year 1796 found a rude pick-ax, stone pots, hatchets with other implements in a cave in the mountain-side, above our modern Egypt.*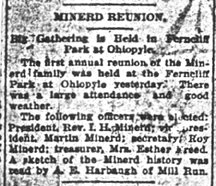 The historical Jacob Minerd whose family is recorded was born (probably) in Maryland in the year 1780. (If he or his father discovered the implements, it is uncertain. It would place the younger at 16 years of age.) Our historical Jacob Minerd was a resident of Upper Turkeyfoot, Somerset County, Penna. He was a farmer, and a Whig, politically and a member of the Disciples of Christ Church. The date of marriage is unknown; but it was in either 1802 or 1803, when he married Catharine Younkin, a native of Somerset County, Penna., also member of same church. To this union were born nine children: seven sons and two daughters. John Minerd the first-born was born November 27th, 1804. Burket was born Feb. 28th, 1807. Henry was born April 1809. Lorah was born Aug. 9, 1813. Jacob was born Feb. 28th, 1816. Charles was born Feb. 28, 1819. Catharine was born Feb. 28, 1824. Joel was born Feb. 23rd, 1827. Eli was born Sept. 1831.
Five of these brothers and one sister have been residents of Fayette County, Penna. All nine have been married: John to Miss 1. Sarah Ansel; 2. Hannah Ansel; Burket to Susan Hartzell;** Henry to Polly Younkin;** Lorah to John Younkin; Jacob to Miss Rachel Ansel; Charles to Adeline Harbaugh; Catharine to Harrison Barnhouse; Joel to first Miss Margaret Jane Leighliter, and second to Catharine Seneff; and Eli to Miss Mary Ann Baer.**
The number of children born to the nine descendants is a task for the living generation to enumerate.
The grandchildren and their descendants are numerous; all nice, worthy well-doing and prosperous. Some fought for their country; others are merchants, ministers, teachers or officers elected by unanimous choice of three parties. At this writing Aug. 8th 1913 Joel is the surviving member of Jacob and Catharine's family.***
So, Father Jacob Minerd at 62 years, while cutting down a tree, was crushed, dying Nov. 11th, 1842. Mother Catharine Minerd died of stomach trouble, Aug. 12th, 1847, age 60 years, less one day.
The dates of deaths of their children are unascertained, but will be given place when learned. Charles died Aug. 16th, 1898, aged 79 years, 5 months and 15 days. Cause: Rheumatism. Buried at Maple Summit, Pa. His marriage to Adeline Harbaugh was Sept. 9th, 1847, to which union nine children were born. Two sons, Lawson H. and Grant. The seven daughters: Sabina, Lucinda, Rebecca Jane, Josephine, Martha Emma, Elmira Malissa, and Sarah Catharine, wife of Prof. Joseph M. Luckey. Martha Emma Gorsuch is postmistress at Nicolay, Pa. Sabina and Grant died young, some others died adult age, but all arriving at years of discretion joined the Church of God.
Grandmother Martha Harbaugh, daughter of Jacob Minerd #, was born in Emmettsburg, Md. March 10th, 1789. The Jacob Minerd to whom we referred [earlier] was certainly her brother; and if correct, then this [older] Jacob is the first and primogenitor, as his birth would ante-date the Revolutionary War. Jacob Minerd [Sr.] married Miss Mary Nein, to whom were born also Frederick Minerd, of Perry County, Ohio, who died there in May 1871, about one week after the writer's visit to him.
Jacob [Sr.] upon moving from Maryland to the recent Joseph Klink farm## at Nicolay, Pa., pitched his camp under a large tree until he built a cabin. He labored rearing a home and clearing land. He also boiled salt at Victoria. Grandmother, while yet a girl carried provisions to him at the Saltspring bottom.
This Martha Minerd married Jacob Imel to which union was born a daughter called 'Susie', who when marriageable wedded a Mr. Knight, of whom they in turn were parents of Martha, who became wife of John R. Jennings. Mr. Imel died prior to year 1819.
Now, Leonard Harbaugh, senior, a neighbor whose wife Elizabeth died about the same time, Mr. Harbaugh, parent of 8 children, married Martha in the year 1819, to which union five Harbaughs were added: Elizabeth was born Aug. 18th, 1820; Isaac was born June 11th, 1822. Both died young (no dates). Leonard Jr. (father of the writer) was born Sept. 28th, 1824, died Sept. 11th, 1896. Adaline, wife of Charles Minerd was born April 13th, 1827, died Feb. 8th, 1899. David was born Sept. 27th, 1831, died Dec. 13, 1910.
Leonard Harbaugh had only one child, your humble writer, who pays an immortal tribute to the memory of his dearly beloved grandmother.
Adeline was a highly esteemed lady whose husband was Charles Minerd to whom were born 9.
David Harbaugh, the youngest, was father of 10 children. Albert F., Robert B., Amos W., Mrs. Lucinda Younkin, Mrs. Rosetta Minerd, Mrs. Laura Weyant, Mrs. Mattie Laughery, Mrs. Letitia Stoner, Mrs. Susie Conn and Mrs. Sadie Ream.
Both, Leonard and Martha Harbaugh were members of the Baptist Church. Mr. Harbaugh died of decline and old age March 2nd, 1867, aged 87 years. Martha his widow survived him until Jan. 14th, 1878, living almost 89 years.###
Endnotes:
* "Our modern Egypt" probably refers to the Egypt railroad station in Egypt District, Stewart Township, Fayette County, a political subdivision at the time. The Egypt District was mountainous and located just over 3 miles from where the Minerds lived.
** In Harbaugh's original version, the names of these asterisked spouses were left blank. Apparently he did not know them at the time, although members of the audience at the reunion would have been aware of their identities.
*** Ironically, Joel Minerd died just three days after the writing of this history, on Aug. 11, 1913.
# Although Harbaugh's original version gives this name as "Henry," a preponderance of records such as tax lists, censuses and the 1882 History of Fayette County show that the pioneer's name was actually "Jacob." Since Jacob had a son named Henry, Harbaugh may have confused son with father.
## This farm is now owned in part by the Steyer family, straddling the Springfield and Stewart Township borders. At the time the Minerds lived there, the farm contained 393 acres.
### Martha (Minerd) Harbaugh's grave marker at the Indian Creek Baptist Church Cemetery near Mill Run still exists and is fairly legible.
Copyright © 1993, 2000, 2002 Mark A. Miner