John Minerd Jr.
(1801-1898)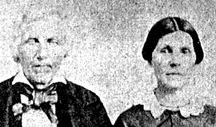 John and Barbara Minerd
John Minerd Jr. was born in 1801"on Laurel Hill" in mountainous Fayette County, PA, the son of John and Mary Magdalena (Kohl) Minard Sr.
He and his wife were pioneer settlers of western Ohio and, later, eastern Indiana. When he died, an Indiana newspaper said he was "probably the oldest man in Allen county, if not in the state." His farm has been handed down through five consecutive generations of descendants named Minerd, and currently is owned by a great-great grandson.
As a boy, John moved with his parents from Laurel Hill to a farm near Scio, Harrison County. When he reached legal age, a newspaper once said, "His first vote was for John Quincy Adams."
On Nov. 11, 1824, at the age of 23, John was united in holy matrimony with 25-year-old Barbara "Barbary" Shaeffer (1799-1882) in Harrison County. Their marriage license is seen here. The groom was two years younger than the bride.

John and Barbara's marriage license
on file today in Harrison County, Ohio
Their seven known children were Mary Jane Dillon, Barbara Ann Ball, James Minerd, Sarah Elizabeth "Betsy" Krick, Uriah Minerd, Caroline Pring and Amy Tilbury Thorne. They also raised a foster son, Robert Edwards, born in 1845. There were two other daughters who died in infancy, and their identities are lost to history. It's said the family spoke German at home, until the children were old enough to attend school.
A year after marriage, John purchased town lot No. 9 in New Rumley, Harrison County, from Jacob Shaeffer. According to a lengthy obituary in the Monroeville (IN) Weekly Breeze:
Shortly after this union he with his wife moved in a vacant house on his father's farm, where they lived till after they had three children born to them. But, during this time, he purchased a small tract of land (27 acres) adjoining his father's on the south. After erecting a comfortable house, they gathered up their effects and moved thither on which place they lived till the fall of 1840.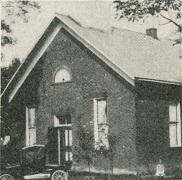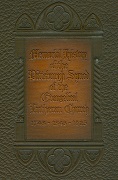 St. Bartholomew's church, New Rumley, ca. 1925; and
the Pittsburgh synod history naming John and his father
On April 26, 1834, John and Barbary, along with his parents, became charter members of St. Bartholomew's Evangelical Lutheran Church when the church adopted its first constitution. Many years later, the two couples were mentioned by name in the book Memorial History of the Pittsburgh Synod of the Evangelical Lutheran Church, by Ellis Beaver Burgess (1924). This chapter later was reprinted in Paul Miller Ruff's book of parish records, St. Bartholomew's Evangelical Lutheran Church (2000).
The church building, seen here as it stands today, was not erected until about 1847. John's parents, brother Daniel and many nephews and nieces rest for eternity in the church cemetery.
John was sued in 1836 by C.H. Staples in the Harrison County Court of Common Pleas. Records of the case, which have survived, do not provide the facts of the matter, other than showing that the judge ruled in Johnís favor, including the reimbursement of his court costs.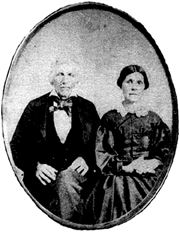 John and Barbara
By 1840, John's brother Henry had already moved to western Ohio, settling in Van Wert County, and may have enticed him to follow. John sold his 27-acre farm in March 1840 to John McDanaugh. Continuing from his obituary:
In the fall of 1840 he ... made preparation to "go west." After having secured a good team of horses and a substantial wagon, on the 18th day of September 1840 they started for the then "far west." After traveling for several weeks they reached Van Wert county, Ohio, at a point five miles north of Wilshire, where his brother Henry then lived. After a few days rest they moved on a farm near by, owned by Davis Johnson.
John then went to the purchased the 73-acre Davis farm on Dec. 12, 1840. The Minerds resided there for six years, and during that time, John "sought out and purchased" another farm, located 12 miles to the northwest of their existing home, along the Ohio-Indiana border near what today is Dixon, OH.
Johnís new farm, though bordering on the state line, was entirely located in Monroe Township, Allen County, IN. He had to travel to the U.S. General Land Office in Fort Wayne, Allen County, to make the acquisition, dated Aug. 1, 1844. His certificate was signed by President John Tyler. To see a copy of his record, on the website of the US Bureau of Land Management, click here.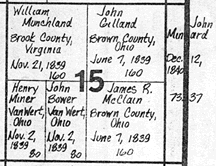 Allen County plat map showing the
farms of brothers John and Henry
The map seen here of Monroe Township shows John's farm at upper right, and brother Henry's farm at lower left, both in Township 29 North, Range 15 East. The thicker, vertical black line at far right is the border between Indiana and Ohio.
Continuing John's story, from his newspaper obituary:
In the fall of 1845 he erected a log cabin on it and in the spring of 1846 moved on the same, where he lived till his death, having battled and toiled amid sunshine and happiness, and the hardships and disappointments of this life on one spot for a period of over 52 years, an incident of which but few can boast, as it is a rare case that a man remains and contents himself upon one spot for so long a period.
At the same time the Minerds selected the site of their new farm, an eccentric celebrity also was in the area doing his unusual work of cultivating and planting seeds of apples -- "Johnny Appleseed," whose birth name was "John Chapman." The Minerds may well have known previously about Appleseed's reputation as he had distributed seeds and raised nurseries for decades throughout Ohio. He came to Allen County in the 1840s and in fact died there, in a settler's house, on Feb. 18, 1845. His obituary was printed in the Fort Wayne Sentinel.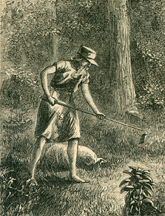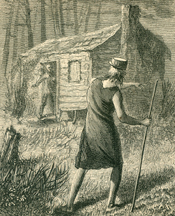 "Johnny Appleseed" on the frontier of Ohio and Indiana in the mid-1800s -- with whom the Minerds would have been familiar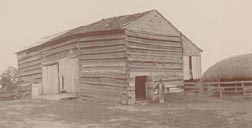 John's log barn near the Indiana/Ohio border
At some point, John built the large log barn -- seen here -- no more than 100 yards from the Indiana-Ohio border. The barn later passed into the hands of his son James. Eventually, the barn was torn down and replaced by a more modern facility. (Click to see a larger version -- our "Photo of the Month" for September 2004.
In 1856, when Johnís father wrote a will, he directed that John receive $80 in cash payments within 3 years of death. The father did not die until 1867, and it is not known if John received the inheritance.
The years of the lives of John and Barbary between the 1840s and 1880s are largely silent in the historical record, except for the federal censuses taken every decade. At some point they suffered through the untimely death of their married daughter Mary Jane Dillon, along with several of her young children.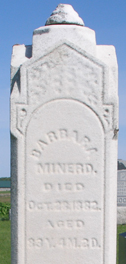 Barbara's grave
When the census was taken in 1850, John and Barbara were marked as living next door to his younger brother Henry Minerd (spelled "Miner" by the census taker) and family. Both John and Henry had taken in young children of the Edwards family to raise, as shown in that census.
On Oct. 27, 1882, Barbary passed away, at age 83. In her obituary in the Van Wert newspaper, she was acknowledged as "among the pioneers of Wilshire township, and 36 years ago they moved one mile north of Dixon on the State line, and remained on that farm untill the old lady's death." Barbary's grave marker, seen here, is still legible as photographed in August 2002.
After Barbara's passing, John told a newspaper reporter that "the old homestead will soon be for sale." Yet John did not sell the farm, but rather arranged for it to be inherited and kept within the family.
In 1888, John wrote a will, in which he left the farm to son James, and provided that cash payments be made to his remaining children. He was grateful that James "so tenderly and nobly took care and ministered to the wants of his aged father through all of his cares and afflictions in his declining years."
John also suffered the the grisly accidental death of grandson Daniel L. Miner in 1893 and the passing of daughters Elizabeth "Betsy" Krick in 1895 and Mary Jane Dillon, as well as a number of other deaths of his children's spouses and grandchildren.
On March 3, 1898, John himself died at age 97, at the home of son James, "after an illness of only a few days... None of the children were present at his death but all were present at the funeral except the son Uriah." John was buried at what was then known as the Stephenson Graveyard, today called Sugar Ridge Cemetery.

Sugar Ridge Cemetery, sandwiched between Old Route 30 and a cornfield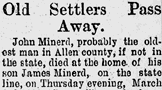 Monroeville Weekly Breeze
The Weekly Breeze carried John's obituary on March 3, 1898. However, it contained inaccurate or incomplete information, and so the editor of the newspaper agreed to re-run it, "in which a number of corrections are made as to his life, that did not appear in the former mention that appeared in these columns." The revised obituary, published on April 7, 1898, said:
...The funeral was the largest witnessed in this section for years, owing to the wide spread acquaintance and the numerous friends he gained during his years of traveling and toiling among the people in this section.
We doubt if there are many now living who will have the privilege of seeing the number of years that the departed did, although none will be compelled to toil and labor in the forests in order to gain a livelihood as he did. Those pioneer days are past with them, and those like father Minerd are rapidly laying their armor down and soon the last one will be called hence, as there are but few to be called, especially in this section.
Great-great granddaughter Gloria
(Moennig) Carey and her husband Bill
It was interesting for the younger generation to sit and listen to the fire place and log cabin incidents as related by father Minerd and it was wonderful for one of his age to note how active he was up to only a few days before his death. His mind was bright and intelligent and could relate those historical facts to the last.
A prominent obituary also ran in the Fort Wayne Sentinel, headlined "Almost A Hundred."
At his death, John had 56 grandchildren and more than 60 great-grandchildren. His grave is not marked today, but he is believed to be buried with his wife.
Seen here is John and Barbary's great-great granddaughter Gloria Ann (Moennig) Carey and her husband Bill, standing at Barbary's grave when photographed in August 2002.
The fate of John and Barbara's foster son, Robert Edwards (born 1845) is unknown.
Copyright © 2001-2002, 2009-2010, 2012, 2016, 2021 Mark A. Miner