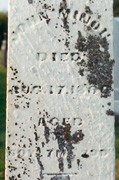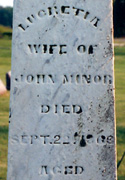 Salem Methodist Church Cemetery
John Minor was born in 1806, probably at Maple Summit near the border of Fayette/Somerset County, PA, the son of Frederick and Elizabeth (Sechman) Miner Sr. His life tragically was cut short by an accidental death during the Civil War years in rural Ohio.
As a boy, at about the age of six or seven, John moved with his parents to Sego, Perry County, OH, where he would have grown to manhood.
At the age of 23, on Aug. 17, 1829, John married 18-year-old Lucretia Morris (1811-1863). She was a native of Ohio, but the identity of her parents is not known.
The Minors went on to produce four children -- John "Henry" Minor, Eliza J. Swearingen, Matilda J. Culp and Diantha E. Roberts.
The family resided for many years in Pickaway County, OH. During their married life, they lived on farms on extremely flat land near Leistville along Scippo Creek (also known as Camp Charlotte) , and at Pikehole Prairie in Pickaway Township, Pickaway County.
In addition to farming, John was a carpenter who built many of the brick homes still standing and in use today in Pickaway County.
When the federal census was taken in 1850, the family lived in Pickaway Township. That year, the census-taker misspelled the family name as "Myers." The 1860 shows the Minors residing near the post office of Camp Charlotte, Pickaway Township, with three of their four children gone, except for Diantha.

The Minors' farm near Salem, Ohio, as seen in August 1997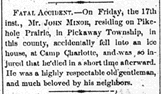 Circleville Union, 1866
Lucretia died, most likely in Pickaway, at the age 51 years, 10 months and 11 days, on Sept. 22, 1863. The cause of her death is unknown, and no obituary has been found in local newspapers of the era. She was laid to rest in the Salem United Methodist Church in Pickaway County.
Three years later, John was tragically killed in a fall. The Circleville Union reported that on Aug. 17, 1866, he "accidentally fell into an ice house, at Camp Charlotte, and was so injured that he died a short time afterward. He was a highly respectable old gentleman, and much beloved by his neighbors." His broken remains were placed into repose beside his wife's at Salem.
Son John "Henry" Minor was chosen to administer the estate, and among the debts paid were to Stephen Defenbaugh "for Coffin" and to Rev. Brice "for preaching funeral.

Map of Pickaway Plains showing Camp Charlotte (circled), where John died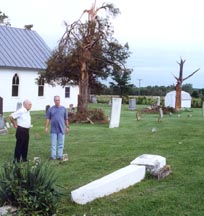 Wind damage, Salem Methodist Cem
John and Lucretia are buried together at Salem United Methodist Church in Pickaway County.
After John's death, his 35-acre farm was the subject of litigation among the heirs who objected to its sale by the County Sheriff to son in law John Swearingen. By that time, most of the offspring had migrated to Missouri.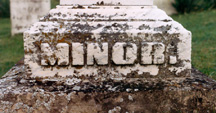 Base of the Minor grave marker
In 1997, some 131 years after John's tragic death, a windstorm toppled their' old, tall white grave marker at the Salem United Presbyterian Church.
The destruction is viewed in the photograph seen her by great-great grandson Robert Culp (now deceased) and cousin-researcher Eugene Podraza circa August 1997.
Seen here is the darkened base of the Minors' grave marker shaft. The marker later was restored to its full upright position by the township trustees who oversee the cemetery.
Copyright © 2000, 2005-2006, 2009 Mark A. Miner
Map of Pickaway Plains from Historical Collections of Ohio (1888) by Henry Howe.