Home

Eliza J. (Minor) Swearingen
(1832-1903)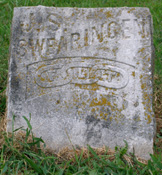 Oak Hill Cemetery, Butler, MO
Eliza J. (Minor) Swearingen was born in February 1832 at Leistville (Camp Charlotte), Pickaway County, OH, the daughter of John and Lucretia (Morris) Minor.
She and her husband were pioneers of Missouri.
Eliza entered into marriage with farmer John S. Swearingen (1830-1901), a native of Chillicothe, Ross County, OH.
Their five children they produced together were Ella J. Swearingen, Anna McReynolds, Catherine Swearingen, Mamie W. Haley and Harley Van Swearingen.
Early in the marriage, the Swearingens lived on a town lot on Elizabeth Street in Tarlton, Pickaway County, OH. Heartache rocked the family when they suffered the death of young daughter Ella, who was buried in the Tarlton Cemetery, where her small faded headstone is barely legible. The grave is tangible but grim evidence of the family's years in Ohio.
In 1867, Eliza and John were embroiled in a legal dispute with her sister and brother in law, Matilda and Charles Culp, over their late parents' real estate. The original lawsuit still is on file at the clerk of courts office in Circleville, Pickaway County. The Swearingens and Culps were considered "tenants in common" of the land since their parents had not determined of how it was to be disposed. When it was decided that the 10-plus acre tract could not be subdivided without harming its inherent value, the land went up for sale. John wanted to buy it and make his home there. He planned to live on it for two years and rent it out during that time. He received assurances from friends named Holderman and Steele that they would not bid against him, or else he would run up the bidding beyond a price they could afford. Disappointingly, the outcome of the case is not known.

1871 Atlas of Pickaway County with the Swearingen house lot circled in orange on Elizabeth Street in Tarlton, not far from Cumberland Presbyterian, Methodist, Lutheran and German Reformed churches.
The Swearingens moved to Butler, Bates County, MO, sometime in or after 1871. The town is about 65 miles south of Kansas City. Eliza's brother John "Henry" Minor also was an early settler of Butler. The town had gained infamy during the Civil War when the courthouse and many buildings were burned at the command of Union General Thomas Ewing Jr. (General Order No. 11). By the time Eliza and John arrived, it would have been rebuilt and almost "new."
When the federal census was enumerated in 1880, the Swearingens lived in Bates County, with John and 16-year-old son Harley listed as farm laborers. That year, on Jan. 10, 1880, John purchased a parcel of land from the heirs of E.W. Pomroy. The tract included the north half of a lot in the northwest quarter of Section 19, Township 40, Range 30 in Summit Township/
On April 5, 1888, John and Eliza purchased an adjoining farm of 40 acres from Margaret Freeman, agreeing to pay $1,150. The tract comprised the north east portion of the north west region of Section 19. The Directory of Rich Hill and Butler for 1888 through 1890 shows the Swearingen home at the corner of Pine and Water Streets.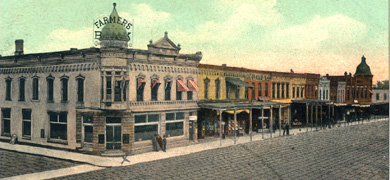 East Side Square of Butler, with the Farmers Bank at the corner
John died in Butler sometime before June 1900. The 1900 census shows the 68-year-old Eliza as a widow, living under the roof of son Harley and his wife Dora in Nevada, Vernon County. Her new and final home, on North Clay Street, was about 31 miles due south of her former residence in Butler. [Interestingly, in the town of Lamar, 57 miles south of Nevada, a son was born in 1884 to John Anderson and Martha Ellen (Young) Truman who grew up to become our nation's 33rd president, Harry S Truman.]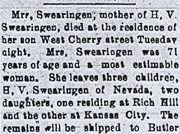 Bates County Democrat, 1903
As her health declined, Eliza was "up and around the house" and in early March Harley sent a letter stating so to his sister Anna McReynolds in Rich Hill. Surprisingly, though, Eliza slipped away quickly, dying on March 11, 1903 at the age of 71. Word of her passing was telegraphed to daughter Anna McReynolds in Rich Hill. Obituaries in the Rich Hill Review, Bates County Democrat and Nevada Daily Mail eulogized that Eliza was "a most estimable woman" or "very estimable lady."
Following a brief funeral service in Harley's residence, her remains were shipped to Butler for burial at Oak Hill Cemetery. Despite inclement weather, daughter Anna took the train to Butler for the burial. "The short notice of her death and the bad day prevented many from attending the burial," reported the Democrat. "The Democrat extends sincere condolence to the bereaved."
No probate records were found for Eliza in the the Bates County Circuit Clerk office during a visit by family researchers in August 2009.
In 1911, an uncle of Anna, Mamie and Harley -- William C. Roberts -- died in Ohio, leaving one-third of a tract of land in Pickaway without clear ownership. As legal heirs to the real estate, the Swearingen siblings sued. In their complaint, they urged the Pickaway County common pleas court to approve the sale of the acreage and to distribute proceeds among all the heirs. The proposed beneficiaries included their aunt, Matilda (Miner) Culp, as well as to the brothers and nephews of the deceased -- George, Thomas, Jack, John and Edward Roberts. While the land was appraised at $550, it eventually sold at auction at the under-valued price of $410. Each Swearingen heir thus would have received $27.11.
Their daughter Mamie Haley rests beside Eliza and John at Oak Hill. In a comic twist, the cemetery also features Ripley's Believe It or Not's "Smallest Tombstone" dating to 1898, but with no known connection to our clan.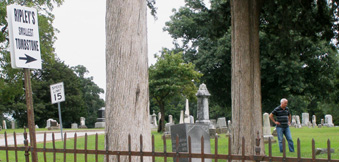 In 2009, family historian Eugene Podraza pays respects at the Swearingen/Haley graves, while a sign at upper left declares that the cemetery contains "Ripley's Smallest Tombstone."
Copyright © 2000, 2002, 2009, 2016 Mark A. Miner