Charlotte 'Lottie'
(Overfield) Born
(1862-1945)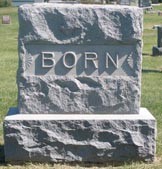 Lincoln Cemetery, Lebo, KS
Charlotte "Lottie" (Overfield) Born was born on Dec. 23, 1862, in Reedsville, Preston County, West Virginia, the daughter of John Edgar and Sarah (Hanshaw) Overfield. She was the first of the family's children to be born in West Virginia after the state was carved out of Virginia during the Civil War.
She grew up in Reedsville, and joined the Methodist church as a girl.
At the age of 32, Lottie married 29-year-old John H. Born (1865-1925), the son of of German immigrants Jacob and Mary (Oupkey) Born. The ceremony took place at her parents' home in Reedsville, on May 2, 1894. Lottie and John had grown up as next-door neighbors, and two of Lottie's nieces married John's brothers -- Bessie Overfield to Kasper Henry Born and Nettie Overfield to Edd Born.
Lottie and John had one son, John "Edgar" Born Sr., born in Davis, Preston County, and presumably named after his maternal grandfather John Edgar Overfield.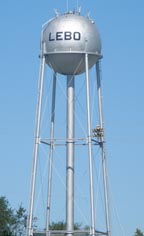 Lebo water tower
Circa 1900-1907, the Borns resided in Reedsville, Preston County, where John was a farmer. When the 1900 census was enumerated, John, Lottie and Edgar made their home in Reedsville, with Lottie's 33-year-old unmarried sister Lillie Overfield living under their roof.
In 1907, the Borns made the major decision to move west. They migrated to the flat farm lands of east-central Kansas, settling in the small town of Lebo, Lincoln Township, Coffey County, about 20 miles east of Emporia. (Today the town is near an exit of Interstate 35, also known as Route 50. The Burlington Northern Santa Fe railroad lines run through the town, on its mainline route from Chicago to Los Angeles.)
Said the Lebo Enterprise in 1945, some 38 years later: "The family came to Lebo in 1907 and she had lived in this community since that time."
At the death of her uncle Dr. Guy Hanshaw in 1908, Lottie was entitled to 1/48 share of the estate, which included lucrative oil and gas wells. She received an immediate payout from the estate of $38.54 in 1909. At intervals over the years, through 1942, she received royalty payments from the wells. The high point was in 1918, when she received $16.36. In total, she received $171.74 in inheritance. This would have provided a financial boost to the young family on the Kansas prairie.
The 1910 census shows the Borns making their home in Lebo with John's cousin Dedry K. Kiser, a West Virginia born banker and farmer, with John assisting on the farm.
By 1920, son Edgar had married and moved out of the house, and Lottie and John lived alone in Lebo, Coffey County. John had no occupation that year.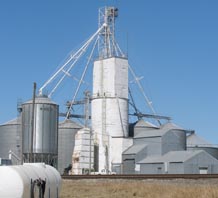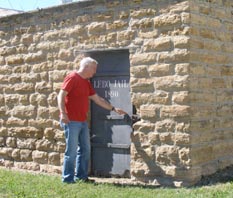 Lebo landmarks -- a grain elevator complex and an old stone jail dating in 1890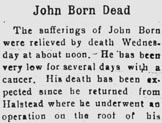 Lebo Enterprise, 1925
John suffered from cancer of the roof of his mouth. In the spring of 1925, he traveled to Halstead, KS for surgery. When the operation was unsuccessful, John returned home to prepare for the end. Gravely concerned, his brothers Doc and Jake Born, and sister Mrs. Guessman and nephew Hugh Born, all traveled from Reedsville to Kansas to be with the family.
As expected John died a short time later, on April 29, 1925. "The sufferings of John Born were relieved by death Wednesday about noon," reported the Lebo Enterprise. "He has been very low for several days with a cancer. The funeral will be held Friday afternoon at 2 o'clock from the Methodist Church." He was laid to rest in the Lincoln Cemetery on the west side of Lebo.
As a widow, Lottie moved into the farmhouse of her married son Edgar and family. She is listed in their residence in 1930 for Key West Township, Coffey County, when she was age 67.

Lincoln Cemetery, Lebo
In her elderly years, no longer able to care for herself, Lottie went to live in the Miller Nursing Home in Emporia. As she neared her 83rd birthday, she died there, on Dec. 3, 1945, of acute heart failure. Funeral services were held in the local Methodist church, led by Rev. Fred Betts.
Among the out-of-town mourners who attended were William Williams and his daughter, and Mr. and Mrs. Will Williams of Ottawa, KS. Accompanied by Mrs. Charles W. Knight, singers Mrs. Morris Ott and Mary Jo Devers performed "In the Garden" and "Abide with Me." Pallbearers who escorted Lottie's remains to the grave were G.R. Knight, S.B. Dressler, Charles McCormick, Elmer Archer, Robert Mason and Chester Evans. She was laid to rest beside her husband at Lincoln Cemetery.
Lottie's passing was front-page news in the Lebo Enterprise. The obituary erred in naming her father as "John William Overfield" when in fact that was her brother's name, which may have been confusing as he was the father of Lottie's two nieces who married Born brothers.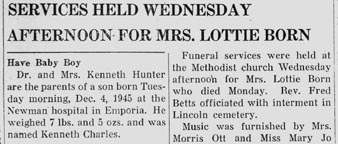 Lottie's front-page obituary in the Lebo Enterprise
~ Son John "Edgar" Born Sr. ~

Lincoln Cemetery, Lebo
Son John "Edgar" Born (1895-1979) was born in 1895.
He wedded Elizabeth Ellen "Lizzie" McCandless (1893-1991) in about 1918, when he was age 23, and she 26.
Lizzie was born on Dec. 30, 1892, in Mt. Hope, KS, the daughter of Wilbert and Mary Elizabeth McCandless. Her father owned and operated the Lebo telephone system for many years.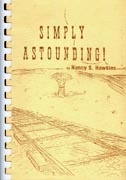 Book naming Edgar
Together, they produced two sons -- John Edgar Born Jr. and Wilbert D. Born.
Following in their parents' footsteps and legacy, Edgar and Ellen were longtime operators of the family's farms east of Lebo, as confirmed on the federal censuses of 1920 and 1930. When he filled out his World War I draft registration card, Edgar stated that he was "farming for self." They were members of the United Methodist Church of Lebo.
Edgar assisted in managing "considerable land" that his father in law had purchased during the Great Depression, said the book, Simply Astounding!, authored by Nancy S. Hawkins. He was "interested in community affairs," said the Lebo Enterprise.
He served as President of the Lebo Co-op, was a member of the Grangers Board of Directors, and held membership in several farm organizations. He was an active member of the Lebo United Methodist Church, and was president of the Frogcreek Watershed at his death. He was actively engaged in farming and livestock enterprises until about two years before his death.
Tragically, Ellen was involved in an automobile accident, and was severely handicapped for the rest of her life, said the Enterprise. Her husband "was particularly devoted" to her, and "took a special delight in his family and grandchildren, caring little for the so-called 'finer things in life'."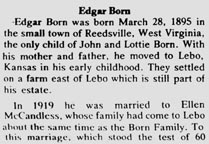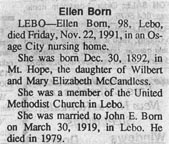 Edgar and Ellen's respective newspaper obituaries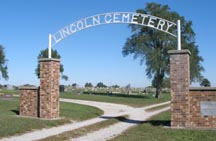 The Borns' final resting place, Lebo
Suffering from cancer, Edgar died in late June 1979. Rev. Wayne Newlin led the funeral service at the Borns' church, with Martin Jones providing a musical solo and Mrs. Fred Rowley Jr. accompanying him on the organ. Pallbearers included Herbert Niles, Philip George, Harold Davies, Frank McCormick, Homer Hamman, John Davis and Glenn Dale Miller. Honorary pallbearers were James Brandon, Harry Long, Brady Pittman, Harold Watkinson, Frank Wise, Charles Patton, Marion Bailey and Glen Thorne. Edgar was laid to rest beside his parents at Lincoln Cemetery.
Ellen survived her husband by a dozen years. Unable to care for herself, she moved in to the Osage City Nursing Home. She died there, at the age of 98, on Nov. 22, 1991. She was interred beside her husband. At the time of her death, she was survived by five grandchildren and two great-grandchildren.
Son Wilbert D. Born married Barbara Kitts in 1958. Wilbert assisted his father and brother with farming, while Barbara was a second-grade teacher for several years in the Lebo Elementary School. They had three children -- Michael Born, Jeff Born and Janet Born. Wilbert moved his family in about 1962 to McPherson, McPherson County, KS.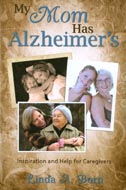 Book by Linda Born
Son John Edgar Born Jr. attended school in a small, one-room building. After graduation from Lebo High School, he served for six months in the Army Specialized Training Reserve Program (ASTRP) during the final period of World War II. In 1950, he married Irma Fillmore. They had two children -- John Edgar Born III and Amy Jarvis. "From the time John Edgar (III) was old enough to be involved in the farming operation until Edgar's death in 1979, there were three John Borns farming together east of Lebo," said Simply Astounding! John also owned the Lebo Laundry, located on the west side of Ogden Street, between First Street and Broadway. In 2010, they celebrated their 60th wedding anniversary. Writing in the Lebo High School 50th Class Reunion Memory Book, in 1994, John said:
We keep busy in our spare time with our hobbies. She makes quilts and I work with old clocks and never miss an auction or garage sale. We are both in good health and enjoy Lebo school sports and our church works.
Grandson John Edgar Born III wed Linda Williamson in 1974. They continue farming the family's lands east of Lebo, and are active in the Lebo community. "They are now the only John Born family living east of Lebo on Route 2 - simplifying life for mailer carrier, Jerry Sloan," said Simply Astounding! Having assisted her aged mother during the onset of Alzheimer's, Linda authored the book, My Mom Has Alzheimer's: Inspiration and Help for Caregivers, published in 2009 by Bridge-Logos.
Granddaughter Amy Born married John Jarvis. She has been a registered nurse in Stormont-Vail in Topeka.
Copyright © 2004, 2006, 2009-2010, 2021 Mark A. Miner