Lillian Mae (Overfield) Patton
(1866-1938)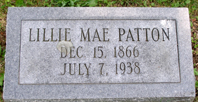 Reedsville (WV) Cemetery
Lillian Mae (Overfield) Patton was born on Dec. 15, 1866, in Reedsville, Preston County or Grafton, Taylor County, WV, the daughter of John Edgar and Sarah (Hanshaw) Overfield.
When the federal census was taken in 1900, the 33-year-old unmarried Lillian was listed twice -- in the household of her married brother and sister in law, John and Berdie Overfield, in Grafton, Taylor County, WV; and in the residence of her married sister and brother in law Lottie and John Born in Reedsville, Preston County.
That year, she had no occupation. Among their neighbors in Grafton were cousins David A. Fawcett and William Henry Harrison Fawcett, who operated a local dry goods mercantile store.
Circa 1908, Lilllian was not married and used her maiden name, residing in Morgantown, Monongalia County, WV. Then at the death of her uncle Dr. Guy R. Hanshaw in 1908, Lillian was entitled to a 1/48 share of the estate, which included lucrative oil and gas wells. She received an immediate payout from the estate of $38.54 in 1909. At intervals over the years, through 1942, she received royalty payments from the wells. The high point was in 1918, when she received $16.36. In total, she received $171.74 in inheritance.
In 1910, she lived with her married sister and brother in law, Marian and Clarence Menear, in Morgantown.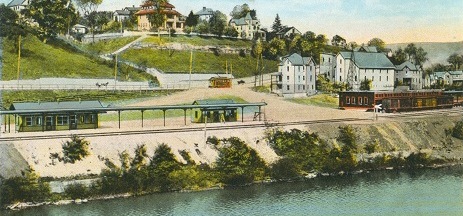 Monongahela Railroad passenger and freight station, Morgantown, 1921
When she was 43 years of age, on June 4, 1910, Lillian was joined in marriage with 38-year-old elevator operator Thomas A. Patton (April 30, 1872-1934), son of Thomas B. and Caroline (Sturgis) Patton of Fayette County, PA. Their wedding was held in Morgantown by the hand of Rev. James H. Clark of the Methodist Protestant Church. On her marriage license, Lillie fibbed about her age, writing it as 40 instead of the older number.
The couple did not reproduce during their 24-year marriage. Federal census enumeration records for 1920 show the pair residing on Grant Avenue in Morgantown. At that time, Thomas was employed as a laborer in a local glass factory.
The Pattons relocated to Pittsburgh during the latter half of the 1920s. The census of 1930 states that they made their home with Thomas' married sister and brother-in-law, Elizabeth and Frank Rich, on Bellevue Road in the Bellevue section of the city. At that time, Thomas earned income as a coal miner. The couple remained in Bellevue as of July 1932 when Lillian was mentioned in the newspaper obituary of her sister Marian.
Thomas was retired by mid-1934. Tragically, on July 15, 1934, he died in his sister's home of a cerebral hemorrhage at the age of 62. The remains were lowered into eternal repose in United Cemeteries. A short death notice in the Pittsburgh Press asked the newspapers in Uniontown, PA and Morgantown to re-publish.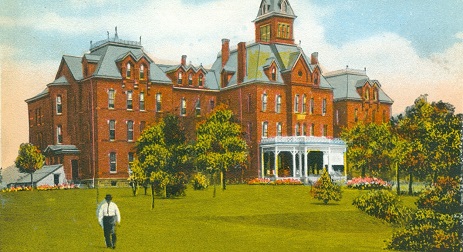 Fayette County (PA) Home, where Lillian resided toward the end of her life
The grieving Lillian migrated back to Morgantown and outlived her husband by four years. She became increasingly senile and could no longer function independently as of October 1937. She was admitted to the Fayette County Home near Uniontown, where she spent the balance of her life.
Death swept her away at the age of 71 in the Home on July 7, 1938. Her remains were transported to Reedsville for burial in Reedsville Cemetery, near her parents. A search for her obituary in the Preston County (WV) Journal was unsuccessful.
According to a 1959 note written by her niece, Virginia (Menear) Dalton, it was confirmed that Lillian had no children.
Copyright © 2004-2006, 2009, 2021 Mark A. Miner