James Wesley Pring
(1853-1934)

James Pring
James "Jas" Wesley Pring was born on July 5, 1853 in Cedar Creek Township, Allen County, IN, the son of John and Caroline (Minerd) Pring. The Fort Wayne (IN) News-Sentinel has acknowledged that he was a member of a "pioneer Cedar Creek Township family."
James "resided most of his life on the old Pring homestead," that once belonged to his parents, said the News-Sentinel. He was a longtime farmer. When the census of 1880 was taken, the 26-year-old, unmarried James made his home with his parents.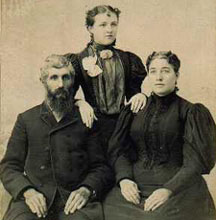 James, Mary and Adrien
Later in 1880, James married Mary Burkholder (1859-1913), of Milan, Allen County. She was the daughter of David and Mary (Lutz) Burkholder, natives of Pennsylvania.
They had two known children, Adrien Kimes and an unidentified child who died young.
Mary was one of many members of the Burkholder clan who have married into our extended Minerd-Miner-Minor family over the years. (Most of the others originated in Western Pennsylvania, in Fayette and Somerset Counties.)
The Prings' residence was in or near Cedarville, Cedar Creek Township, Allen County. They were longtime members of the nearby Robinson Chapel of the Methodist Episcopal Church. The Fort Wayne Journal-Gazette once said that Mary "was well known in Fort Wayne and St. Joe township, where her brothers and sisters reside."
The federal census of 1900 shows James, Mary and Adrien residing on their farm in Cedar Creek Township.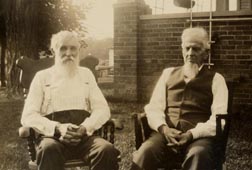 James (left) and his uncle James Minerd
It's believed that James was close with his uncle and aunt, James and Martha (Sheehan) Minerd, who resided on a large family farm on the Indiana-Ohio state line near Dixon, OH. Seen here, James (at left) visits with his uncle James Minerd in 1925 at an unknown location built of brick.
In July 1909, reported the Journal-Gazette, James and Mary hosted a visit from his sister and brother in law, Martha Elsie and William Hursh, and their daughter Lela. That week, said the newspaper, their aged mother Caroline Pring was spending the week at the Hursh's in Huntertown (Robinson's Chapel) and it's presumed James got to see his mother during that time.
By 1910, when the census again was enumerated, daughter Adrien had married and moved out of their home. James' 85-year-old, widowed mother Caroline had come to live under their roof in the town of Grabill. The following year, at the age of 87, his mother passed away at their home on March 23, 1911.
James outlived both his wife and his married daughter Adrien.
Tragically, Mary passed away at age 53 on March 29, 1913, in their home in Cedar Creek Township. She was laid to rest in the family plot in the Leo Cemetery, where James and Adrien later would join her in eternity.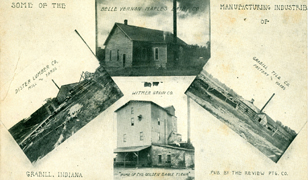 Postcard touting Grabill's industries -- Belle Vernon Maples Dairy, (top); Grabill Tile factory and yards (right); Witmer Grain, "home of the Golden Eagle Flour" (bottom); and Dister Lumber mill and yards (left).

Obituary, 1913
The 1920 census shows James living with his daughter and son in law, Adrien and Merton Kimes, and their two adopted daughters Hilda and Emily, in Cedar Creek Township. James, at age 65, was retired and had no occupation that year.

Fort Wayne News Sentinel
Heartache rocked the family in 1925 when daughter Adrien, having been ill for some 17 years, passed away. She was buried beside her mother at Leo Cemetery.
Now without a wife or daughter to care for him, James went to live with his sister Martha Hursh in nearby Huntertown, Allen County.
He died at Martha's home at age 80 on March 12, 1934. He was buried near his wife in the Leo Cemetery, and his obituary was carried by the Fort Wayne News-Sentinel. A clipping of his newspaper obituary was sent to his first cousin Corwin D. Tilbury in Pittsburgh, PA. After reading the sad news, Corwin wrote a letter to Minerd cousins in Monroeville, Allen County, lamenting that "One by one the old family disappears..."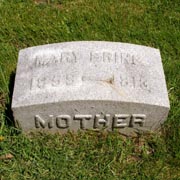 The prominent "Pring" marker at Leo Cemetery, including Mary's individualized stone next to it. James' own grave is not otherwise marked.
~ Daughter Adrien (Pring) Kimes ~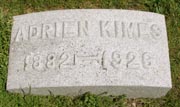 Leo Cemetery
Daughter Adrien B. Pring (1882-1926) was bornin 1882.
She married Merton George Kimes (1882-1956). He had blue eyes and brown hair.
They had no children of their own, but took two nieces into their home and raised them as their own -- Hilda (Kimes) Zollar and Emily Flough.
When he registered for the military draft in 1918 during World War I, he marked his occupation as "farmer." The federal census of 1920 shows Adrien and Merton and the girls living in Cedar Creek Township, with Merton employed as "professor - high school." That year, Adrien's widowed father resided in their home.
North Side High School
Merton built an impressive career as a teacher of history in two Fort Wayne high school systems. He received his bachelor's and master's degrees from Indiana University, and also took additional coursework at Michigan State University. Merton was a member of the Phi Delta Kappa national education fraternity and the Academy of Social Sciences. He joined the faculty of Fort Wayne's Central High School in 1923 and remained there for four years, until 1927.
Tragically, Adrien was plagued from life-threatening malady for some 17 years -- not yet known. She suffered and battled the illness and "was active in church work at Robinson chapel," said the Fort Wayne News-Sentinel. But she never recovered. Adrien passed away at age 43 on Nov. 23, 1926, in Fort Wayne's Methodist hospital. The funeral was held in Robinson's Chapel, followed by burial beside her mother at Leo Cemetery in a service led by Rev. M. Burke.
In 1927, rocked by his loss, the widowed Merton joined the history department of the newly opened North Side High School, and remained there until 1945. A postcard of an aerial view of the spoke and hub-designed North Side High is seen here.
Of his curriculum, Merton once wrote:
Our history course covers a period of three years, during which we enjoy a comprehensive study of "modern times and the living past." The study is pursue from the ancient times up to the economic and civic development of the present era... This department strives to make us understand the importance of knowing the most outstanding events that took place in years gone by, and compare them with those of the present.



High school yearbook portraits of Merton at 10-year intervals -- in 1925, 1935 and 1945.
In all, Merton taught in Allen County for 35 years. He is pictured in many of Central High's Caldron and North Side High's Legend yearbooks, today preserved at the Allen County Public Library.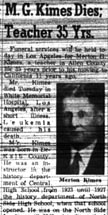 Fort Wayne Journal-Gazette
The 1930 census shows Merton heading a household that included daughter Emily (age 26) and father in law James Pring (age 76). Their home was along Popp Road in Cedar Creek Township.
Merton married again to Martha (?) and retired in about 1945. At that time, he and Martha relocated to Los Angeles, Los Angeles County, CA, making their new home at 273 Denslow Avenue for 11 years. He obtained additional education during these years at the University of Southern California. He also was active in religious, civic and professional groups, and a member of the Immanuel Presbyterian Church in Los Angeles.
Afflicted with leukemia, Merton passed away in White Memorial Hospital on Aug. 10, 1956. He had outlived his first wife by a full half century. Funeral services were held at the Gates, Kingsley & Gates Little Chapel of the Dawn in Santa Monica, CA, officiated by Dr. Albert O. Hjerpe. News of Merton's death was published in a prominent obituary in his old hometown newspaper, the Fort Wayne Journal-Gazette. At the time of his death, Merton was survived by five grandchildren and one great-grandchild.
Adopted niece Hilda P. Kimes (1903-1994) married George E. Zoller ( ? -1958). They had three sons -- Robert Zoller, Victor Zoller and Lowell Zoller. Said the Journal-Gazette, "Born in DeKalb County, she was a lifelong Fort Wayne resident. She retired in 1975 after working 25 years at Hutner's Paris," a women's apparel store. Hilda passed away at the age of 92 on June 4, 1994, at golden Years Homestead. The Journal-Gazette reported that she was survived by 10 grandchildren and 16 great-grandchildren. She was laid to rest in the Leo Cemetery.
Adopted niece Emily wed (?) Flough. She made her home in the mid-1940s in Fort Wayne.
Donald L. Kear, a distant nephew of John Pring's, has an extensive collection of information on this family on his "Kear Family Site." He also has published his findings in The John Cears Kear Family (1984).
Copyright © 2002, 2004, 2007, 2009 Mark A. Miner