Martha Elsie (Pring) Hursh
(1860-1946)

Martha Elsie Hursh
Martha Elsie (Pring) Hursh was born in 1860 in Cedar Creek Twp., Allen County, IN, the daughter of John and Caroline (Minerd) Pring. At her death, the Fort Wayne News-Sentinel called her "the last surviving member of the pioneer John Pring family, which settled in Cedar Creek Township..."
Martha married William Allen Hursh (1880- ? ), an Indiana native who was the son of J.H. Hursh.
The couple produced nine children -- Jennie Bright, Walter Chase Hursh, Marie E. Kent, Mabel Moudy, Dora Hursh, Hattie Hursh and Lela "Pat" Dunten. Sadly, their first children were twins who died in childbirth on Aug. 27, 1881.
The Hurshes were farmers and resided in Elkhart Township, Noble County early in their marriage They were enumerated there when the federal census was taken in 1900. That year, Martha, William, their six children and widowed mother Caroline Pring lived under one roof.
By 1920, they had relocated to Huntertown, Allen County, about nine miles directly north of Fort Wayne. The 1920 census shows the family living on Hursh Road, with daughters Hattie and Lela employed as local school instructors. Their community also was known as Robinson's Chapel over the years.
Martha and William enjoyed visiting their large family over the years. One visit included siblings Nettie Steward, Margaret Cornell (visiting from Missouri), Elbridge Pring and James Pring.
They attended a surprise party in April 1907 in Cedar Creek Township to celebrate the 72nd birthday of William's mother, and in September 1908 a second wedding anniversary party for Mr. and Mrs. Don Hursh.
In August 1909, the Journal Gazette said that they had entertained Martha's brother Elbridge Pring of Fort Wayne, niece and nephew Adrien and Merton Kimes, and Cleo and Lela Butz of Wawaka, IN the previous Sunday. That same week, said the newspaper, daughters Dora, Hattie and Lela joined Cleo and Lela Butz for a trip to Fort Wayne.
News Sentinel, 1946
The Journal Gazette also reported in July 1909 that the Hurshes and daughter Lela had spent the previous Sunday with Martha's brother James W. Pring and his wife. In the 1930s, after James' wife died, he apparently came to life under their roof, and died there at the age of 80 in March 1934.
William died in 1925. The details of his passing are not known, and were not published in the Fort Wayne Journal Gazette or News Sentinel newspapers. He was laid to rest in the Huntertown Cemetery, to be joined in later years by his wife and daughter Jennie Bright.
Martha outlived her husband by more than two decades. Said the News-Sentinel, Martha "was a member of the Huntertown Methodist Church and of the Huntertown Chapter No. 388, Order of the Eastern Star."
Martha passed away at age 86 on Nov. 22, 1946. She was buried beside William at Huntertown Cemetery. The News-Sentinel carried a prominent obituary, calling her the "last survivor of pioneer Cedar Creek Township family..." The article said that she was survived by 11 grandchildren and 14 great-grandchildren.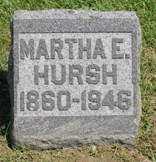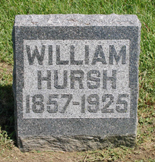 Graves of Martha and William at Huntertown Cemetery
~ Daughter Jennie (Hursh) Bright ~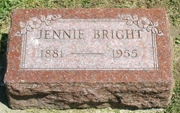 Huntertown Cemetery
Daughter Jennie Hursh (1881-1955) was born in 1881.
She was joined in wedlock with Carl Bright ( ? - ? ) in December 1919.
Carl was a farmer. During World War I, Jennie served as a Red Cross captain for Perry Township in raising funds to benefit American soldiers in France. Opined the Fort Wayne News and Sentinel: "Another strong organization of women will help to proclaim to the outside world that Allen county is not only loyal to every American interest, but that it is especially willing to give generously of its dollars to assist the great work of the Red Cross in carrying forward its great humanitarian work."
They made their home for many years in Huntertown, and Jennie belonged to the Huntertown Methodist Church. By 1920, when the census was taken, the 38-year-old Jennie was marked as "married" but lived with her parents, and had no occupation.
Little else is known of her life.
She died at the age of 74 in the West Berry Nursing Home, having been a patient there for a year. Rev. Howard Western officiated at her funeral, followed by burial at Huntertown Cemetery.
~ Son Walter Chase Hursh ~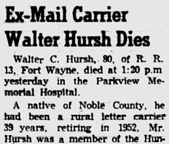 Obituary, 1963
Son Walter Chase Hursh (1883-1963) was born in 1883.
He was united in matrimony with Luella M. Hand (1884-1978).
They had three children -- Frank K. Hursh, Dr. Charles W. Hursh and Marie E. Kent.
As a young man, circa September 1916, Walter was a teacher in the Perry Township Schools of Allen County, and his name was published in a list of teachers in the Fort Wayne Weekly Sentinel. His sister Hattie also taught in the Perry schools that year. He also was a member of the committee on resolutions for the annual meeting of the farmers of Perry and Eel River Townships, held in Huntertown in February 1918.
By 1920, Walter had changed careers and become a rural letter carrier in Allen County for 39 years, and retired in 1952. He was a member of the Huntertown Lodge of the Masons, the Huntertown Chapter of the Eastern Star and the Rural Letter Carriers Association. Luella was a longtime teacher in the Eel River Township Schools in northwest Allen County. As with her husband's mother and sisters, she belonged to the Eastern Star.
At the age of 80, Walter died in Parkview Memorial Hospital on Aug. 17, 1963. His funeral services were led by Rev. Howard Western and Rev. Robert Jackson. Burial was in the Huntertown Cemetery.
Luella passed away at the age of 94 on Oct. 25, 1978. She was buried beside her husband in Huntertown Cemetery.
Circa 1963, daughter Marie Kent made her home in Wolcottville, IN.
Son Dr. Charles W. Hursh (1917-1984) married Hulda M. and had three children -- Anita Cast, Georgia E. Zeichner and Stanley C. Hursh. Charles was an optometrist for 42 years and retired in July 1984. He passed away a few months after retirement on Sept. 5, 1984, in Goshen General Hospital in Syracuse, Kosciusko County, IN. His funeral was held at Plymouth United Church of Christ in Goshen, IN, followed by burial in Perry Township Cemetery in Huntertown.
~ Daughter Mabel (Hursh) Moudy ~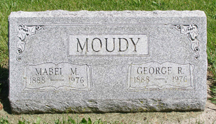 Leo Cemetery
Daughter Mabel Hursh (1888-1976) was born in 1888.
She married George R. Moudy (1888-1976).
They had one daughter, Cleo M. Tannehil.
Circa 1909, both Mabel and George took summer classes at the State Normal School in Terre Haute, suggesting that they may have been teachers. Later in life, Mabel relocated from her home in Fort Wayne to join daughter Cleo in Tucson, AZ.
George passed away in 1976, possibly in Tucson.
Mabel died in Tucson on Aug. 14, 1976. Her remains were returned to Indiana for burial beside George in the Leo Cemetery. A brief obituary was published in the Journal Gazette.
~ Daughter Dora (Hursh) Sauder ~
Daughter Dora Hursh (1891- ? ) was born in 1891.
She wed (?) Sauder.
They lived in Churubusco, Whitley County, IN, just over the Allen County line, in 1963.
~ Daughter Hattie (Hursh) Schwartz ~
Daughter Hattie Hursh (1893-1982) was born in 1893.
She married (?) Schwartz.
She was a longtime schoolteacher and a member of the Eastern Star. Circa September 1916, she and her brother Walter were teachers in the Perry Township Schools of Allen County, and their names were published in a list of teachers in the Fort Wayne Weekly Sentinel.
A typed Directory of Allen County School Teachers for 1919-1920, in the collection today of the Allen County Public Library in Fort Wayne, lists Hattie and her sister Lela as teachers in Perry Township and residing in Huntertown.
She passed away in Brighton Nursing Home at the age of 87 on Aug. 21, 1982. The Journal Gazette reported that burial was in Lindenwood Cemetery.
~ Daughter Lela "Pat" (Hursh) Dunten ~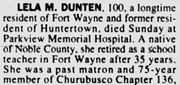 Journal-Gazette, 1997
Daughter Lela "Pat" Hursh (1897-1997) was born in 1897. Born in Noble County, she attended Indiana University circa 1916.
She wed (?) Dunten. She was a longtime resident of Huntertown and Fort Wayne.
Said the Journal Gazette, "she retired as a school teacher in Fort Wayne after 35 years. She was a past matron and 75-year member of Churubusco Chapter 136, Order of the Eastern Star." She celebrated her 100th birthday in 1997. Later that year, she died in Parkview Memorial Hospital, with burial in Huntertown Cemetery.
~ More ~
Donald L. Kear, a distant nephew of John Pring's, has an extensive collection of information on this family on his "Kear Family Site." He also has published his findings in The John Cears Kear Family (1984).
Copyright © 2002, 2004, 2007, 2009 Mark A. Miner