Home

Homer W. Turner
(1874-1946)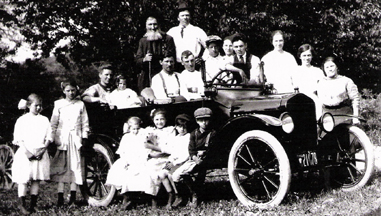 Homer at the wheels of a family automobile surrounded by family -- standing, L-R: Leona Turner, Mary Turner, George Turner, Al Winger, George Turner, Hazel Johnson, Robert and Nora White, Nancy Leonard, Sally Turner. Seated in car, L-R: Nora Turner, unknown baby, Homer Turner, Ed Leonard. Seated on running board, L-R: Madelyn White, Raymond Turner, Bill Turner
Homer W. Turner was born in 1873 in Fayette County, PA, the son of George Washington and Mary Frances (White) Turner.
He was a farmer and initially was married to Sarah B. "Sally" Hann (1878- ? ). The Turners had at least six children, Sophia "Sofa" White Holland, Lenora White, George E. Turner, James A. Turner, Hazel Johnson and Agnes Turner, all born between the years 1898 and 1905.
The 1900 census shows the family living in Stewart Township, just a few doors away from Homer's older married sister, Elizabeth and George Smalley. The couple separated during the decade between 1900 and 1910. When the census was taken in 1910, Homer and the children lived next door to his father.

Homer and Mary officially were divorced on March 6, 1911. Mary relocated to Philadelphia, where she operated a boarding house circa 1915.

On Oct. 24, 1912, at age 38, he wed his second wife, 29-year-old widow Anna B. Wallace (1883- ? ), daughter of Isaac and Margaret (?) of Stewart Township. Following a practice in the Turner family, Homer and Anna united themselves in marriage. Anna's first husband had died on July 30, 1910.

By 1930, he and his former sister in law, who also was his step-mother for a time, the widowed Flora (Hull) Turner, were living together as stated in the U.S. census.

Homer passed away at his home at Chalk Hill at the age of 73 on July 30, 1946. The funeral and burial were held at the Christ Evangelical Church. His obituary in the Uniontown newspaper said he was survived by nine grandchildren and nine great-grandchildren. At the time, his son George and daughters Sophia Holland, Hazel Johnson and Mrs. Albert Wenger were all residing in Philadelphia, PA.

~ Daughter Sophia (Turner) Holland ~

Daughter Sophia Turner (1897-1986) was born in about 1897 at Ohio Pyle, Fayette County.

At the age of 18, on July 15, 1915, she married 19-year-old farmer Edmund Holland (1896- ? ), son of Joseph B. and Mildred (Williams) Holland. The ceremony was held at the Hollands' residence at Chalk Hill, Fayette County, with Rev. M.J. Weller officiating.

They had at least one son, Rev. Charles Edward Holland.

Circa 1973, Sophia lived in Conshohocken, near Philadelphia.

Sophia died in February 1986. Their son Charles made his home in Marlton, NJ.

~ Daughter Lenora "Nora" (Turner) White ~

Daughter Lenora "Nora" Turner (1899-1973) was born in 1899. She married Robert M. White Jr. (1896-1964), a cousin and the son of Robert Marshall White. See their biography on the White page.

~ Daughter Hazel (Turner) Johnson ~

Daughter Hazel Turner (1903-1984) was born in 1903.

She married Leonard Johnson.

She resided in Trevose, Bucks County, PA in 1973.

Hazel passed away in Lackawanna County, PA in July 1984.

Copyright © 2003-2004, 2006-2007, 2009-2012, 2017 Mark A. Miner