Home

Homer W. Turner
(1874-1946)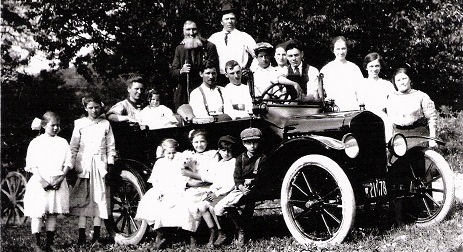 Homer at the wheel surrounded by family -- standing, L-R: Leona Turner, Mary Turner, George Turner, Al Winger, George Turner, Hazel Johnson, Robert and Nora White, Nancy Leonard, Sally Turner. Seated in car, L-R: Nora Turner, unknown baby, Homer Turner, Ed Leonard. Seated on running board, L-R: Madelyn White, Raymond Turner, Bill Turner. Courtesy Paul D. Kyle
Homer W. Turner was born on May 21, 1873 in Fayette County, PA, the son of George Washington and Mary Frances (White) Turner.
He was a longtime farmer in and around Roundtop near Chalk Hill, Stewart Township.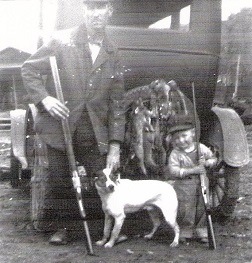 Homer and nephew Theron Turner

Courtesy Paul D. Kyle
On Oct. 9, 1896, when he was about 23 years of age, he eloped to Cumberland, MD to marry 17-year-old Sarah B. "Sally" Hull (Dec. 28, 1878-1959), daughter of Isaac and Jane (Inks) Hull of Chalk Hill, Fayette County.
The Turner and Hull families were unusually close, and Homer's brother Charles was married to Sarah's sisters Flora and Grace. Homer's father also was married to Sarah's sister Flora later in life.
During their 15 years of marriage, Homer and Sarah produced five children, Sophia Holland, Lenora White, George E. Turner, Hazel Johnson and Agnes Wenger, born between the years 1898 and 1905.
The 1900 census shows the family living in Stewart Township, just a few doors away from Homer's older married sister, Elizabeth and George Smalley. In what added to a very complicated set of relationships, Homer's brother Charles wedded Sarah's sister Flora, and when the couple divorced, Flora married her ex's father.
Deepening the intrigue, in the 1908-1911 timeframe, Homer and his stepmother Flora were "sparking" -- carrying on an affair -- made convenient as they lived next door to each other.
Homer and Sally separated during the decade between 1900 and 1910. When the census was taken in 1910, Homer and the children lived next door to his father.
The couple officially were divorced on March 6, 1911. Reported the Uniontown Morning Herald:
[Flora] also divorced Charles as Sallie had divorced Homer. However, Flo beat sister Sallie to it, and got married again before Sallie ever got her divorce. And who in the world should marry her but old "Pa" Turner, who signs his name George W. Turner, now almost 85 years old.... But Sally got her divorce, and "Pa" Turner not bein a Mormon was unable to marry her, too. Charles didn't seem very keen for her either and so she went to Philadelphia and got a job as a maid for a specialist.... While Sallie was in Philadelphia, her ex-husband, Homer Turner, was grubbing land and raising onions at Greenbriar.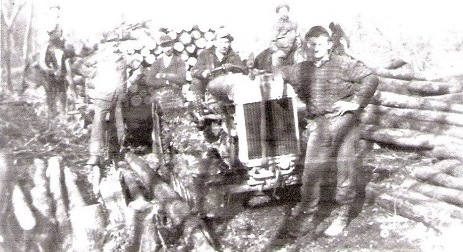 L-R: logging operations with, L-R: Charles Turner, Homer Turner, Theodore "Ted" Turner and Raymond Turner. Courtesy Paul D. Kyle
On Oct. 24, 1912, at age 38, Homer wed his second wife, 29-year-old widow Anna B. "Annie" (Williams) Wallace (1883- ? ), daughter of Isaac Newton and Margaret (McCann) Williams of Stewart Township. Following a common practice in the Turner family, Homer and Anna united themselves in marriage. Anna's first husband had died on July 30, 1910.
Research is underway to determine if Homer and Anna were the parents of James A. Turner.
While Homer had legal custody of his and his ex's children, Sarah felt he did not furnish them with a "respectfable home, frequently failed to provide for them and by a long continued course of improper and immoral conduct, he has rendered himself unfitted and an improper person to have the care and custody of said minor children," she once said. During the summer of 1914, said the Morning Herald, Sarah:
...came to Uniontown and hied over the mountains to see them. She decided they ought to have some new duds and the youngsters were willing to go to town to get them. Then their mother kidnaped them. She said so herself. She got them into an auto and took them to Ohiopyle with the idea of taking them aboard an eastbound train for Philadelphia. The kids didn't want to go and ran away. A short time ago Mrs. Hann arrived here on her annual vacation. She went up to see the children and ex-husband Turner shooed her away, she says, with a shotgun. Daughter Sophia, now 18, wanted to marry Ed. Holland, a mountain farmer. Her father objected, but Mrs. Hann took her to the register's office and gave the official consent. Then Mrs. Hann threw the glare of publicity on her ex-husband by securing a writ of habeas corpus, requiring him to bring the children into court...
Sarah's suit for custody in Fayette County Orphans Court was argued in August 1915. The local press had a field day with the story, and one Morning Herald headline read "Marital Mixup Features Case; ... Matrimonial Entanglements of Hull and Turner Families Aired Before Judge Reppert." When asked, the children Lenora (age 16) and George (14) stated that they preferred to live with their father. Judge Reppert divided the children in twos, awarding custody of Lenora and George to the father and of the two youngest children to the mother. The judge's ruling on Sarah's behalf was that she would keep them in Philadelphia until May 1, 1915, when she was to return them to their father and furnish a $300 bond.
Homer and Anna divorced.

Obituary, 1946
In the summer of 1921, the Uniontown Evening Standard reported that Homer was planning a "big shooting match" about one-and-a-half miles from Chalk Hill, and was offering as prizes some "good mountain spring chickens."
By 1930, he was cohabitating with his former sister in law, the widowed Flora (Hull) Turner, who also had been his step-mother for a time. They are shown together in the the United States census of 1930. Their intimate relationship had spanned more than two decades.
Homer allowed his photograph accompanying a testimonial for a July 1937 newspaper advertisement for the Herb Doctor, sold at Liggett's Drug Store in Uniontown. He testified that:
63 years ago I first saw the light of day at Chalk Hill. The fresh mountain air and the abundant cool spring water have held mo close by these many years. For the past few years, however, I haven't been able to get very much pleasure from anything because of my miserable condition. I found it continuously necessary to be taking some sort of harsh laxative for my constipation, my digestion was very poor and my weight dropped 12 pounds and even my sleep at night was restless and disturbed. I, and my parents before me, have always been a great believer in the powers of herbal medicines. But neither herbal nor any other sort of medicine seemed able to help me until I took Herb Doctor. There's just no comparison between Herb Doctor and all those other medicines.
Suffering from kidney problems and hardening of the arteries, Homer was stricken by a heart attack and passed away at his home at Chalk Hill at the age of 73 on July 30, 1946. The funeral and burial were held at the Christ Evangelical Church. His obituary in the Uniontown newspaper said he was survived by nine grandchildren and nine great-grandchildren.
At the time of Homer's death, his son George and daughters Sophia Holland, Hazel Johnson and Mrs. Albert Wenger were all residing in Philadelphia, PA.
married carpenter Charles E. Hann ( ? - ? ) in 1913.
After ex-wife Sarah relocated to Philadelphia, she married again in 1913 to carpenter Charles E. Hann (June 14, 1875-1952), son of Eli and Deborah (Stern) Hann of Union Bridge, MD. Charles had steady work and earned $22 a week. They resided at 1303 Butler Street. By 1915, the Hanns operated a boarding house.Charles' primary source of income was as a cabinet maker. He reputedly worked at one time in center city Philadelphia, constructing displays and providing maintenance services at the Wanamaker department store. But for the most part, over 28 years, he made cabinets for the firm of Jacob Reed. After the death of their daughter Sophia's husband in 1924, the Hanns then took in the five fatherless grandsons to raise. The boys "slept in the unfinished cellar while the grandmother bootlegged upstairs for the boarders," wrote Grace Herr Holland in her memoir, Planting Seeds: A Missionary Story. Sarah and Charles are pictured in Holland's book, and when Charles died in 1952, the five grandsons attended in suits and ties and were photographed together, an image which also appears in the book. Their home in 1940s at 13 First Avenue in Conshohocken, Montgomery County, PA. By 1949, the Hanns relocated again to Berks County, PA, where Charles was admitted to the Hawthorne Home on Clymer Street and spent the last three years of his life. They were members of Holiness Christian Church of Seyfert, PA. He was burdened with diabetes and hardening of the arteries. A heart attack cut him down at the age of 77 on Aug. 26, 1952. His Reading Eagle obituary said he was survived by eight grandchildren and 14 great-grandchildren. Rev. Charles W. Emery and Rev. Ira Bechtel co-officiated at the funeral. Sarah outlived him by seven years and resided in the Hawthorne Home facility at 1501 Mineral Spring Road, Reading. Suffering from hardening of the arteries, Sally was felled by a heart attack and died in Reading's Community General Hospital at the age of 80 on March 7, 1959. As they had done seven years earlier for Charles' funeral, Rev.'s Bechtel and Emery led services. Interment of the remains was in St. John's Cemetery in Gibraltar, Robeson Township, Berks County. Emily Laskey of the Hawthorne Home signed the official Pennsylvania certificate of death, and an obituary appeared in the Eagle.
~ Daughter Sophia Frances (Turner) Holland Henning ~
Daughter Sophia Frances Turner (1898-1986) was born on July 7, 1897 or 1898 at Ohio Pyle, Fayette County.
At the age of 18, on July 15, 1915, she married 19-year-old farmer Edward Harrison Holland (1896-1924), son of Joseph B. and Mildred (Williams) Holland. The ceremony was held at the Hollands' residence at Chalk Hill, Fayette County, with Rev. M.J. Weller officiating. While her father objected to the union, her mother took her to the marriage license office and provided consent.
They bore a brood of these seven known children -- Clarence Holland, Sarah Agnes Holland, Edward LeRoy Holland, Daniel W. Holland, Paul Emett Holland, Joseph Harrison Holland and Rev. Charles Edward Holland.
Sadly, at least three of their offspring died in infancy. Sarah Agnes surrendered to death in Uniontown at a few weeks of age, on Aug. 5, 1921, due to gastroenteritis -- an inflammation of the stomach and intestines. An examining physician wrote that there was no doctor in attendance and that the parents would not have a doctor. Then son Edward died in Philadelphia at the age of 10 months, on Sept. 7, 1923, after suffering convulsions while teething. His tender remains were transported back to Fayette County to sleep for all time in Chalk Hill Cemetery. The following year, on Aug. 16, 1924, son Daniel passed away at age 4 months, 15 days, also from acute gastroenteritis. His burial also was at Chalk Hill.
Sophia is known to have held a party in September 1915 for her mother, Sarah Hann, who was now living in Philadelphia, but back in Uniontown for a time. Reported the Uniontown Morning Herald, "The music for the evening was furnished by Fuller Mackey and Alfred Lake. At a late hour delightful refreshments were served in the form of ice cream and cake, and coffee." Among the guests were Edward's sister and husband, Mollie and Bartholomew "Beth" Minerd of Chalk Hill.
Edward earned a living as a carpenter. When the couple moved to Philadelphia, they established a residence at 600 West Cambria Street and then 3233 Front Street. He was hired for a project in Philadelphia in the spring of 1924. While at work, however, he fell and sustained a bad injury. He received treatment at the Uniontown Hospital and was planning to return to Philadelphia once recovered.
The family was plunged into an anxiety and grief, however, when Edward was diagnosed with intestinal cancer during the summer of 1924. He only lived for another few months and, while in Philadelphia, succumbed to the illness at the age of 28 on Dec. 6, 1924. The remains were sent back to Fayette County for burial in Chalk Hill, with funeral services conducted by Rev. N. Weller. Joseph C. Holland provided key details for the Pennsylvania certificate of death.
Sophia survived her husband by more than 60 years. In 1925, in Philadelphia, she wed again to coal miner Elmer Frank Henning (Dec. 29, 1887-1951), a native of Mount Braddock near Uniontown, and the son of Julius and Augusta Henning Elmer had a long record of criminal larceny in the Brownsville-Uniontown area and in 1921 had been an inmate in Western State Penitentiary.
Together, in 1926, they bore a son of their own, Rev. Dr. Fredric Luke Henning Holland. But according to a family memoir, Planting Seeds: A Missionary Story, by the son's wife Grace, Sophia abandoned her sons and left home when the youngest was about age one. The eldest son Charles then is said to have gathered up his brothers and family silverware and together went to the Philadlephia home of their grandmother Sarah (Hull) Turner Hann, where they were taken in and raised to manhood.
Elmer is known in 1930 to have been incarcerated in Eastern State Penitentiary in Skippack, Montgomery County, PA, when the federal census enumeration was made. Their young son Fredric was taken in by his grandparents Sally and Charles Hann and raised to adulthood.
During the World War II era, Sophia dwelled in Norristown, Montgomery County, PA, and may have lived under the roof of "Mrs. K. Reighter." In 1950 her home was on Skippack Pine in Centre Square. Elmer is known to have been in Morgantown, Berks County, PA in 1942 and to have worked for Job Stoltzfus. During that time he was questioned for thefts of clothing and others' personal property. From there he migrated into New York State and in the early 1950s made his home in Pleasant Manor in Wurtsboro, Sullivan County, NY.
Tragically, while in Chester, PA, the 63-year-old Elmer was struck by a tractor trailer just after midnight on April 18, 1951, at the intersection of Pennel and Second Streets. He was rushed to Chester Hospital and pronounced dead. A story appeared in the Philadelphia Inquirer, which said he was identified by cards in his pockets. The cause of death was written in the official certificate as "Inquest Pending." The truck itself was carrying 26,000 lbs. of yarn, and headed from Baltimore to New York. Burial was in Fair Acres in Lima, PA.
Sophia resided in Conshohocken near Philadelphia in 1952 and appears to have taken back her maiden name, as listed in the Reading Eagle obituary of her mother. Sophia remained in Conshohocken as of 1973.
Sophia died in February 1986. Interment was in the cemetery of Gulph United Church of Christ.
Son Rev. Charles Edward Holland (1916-2012) was born in about 1916 in Chalk Hill. He relocated to New Jersey. Charles entered into marriage with Ethel Viola Ludwig ( ? - ? ). Their only child was Dr. Charles Edward Holland Jr. Charles Sr. was ordained in the Wesleyan Church and employed by the Penn/Jersey District. The Pennsylvania congregations he pastored over the years were in Pottstown, Birdsboro, Lyons, Mt. Carmel, Seyfert and Pine Grove and in Maryland in Millington. They made their final home in Marlton, NJ. At the age of 95, as a patient in Virtua-West Jersey Hospital, Charles passed away on April 17, 2012. His funeral service was held in the Seyfert Wesleyan Church. The remains were placed into eternal repose in Forest Hills Memorial Park, Reiffton. His obituary was printed in the Reading Eagle.
Grandson Dr. Charles Edward Holland Jr. ( ? - ? ) was born in (?). He wed Linda ( ? - ? ). Circa 2012, they resided in San Diego.
Son Joseph Harrison Holland (1917-1956) was born on Aug. 7, 1917 in Crucible, Greene County, PA. He migrated to Philadelphia and may have been raised by his grandmother, Sarah (Hull) Turner Hann. Joseph had two years of high school education. As a young man, he worked as a cook at the Pennsylvania State Hospital in Norristown. He is known to have served in the U.S. Armed Forces during World War II. Joseph was united in matrimony with Genelle E. Curry ( ? - ? ). They produced two known daughters -- Karen Ann Holland and Barbara Holland The family made a home on Henderson Road in Bridgeport, Montgomery County, PA. There, Joseph earned a living as a guard at the Eastern State Penitentiary at Graterford. But sadly, at age 38, stricken with heart disease, he suffered a heart attack and died several months later on July 25, 1956. Burial was in Valley Forge Gardens.
Granddaughter Karen Ann Holland (1947- ? ) was born in about 1947.
Granddaughter Barbara Holland (1948- ? ) was born in about 1948.
Son Paul Emett Holland (1919-1969) was born on Oct. 6, 1919 in Chalk Hill. He moved to Philadelphia in boyhood and in young manhood dwelled in Trevose, PA. Paul joined the U.S. Maritime Service by 1940 and was employed as a seaman in St. Petersburg, FL and in early 1941 transferred to the U.S. Army Transport Service in Brooklyn, NY. Paul enlisted in the U.S. Navy during World War II, and served aboard the USS SC 1476 and USS PGM 16. He was honorably discharged at Bainbridge, MD. He entered into marriage with Martha Marie Novitski (1922-2007). The couple's two sons were Paul R. Holland and Thomas A. Holland. Circa 1950, the Hollands made a home on Borough Line Road in Bridgeport, Montgomery County, PA. In the late 1960s their address was 4236 Park Lane in Chester, PA. Sadly, Paul died at the age of 49 on July 21, 1969. Burial was in St. Peter and St. Paul's Cemetry in Broomall, Delaware County, PA. Martha survived him by almost four decades and lived in Aston, Delaware County. She spent 10 years employed as a secretary for Ship 'n Shore Company in Upland. She held a membership in St. Joseph Church in Aston, PA. As her health failed she was admitted to Fair Acres Geriatric Center in Middletown, where she surrendered to death on Sept. 19, 2007. In an obituary, the family asked that any memorial donations be made to the Alzheimer's Association.
Grandson Paul R. Holland (1945- ? ) was born in about 1945. His home in 2007 was in Swarthmore, PA.
Grandson Thomas A. Holland (1948- ? ) was born in about 1948. He resided in Frazer, PA circa 2007.
Son Clarence Ambrose Holland (1920-2003) was born on Oct. 13, 1920. He was either born in or migrated to Philadelphia and resided there in 1930, at the age of nine. Little is known of his life. The angel of death spirited him away in Norristown, PA on July 7, 2003.
Son Rev. Dr. Fredric Luke "Fred" Henning Holland (1926-2011) was born on March 10, 1926 in Philadelphia. The Harrisburg Patriot-News said that he was born "into a non-Christian home" and had been "raised by his grandparents." At the age of 18, when required to register for the military draft during World War II, he dwelled with his mother at 909 DeKalb Street, Norristown, PA. The draft official recorded Fredrick's last name as "Holland" but noted that he "also uses the last name Hennings." At that time, he was employed by Kahn's Inc., Norristown. He stood 5 feet, 11 inches tall and weighed 160 lbs. He served in the U.S. Army from May 31, 1945 to Oct. 11, 1948, and was stationed at Greenville (SC) Air Force Base. Circa 1948, thanks to the evangelical influence of his older brother Charles, Fredric was "converted from a life of sin ... and was led to Messiah College." Circa 1950, he shared a home with his brother in Birdsboro, Berks County, PA. After obtaining his bachelor's degree, he went on to receive a master's in Christian education frm Eastern Baptist and another master's and doctorate in missiology from the Fuller School of World Mission. He is said to have shared an office with Rev. J. Edwin Orr at Fuller.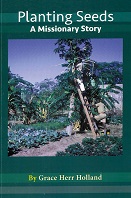 Grace's book

Fredric was joined in wedlock with Grace Herr ( ? - ? ). She was a 1953 Messiah College alumna and also earned her Ph.D. Four sons born into this marriage were Phil Holland, Dr. Stephen "Steve" Holland, Mark Holland and Michael Holland. Together, the pair devoted their lives to missionary service in Zambia and Zimbabwe, serving for 23 years. This included theological education by extention consulting to the Association of Evangelicals in Africa, and the TEXT-Africa book project which ultimately produced 43 texts. Fredric helped minister to African bushmen through the co-founding of the Phumula Mission in Zimbabwe and starting a Bible school in Zambia. Fred was active in the latter part of his life in training North American pastors and missionaries and in leading workshops overseas. Said the Patriot-News, he "served in Brethren in Christ ministry for more than 60 years. As a pastor, church-planter, missionary, teacher/principal, consultant and coach, Fred has influenced countless ministries, leaders and lives in over 20 countries." Among the schools where he taught were the Moody Bible Institute, Trinity Evangelical Divinity School, North American Baptist Seminary, Messiah College and Columbia College. The Association of Anabaptist Missiologists honored the couple in 2007 for five years of missions "thinking and practice" and in appreciation of their "compassion and commitment for the lost to be saved and for the development of pastors and church leaders who facilitated church growth." The husband-and-wife team also was recognized by the Billy Graham Association and National Association of Evangelicals. In her own right, Grace authored "Growing Up Brethren in Christ: The Influence of Home and Congregation," XXXI, 2 (August 2008). Then circa 2016, she authored her autobiography, Planting Seeds: A Missionary Story. Fredric passed away in Dillsburg, PA on Oct. 16, 2011. A memorial service was held in the Grantham (PA) Church.
Grandson Dr. Stephen "Steve" Holland (1957-2021) was born on March 26, 1957 in Bulawayo, Zimbabwe while his parents were serving there as missionaries. He received his bachelor's degree from Wheaton College. Stephen then spent a year in Japan teaching English before returning to the United States and settling in Wheaton, IL For a time he was a home contractor but decided to pursue a doctorate in psychology from Biola University in La Mirada, CA. Stephen was united in matrimony with Mary Dotson ( ? - ? ). Together the couple bore a brood of two -- Ian Holland and Susan Holland. The couple eventually divorced. Stephen relocated to Dillsburg, PA, where he opened a counseling practice. He also designed and built his own custom home in Dillsburg. Among his other loves were health and wellness, music, nature, playing guitar and taking part in Brethren worship teams in Dillsburg. The family was plunged into worry when Stephen was diagnosed with lymphoma. He suffered for two years but "remarked often during his final two years about how fulfilled he felt and how much meaning he found in his walk with God and God's people," said the Harrisburg Patriot News. He went to San Diego for treatment and died there on July 6, 2021. His funeral service was held in the Grantham Church, Mechanicsburg.
~ Daughter Lenora "Nora" (Turner) White ~
Daughter Lenora "Nora" Turner (1899-1973) was born June 1899 in Stewart Township, Fayette County. She married a cousin, Robert M. White Jr. (1896-1964), the son of Robert Marshall White. See their biography on the White page.
~ Son George Edward Turner ~
Son George Edward Turner (1900-1951) was born on Dec. 14, 1900 in Chalk Hill, PA. He was born semi-paralyzed and lived with the disability all his life.
At the age of about 14, he and his siblings were caught in the toxic crossfire of their parents' divorce. While they remained in the household of their father, and their mother moved to Philadelphia and remarried, the mother wanted to maintain her own influence.
In a court proceeding in 1915, questioned by Judge Reppert, George and his elder sister Lenora stated that they preferred to live with their father. The judge approved the father's custody of Lenora and George and the mother receive custody of the two younger children.
When he was age 29, in about 1929, George wed a step-cousin, 18-year-old Aurrella Dean (Nov. 19, 1911-1989), daughter of Warren McEwen and Bessie Elizabeth (McNutt) Dean of the families of Catherine (Minerd) Nesmith Dean and Sophia (Turner) Inks Dean. There is no evidence to suggest that they reproduced.
The pair relocated to Philadelphia. There, he earned a living as an automobile mechanic. They lived under the roof of George's stepmother Sarah and her husband Charles E. Hann in 1930, when the United States Census was taken.
The 1940 federal census, of Lower Merion Township, Montgomery County, shows George laboring as a knitter in a wool mill and Aurrella earning a living as a maid.
Circa 1950, when the census again was made, the couple continued to dwell in Lower Merion, with George -- apparently in invalid -- having no occupation and Aurrella working as a winder in a textile business.
The Turners' address in the early 1950s was at 7 River Roadin West Conshohocken.
George suffered from a number of ailments, including heart decomposition, hypertension and hardening of the arteries. He died from their effects at the age of 50 on July 14, 1951. On his death certificate, a physician wrote that the "etiology" (cause) of his birth defect had never been determined. Burial was in Gulph United Church of Christ Cemetery in Upper Merion/West Conshohocken. While Aurrella's name was inscribed on their grave marker, in fact she is not interred there.
Aurrella died on April 8, 1989. She rests for all eternity next to her sister Florence M. (Dean) Foster in Pleasant View Cemetery in Smock, near Uniontown.
~ Daughter Hazel (Turner) Johnson ~
Daughter Hazel Turner (1902-1984) was born in 1902.
As a teenager, after her parents divorced, she appears to have moved to Philadelphia with her mother.
She married Leonard Johnson (1903- ? ). They do not appear to have reproduced.
Federal census enumeration records for 1940 show that the couple had lived in 1935 in Philadelphia but had since relocated to Bensalem, Bucks County, PA. There, Leonard was employed as a painting contractor, while Hazel was an operator at a clothing factory.
She resided in Trevose, Bucks County, PA in 1952-1973.
Hazel passed away in Lackawanna County, PA in July 1984.
~ Daughter Agnes (Turner) Wenger ~
Daughter Agnes Turner (1904-1970) was born on Oct. 30, 1904.
Evidence suggests that at about age 11, following the divorce of her parents, she relocated with her mother to Philadelphia.
At the age of 23, in about 1927, she was united in matrimony with 22-year-old Albert Charles Wenger (1906-1997), also spelled "Winger" and a native of Philadelphia. Albert earned a living at the time of marriage as a machinist with a radio company.
The couple appears not to have reproduced.
The federal census of 1930 shows the newlywed couple making a home in Philadelphia on West Silver Street.
By 1935, the Wengers had relocated to Lower Southampton, Bucks County, PA. There, circa 1940, Albert earned his wages as a machinist with a textile manufacturing firm. At the death of Agnes' stepfather Charles E. Hann in 1952, she dwelled in Trevose, Bucks County.
Agnes succumbed to death in August 1970 at the age of 65.
Burial of her remains took place in Camptown Cemetery in Bradford County, PA.
Albert outlived his wife by 27 years. His final residence was in Wyalusing, Bradford County. He died there on Aug. 8, 1997.
~ Son James A. Turner ~
Son James A. Turner ( ? - ? ) was born in (?).
He lived in Brownsville, Fayette County in 1946.
Copyright © 2003-2004, 2006-2007, 2009-2012, 2017, 2020, 2022 Mark A. Miner