Sophia (Turner) Inks Dean
(1866-1931)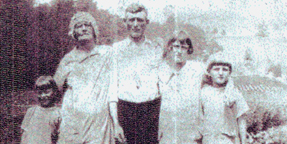 Sophia and her family, identities unknown
Sophia (Turner) Inks Dean was burn on April 10, 1866 (or 1874) in Fayette County, PA, the daughter of George Washington and Mary Frances (White) Turner. She apparently did not know her own age, and thus the difference of eight years in varying accounts of her birth year.
In about 1885, when she was age 19, Sophia wed her first husband, Thomas J. Inks (1865-1917). He was the son of George and Margaret (Lindsey) Inks.
They had one child, who died sometime prior to 1900.
The 1900 census shows Sophia and Thomas making their home in Stewart Township, without any children, and with Thomas laboring as a farmer. They had been married for 15 years at that point. Circa 1917, living in Ohiopyle, he earned a living as a mechanic.
In the words of a physician, Thomas suffered from "acute alcoholism" and also "cardiac asthma." He succumbed from their effects just 10 days before his 51st birthday, on Dec. 2, 1917. Burial was in Richland Cemetery near Ohiopyle or Connellsville.
After Thomas' death in 1917, Sophia married Warren McEwen Dean (1873-1954), the son of William Penn and Mary Ann (McNutt) Dean, and stepson of Catherine (Minerd) Nesmith Dean. Sophia was seven years older than her new husband.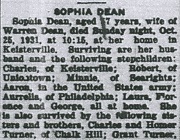 Uniontown Morning Herald,
Oct. 27, 1931
Warren had been married before, to Bessie Elizabeth McNutt, and brought eight stepchildren to the marriage: Charles William Dean Sr., Robert Dean, Minnie Schimansky, Aaron Dean, Aurella "Rella" Turner, Laura Dean, Florence Foster and George Dean.
[Showing the closeness of the Dean and Minerd clans, Warren's step-mother was Catherine (Minerd) Nessmith, daughter of Burket and Susan (Hartzell) Minerd. Warren's brother, Isaac N. Dean, was married to Sophia's step-cousin, Mary Belle Minerd.]
A step-daughter later recalled that Sophia was "kind of sickly. She was good to me though." Warren was a member of the Franklin Memorial Methodist Church of Dunbar.
Sophia and her aged father are known to have traveled together to Uniontown in December 1917, generating a small gossip news article in the Connellsville Daily Courier.
She was stricken with cancer of the uterus and declined during the year 1931. She passed away at the age of 65 in her home in Keisterville, Menallen Township, Fayette County, on Oct. 25, 1931, leaving a host of twice-motherless step-children. After the funeral at the Keister Church, she was laid to rest at the Cove Run Cemetery. A short obituary was published in the Uniontown Morning Herald. No stone is known to mark her grave.
Laurel Hill Cemetery
As a widower, Warren made his home at House 73 in Gibson Terrace in Connellsville, and married again, to Freida (Schimansky) Woodward (1888-1956), widow of Davis Woodward, and the daughter of Louis and Wilhemina Schimansky.
She brought these children to the marriage -- Carl Woodward, Davis Woodward, Ida Franks, Anna Rundle, Minnie Watts, Ruth Blasey, Leona Miles, Clara Palmer and Mildred Bogasky.
Warren and Freida also had one son together, Frank "Warren" Dean. Warren and Freida were members of the Franklin Methodist Church in Dunbar, and she belonged to the Daughters of America in Connellsville.
Tragedy visited Warren three times in the summer of 1933. The first wave of death was on July 3, 1933, when his son Charles was killed in an accident at the Keisterville coal mine. Just a little over two months later, Warren's grandson David Lewis Dean died at the tender age of 10 months, on Sept. 10, 1933. After a funeral at the Keisterville Church, young David was interred in the family plot at Cove Run. Less than a week later, on Sept. 14, 1933, another grandson -- Charles William Dean Jr. -- passed away at home, at the age of five. He was buried beside his father and young brother at Cove Run.
During an early period of his marriage to Freida, during the depths of the Great Depression, he was out of work. His daughter Florence recalled that "It was kind of scrimpy for food sometimes, but I earned some money washing and cleaning." He spent his final years at 73 Gibson Terrace.
Warren passed away at the age of 80 on Jan. 16, 1954. The Uniontown Morning Herald noted that he was laid to rest in Laurel Hill Cemetery, and was survived by 11 grandchildren and eight great-grandchildren. An obituary in the Connellsville Daily Courier reported that the funeral service was preached by Rev. E.J. Hatchner of the South Connellsville Assembly of God.
Freida outlived her husband by only two years. She died at the age of 68 on April 15, 1956.
~ Sophia's Step-son Aaron Dean ~
Aaron Dean (1909- ? ) was born in 1909.
He served in the U.S. Army in 1931.
He resided in Detroit circa 1954-1956.
~ Sophia's Step-Daughter Minnie (Dean) Schimansky ~
Minnie Dean (1898- ? ) was born in 1898.
She married August Schimansky and resided in Uppermiddletown, near Uniontown. They had at least two daughters, one of whom married Lloyd Bonn and the other who wed Grover Bryson.
The Bonns were married in about 1936. They celebrated their 40th wedding anniversary with an open house at their home in Ionia, MI, on Aug. 22, 1973.
The Brysons dwelled in Hagerstown, MD and later on Lenox Street in Uniontown. They had five children and at least six grandchildren. One of their sons was Fred Bryson, who wed Patricia.
~ Sophia's Step-Son George Dean ~
George Dean (1902- ? ) was born in 1902.
He lived in Uniontown in 1954 at the time of his father's death.
~ Sophia's Step-Son Robert Dean ~
Robert Dean (1906- ? ) was born in 1906.
He resided in Phoenix in the 1950s.
~ Sophia's Step-Daughter Aurella (Dean) Turner ~
Aurella "Rella" Dean (1912- ? ) was born in 1912.
She wed (?) Turner and in the 1950s made their home in Conshohocken, near Philadelphia. In 1964, she spent a week visiting her married sister Minnie Schimansky in Smock, Fayette County, a news tidbit published in the Uniontown Morning Herald.
~ Sophia's Step-Daughter Laura Belle Dean ~
Laura Belle Dean (1916- ? ) was employed with her sister Florence at the Ritz Hotel in Uniontown in 1936.
She was unmarried and lived in Friendsville, Garrett County, MD in the 1950s.
~ Sophia's Step-Daughter Florence (Dean) Foster ~
Florence Dean (1918-2012) was born on Oct. 29, 1918. She was just 13 months old when her mother died in childbirth. She was left motherless with six siblings, not including the baby, who died soonafter.
She later described her step-mother Sophia as "kind of sickly. She was good to me though." Florence quit school after eighth grade, and started helping neighbors with housework. Quoted in a Uniontown newspaper, she said "Saturdays I always went out to work for them. I liked it when they had kids to watch. I liked kids."
Circa 1936, she and a sister were employed as a chambermaid in Uniontown's Ritz Hotel owned by Frank Monaghan. She had the unfortunate fate of being a passenger in Monaghan's vehicle one night in September 1936 when, after he was pulled over by police for erratic driving, Monagan slit the throat of an officer. When Monaghan was beaten to death in jail later that night, she became a prime witness, with her name splashed all over Uniontown newspaper articles for many months. (A distant cousin, Wilbert Regis "Patsy" Minerd, was a county detective at the time, and faced trial for the alleged crime, but later was exonerated from blame.) Florence later married (?) Foster and in 1954 resided in Ypsilanti, near Detroit. Circa 1976, she lived in Philadelphia.
Florence spent her final years in the Henry Clay Villa nursing home in Markleysburg, Fayette County. She died there at the age of 94 on April 21, 2012. She was laid to rest in Pleasant View Cemetery.
Copyright © 2003-2004, 2006-2007, 2009-2010, 2014, 2017 Mark A. Miner
Warren M. Dean grave photo courtesy of Caine Luckey.