Violet was a fourth grade school teacher from 1914 to 1917 in Youngwood. She later resumed teaching in her widowed years.
Heartache rocked the young couple in 1917, when their newborn son Clayton died on Feb. 9, 1917, at the tender age of 11 days.
When the federal census was taken in 1920, they had relocated to Violet's hometown of nearby Youngwood, Westmoreland County, with their home on Fourth Street. That year, Arnold's occupation was "fireman" on the "railroad."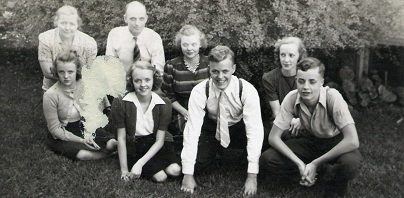 The Overholts, 1940s. Front, l-r: Grace, Dorothy, Brinton and Harry. Back, l-r: Violet, Arnold, Ethel, Hazel.
In 1927, their home was located at 108 North Sixth Street in Youngwood, and their telephone number was "29-W."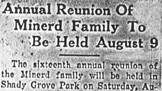 News coverage, 1930
When the 16th Minerd Reunion was held in August 1930 at Shady Grove Park near Uniontown, Fayette County, PA, Arnold served as President. He oversaw a committee including his half-brother Ernest Minerd (Secretary) and cousins Frank Zearfoss, Bess (Minerd) Lemon, Dr. Paul David Luckey Sr., Andrew Luckey, Frank Woodmancy and Dr. Harold "Daniel" Minerd. His cousin Laura Jane (Minerd) Williams later wrote a lengthy account of the event for her local newspaper back home, the Huntingdon (PA) Daily News.
Again in August 1932, Arnold, Violet, the children and Arnold's mother and brother Ernest went to the Minerd Reunion at Lake Forest Park near Scottdale, Westmoreland County. Writing in the Allenport section of the Huntingdon (PA) Daily News, Arnold's cousin Laura Jane (Minerd) Williams reported: "Everyone seemed to enjoy the fine fellowship that existed among all the reunionists and the innumerable baskets that provided dinner and supper for the party were bottomless. The party was accompanied home by Mrs. A.M. Overholt and her two granddaughters, Hazel and Ethel, who will spend their vacation here [in Allenport] before they resume school this fall."
The Overholts were longtime members of the First Church of the United Brethren in Christ, located on North Third Street in Youngwood. Arnold served as president of the Knights of Honor Sunday School Class, which circa 1915 comprised 46 men. His brother Ernest was on the Sunday School executive committee, and president of the equally large Friends' Bible Class.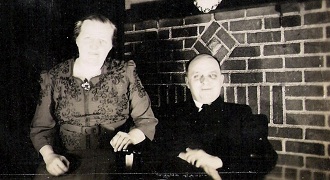 Violet and Arnold, circa 1942, the year before he died
Arnold was a fireman for the Pennsylvania Railroad for nearly three decades, serving from 1914 to 1943. Violet was a fourth grade teacher in 1914-1917 and 1944-1955, primarily at Youngwood Elementary School.
Tragically, Arnold suffered from post lateral sclerosis, "a disease very similar to Lou Gehrig's disease," said a granddaughter. "The only difference is that Gehrig's began in his arms, and Arnold's began in his legs." The illness caused his muscles to deteriorate.

Hillview Cemetery, Greensburg
Arnold passed away at home on Jan. 30, 1943, at the age of 50. His final words were, "I want you all to meet me in Heaven." He is buried at Hillview Cemetery in Greensburg. In a brief obituary, the Connellsville Daily Courier noted that "His widow and six children survive" and that the funeral "will be held at 2 p.m. Tuesday."
Having received word of the death, at her home in Allenport, Huntingdon County, PA, Arnold's cousin Laura Jane (Minerd) Williams wrote a short tribute in her column in the Huntingdon Daily News: "He was for many years employed by the P.R.R. as a fireman. Following an attack of pneumonia his spine became infected and his lower limbs became partly paralyzed, continuing gradually till death claimed him. His wife was formerly from Black Log, the former Miss Violet Erwin, daughter of George B.M. Erwin."
Tragedy swept over the family again when 18-year-old son Harry was killed just six months after his father's death -- on July 30, 1943 -- when his car skidded on a wet road and plunged over an embankment. More details on his life below.
Violet survived her husband by more than three decades. She obtained employment as a Youngwood school teacher in 1945, remaining until 1955. During that time, in 1947, she was selected among a group of local educators to study health education at what is now Pennsylvania State University, as part of the National Foundation for Infantile Paralysis. Said the Daily Courier, "The training is planned to emphasize the scientific bases for health and their application to the school program."
She passed away on July 8, 1976, just four days after our nation's Bicentennial. Her death occurred in the Monongahela Valley Hospital in Charleroi, Washington County.
She and Arnold and her family are honored with a memorial plaque at the Youngwood Community Center, erected in 1986 by their adult children. Violet is mentioned in the book, Our Town in Picture and Story: Youngwood, Pennsylvania, 1899-1974. She and Arnold also are mentioned in the book, Youngwood: The Railroad Town.
~ Daughter Hazel Blanche (Overholt) Wolfe ~
Daughter Hazel Blanche Overholt (1918-2003) was born on Feb. 9, 1918.
She married Elmer Thornton Wolfe Sr. (1911- ? ) on Aug. 21, 1937, when she was age 19 and he 26. John F. Strayer performed the ceremony.
They had two children -- Elmer Thornton "Skip" Wolfe Jr. and James Wesley Wolfe.
Their home was in Carlisle, Cumberland County, PA.
Hazel passed away on Jan. 8, 2003, at the age of 85.
Son Elmer Thornton "Skip" Wolfe Jr. married Martha Ruth Baker in 1971.
Son James Wesley Wolfe married Diana Sharon Hendriksen.
~ Daughter Ethel Marie (Overholt) Trout ~
Daughter Ethel Marie Overholt (1919- ? ) was born on Dec. 17, 1919 in Youngwood.
On April 1, 1939, at the age of 20, she married 25-year-old Homer Trout (1915-1981).
They had two children -- Homer Frank Trout and Ellen Dawn Reynolds.
Circa 1948, they resided near Mount Pleasant, Westmoreland County. By 1961, they had relocated to New Stanton, Westmoreland County.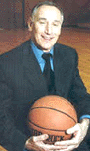 Dick Reynolds
Sadly, Homer died on July 22, 1981, at the age of 66.
Ethel survived her husband by many years, making her home in New Stanton.
Son Homer Frank Trout made his home in the 1990s in Laurel, MD.
Daughter Ellen Dawn Reynolds married Richard "Dick" Reynolds. They had two children -- Chad Reynolds and Amanda Reynolds. During the Vietnam War, Dick received an Air Force Commendation Medal for meritorious service. has been Director of Athletics at Otterbein College in Westerville, OH. He has served for three decades as head coach of men's basketball at Otterbein, and is one of the most successful coaches in the history of the Ohio Athletic Conference. In the process, he has racked up more than 500 victories. He is in the top 10 nationally for wins among active coaches, and 12th all-time in NCAA Division III. Dick poses with the game ball following his 500th career win in February 2001.
~ Son Brinton Wesley Overholt Sr. ~
| | |
| --- | --- |
| | |
| Brinton | Ruby |
Son Brinton Wesley Overholt Sr. (1921-2018) was born at home in 1921.
As a young man, following his father's footsteps, Brinton worked as a locomotive fireman for the Pennsylvania Railroad, and was based in Pitcairn, Allegheny County, PA. Among his duties was to maintain a fire in the firebox, check water gauges to ensure proper pressure, inject water into the boilers and regulate heat. He also performed minor maintenance projects.
During World War II, he joined the U.S. Army on Oct. 27, 1944. He was assigned as a chaplain's assistant to the 423rd Infantry Regiment, 106th Division, with service in Europe. Following his honorary discharge on Aug. 5, 1946, he returned home.
He married his first wife, Ruby Beer (1927-1991) on July 19, 1947, when he was 26 years of age and she 20. She was the daughter of Thomas Alexander Orr and Lulu Frances (Dumbauld) Beer of Indian Head, Fayette County and later of Armbrust, Westmoreland County. The ceremony was led by Rev. J. Byron Bishop of the Evangelical United Brethren Church of Pittsburgh.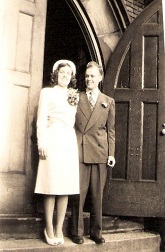 Brinton and Ruby's wedding
At the time of marriage, reported the Daily Courier, Brinton was employed with the Pennsylvania Railroad and a student at Otterbein College, while Ruby worked at West Penn Power Company in Greensburg. She was a 1945 graduate of Youngwood High School and valedictorian of her class.
They had five children -- Brinton Wesley Overholt Jr., Judy Buck, Cheryl Roll, Harry Overholt and Rebecca Sue "Becki" Wittmer.
Their longtime home was in Largo and Clearwater, FL.
Sadly, Ruby died on Jan. 15, 1991, at the age of 64, and after 44 years of marriage. She was laid to rest in Serenity Gardens Memorial Park in Largo.
Brinton survived his first wife by 27 years. He married again on April 26, 1991, to Gloria "Anne" (Adams) Eaton. Their wedding was held at the First Baptist Church of Indian Rocks in Largo. They dwelled in Tampa.
Brinton died at the age of 96 on March 18, 2018. A brief death notice in the Tampa Bay Times noted that his survivors included 11 grandchildren and 11 great-grandchildren. Interment was made in Serenity Gardens Memorial Park in Largo.
Son Brinton Wesley Overholt Jr. is married and has two children.
Daughter Judi Overholt wed Kerry Geiger (1950-1983) and (?) Buck.
Daughter Charyl Overholt wedded (?) Roll.
Son Harry Overholt ( ? - ? )
Daughter Rebecca Sue "Becki" Overholt married Randall Wittmer and has three children.
~ Daughter Grace (Overholt) Martin Watson ~
Daughter Grace Overholt ( ? -2013) was married twice. Her first husband was Donald Martin.
They had two children, Steven Martin and Cynthia L. Martin.
Grace resided in Greensburg, Westmoreland County, PA; Worthington, OH and later in Palm Harbor, FL. She married again, later in life, to John Watson.
Sadly, her daughter Cindy (1950-2006) died on Dec. 18, 2006, at the age of 56. Born in Greensburg, PA and after moving to Ohio, Cindy worked for Ohio State University and Franklin County Childrens Services. She relocated to Palm Harbor in 1998 and was a member of Bay Side community Church of God.
Grace survived her daughter by six and a half years. She passed away on July 29, 2013, at her home near Tampa. Her brother Brinton and his family were by her side. Her ashes were buried at sea. A brief obituary was published in the Tampa Bay Times.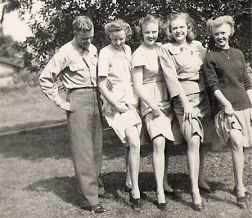 The Overholts showing good "leg" -- l-r: Brinton, Hazel, Grace, Ethel, Dorothy

Dorothy Long Wagner
~ Daughter Dorothy Irene (Overholt) Long Wagner ~
Daughter Dorothy Irene Overholt (1923-2000) was born on Oct. 2, 1923.
She was well known as tax collector of Youngwood Borough, Westmoreland County, and served for 22 years, until her death in 2000.
Her first husband was Paul Emerson Long (1924-1973), whom she married on April 15, 1944, when she was age 21 and he was 20.
Paul was an Air Force veteran of World War II.
They had four children -- P. Jeffrey Long, Marcia Sue Methven, Mary Beth Jager and Jonathan Long.
Paul's grave, Hillview Cemetery
Paul passed away on Feb. 26, 1973, at the age of 48. He is buried in Hillview Cemetery.
Her second husband, whom Dorothy wed in 1978, was William C. Wagner. Bill was a widower, having been married before to Betty Smith. He brought two adult children to the marriage with Dorothy -- William Calvin Wagner and Diane Dyky. Bill was member of the 490th Bomb Group in World War II, and the owner of Wagner Randel Produce for nearly a half-century. He also was a member of the New Stanton Assembly of God Church and a longtime leader with the Belle Vernon lodge of the Masons and the Pittsburgh Syria Temple.
During the early months of 1991, Dorothy and Bill hosted a visit in their home by the founder of this website. Then in July 1991, they came to the Minerd-Miner Reunion, bringing her sister Ethel Trout. They enjoyed the summer picnic, meeting new "long-lost" cousins and looking at old family photographs.
Dorothy passed away in Latrobe Area Hospital at the age of 76 on Sept. 10, 2000. She was laid to rest in Hillview Cemetery in Greensburg, following a funeral in the New Stanton Assembly of God Church. At her death, the Greensburg Tribune-Review published a lengthy feature obituary, headlined "Creative Woman Loved Children, Helping Others." Both of her daughters were quoted in the story.
Bill died at the age of 78 on Sept. 30, 2001, in I.H.S. of Greater Pittsburgh, Hempfield Township. He was laid to rest in the Belle Vernon Cemetery, following a funeral led by Rev. Steve Motter.
Son P. Jeffrey Long married Paula.
Daughter Marcia Sue Long wed (?) Methven.
Daughter Mary Beth Long married George Jaber.
Son Jonathan Scott Long wed Jennifer.

Harry A. Overholt
~ Son Harry Arnold Overholt ~
Son Harry Arnold "Schuf" Overholt (1925-1943) was born on Sept. 30, 1925. He earned his nickname because he sometimes shuffled along when he walked.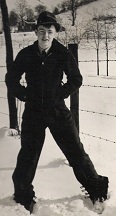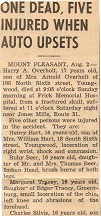 Harry as a boy, and news about his death
At the age of 17, in 1943, he tragically lost his life in an automobile accident. He was riding in a vehicle with five other teenagers, all of whom survived with injuries. One of the girls, Ruby Beer, recovered and later married Harry's brother Brinton.
On wet pavement, as the car reached Jones Mills on Route 31, it skidded and rolled over an embankment. A detailed news account in the Connellsville Daily Courier reported that Harry was killed of a fractured skull. He was rushed to Frick Memorial Hospital in Mount Pleasant, but nothing could be done to save his life.
Harry's cousin Laura Jane (Minerd) Williams in Huntingdon County, PA received word of the tragedy on Sunday. In her "Allenport" column in the Huntingdon Daily News, she reported that she had "received the sad news" and that it was "the second time death [recently] visited the home."
The funeral service was held in the family home, performed by Rev. Herbert Pennington. Burial was in the Overholt plot in Hillview Cemetery. Pallbearers included his cousins Earl Minerd and Milton Minerd as well as Ray Sterling, Lester Erwin, Wayne Long and Robert Crosley.
Copyright © 2002-2003, 2006, 2012-2013, 2018 Mark A. Miner