Home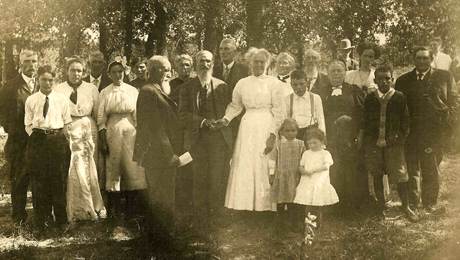 The "American Saga" may not be told any better on Minerd.com than in the story of James R. and Lydia (Miner) Brown, Ohio natives who were pioneer settlers of Oklahoma. In this photograph, they stand at center, facing the camera and holding hands, on their golden wedding anniversary in October 1912. Shortly after their marriage, in Morrow County, Ohio in 1862, James enlisted for military service in the Civil War, as a member of the 125th Ohio Volunteer Infantry.
After the war, in about 1868, they migrated westward as pioneers, settling in Iowa, and later moving to Kansas. In 1889, with the promise of good land in the newly opened Oklahoma Indian Territory, they adventurously staked their claim at what today is the town of Kingfisher. Memoirs by their daughters Laura (Brown) Barnum and Nellie (Brown) Jones, describing the exciting and life-changing Land Run experience, are published on our website.
The known faces in this image are as follow:
First row, left to right: Preacher, James R. Brown, Lydia (Miner) Brown, Ted Barnum, Unknown and Roy Barnum. The young girls are Wilma (Barnum) Kester and Hazel Jones.

Second row, left to right: George Barnum, Laura (Brown) Barnum, Gladys (Barnum) Armstrong.

Back row, left to right: Edward Barnum, Kirk Keck, Bertha (Brown) Keck, Nellie (Brown) Jones and possibly Luther Jones.
According to a family history published in the early 1970s, James and Lydia's nephew, Lester White of Isabel and Wichita, Kansas, also attended the anniversary celebration, and may be pictured here. This photograph was a gift of Wilma (Barnum) Kester in 1993 to one of her nieces.
Copyright © 2006 Mark A. Miner