Home


Lester White
Lester White was born on Aug. 10, 1848 near Cardington, Morrow County, OH, the eldest son of Luther and Mahala (Minor) White. He has been described as "thin -- rugged -- gaunt -- a real pioneer!"
In 1869, when he was 21 years of age, Lester and his parents left Cardington and ventured westward to Missouri, becoming pioneer settlers of Haseville, Linn County. The farm was about seven miles east of Laredo, Grundy County, MO, and "near the general store, the Methodist Church and adjoining cemetery."
At the age of 23, on New Year's Day 1872, Lester married 22-year-old Susan D. McCarty (1849-1902) at Haseville. She was born Sept. 28, 1849, the daughter of John and Abigail (Howard) McCarty.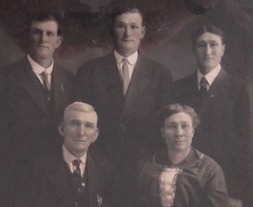 Lester with his adult children, clockwise
from upper left: Otis, Charles, Bert and Jennie
The Whites had five children -- Jennie Gertrude Blackwelder, Nona Sellers, Otis White, Frank "Berton" White and Charles Minor White.
They also raised a niece -- Ethel Blanche (Bailey) Peterie -- whose mother was killed in a freak lightning accident on the Kansas prairie in 1889.
In February 1884, Lester pulled up stakes at Haseville and moved with his wife and children to Kansas, settling in Isabel, Barber County. His parents came two months later, in April. A family history says that Lester and Susan arrived when:
… there was only one claim shanty to be seen. He selected a section of land near the present town of Isabel, and, with the other members of the family, took up the vigorous battle of making a home for the family on the Kansas prairie…. He gave an acre of land from his farm for a cemetery, and [his mother Mahala] was the first person to be buried in it. His first house was a "dugout" half below the ground and half sod. From that humble beginning, he became one of the most prosperous citizens of Barber county. He had "Kansas fever" from the beginning, and praised the weather, the crops, the open roads and the friendliness of the people.
While in Isabel, Lester joined the Independent Order of Odd Fellows (IOOF) and helped found the first Methodist Sunday School class. The class was held in a schoolhouse on the farm of Chan Kilmer. When the school was founded in 1886, he was named as clerk of the first school board. In September 1893, he and Susan officially deeded one acre of land from their farm, for one dollar, to the trustees of the Bethel Methodist Episcopal Church for use as the Isabel Cemetery.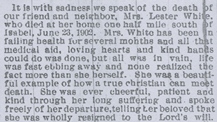 Barber County Index, 1902
Susan's health declined in the summer of 1902. An article in a June issue of the Barber County Index reported that "Mrs. Lester White is not any better at present."
She died on June 23, 1902, at the age of 53. Among the mourners who traveled to her funeral was her brother Emmett McCarty of Oklahoma. In a lengthy obituary, the Index said that "It is with sadness we speak of the death of our friend and neighbor..." The Index noted that Susan had been:
... in failing health for several months and all that medical aid, loving hearts and kind hands could do was done, but all was in vain, life was fast ebbing away and none realized the fact more than herself. She was a beautiful example of how a true christian can meet death. She was ever cheerful, patient and kind through her long suffering and spoke freely of her departure, telling her beloved that she was wholly resigned to the Lord's will. Only a few hours before she passed away she called her family to the bedside and kissed each one good bye and asked them not to weep for her, to meet her in heaven. While they will miss the loving wife and mother from their home so dear to her, may their broken hearts be comforted with the beautiful thought that while hidden from view she still lives and stands in the gateway looking down from her heavenly home lovingly calling her dear ones with beautiful beckoning hands. Sadly will she be missed from her place in our Sunday school and all church work where she was ever ready and willing to do what her hands found to do.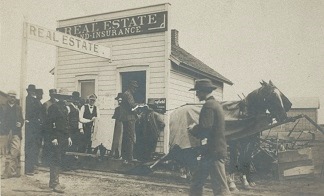 Lester's real estate and insurance office in Isabel
Lester later married widow May Allen (1850-1925) of Wichita, KS. She had a daughter Pearl Dusing and a son Bird Allen to a previous marriage.
In his later years, Lester retired from farming, and went into the real estate, lending and insurance businesses, with an office on Main Street in Isabel. He was affiliated with the Hartford Fire Insurance Company, and used business cards (4.625 inches by 2.875 inches high) that were larger than today's standard size, and bore the company's famed elk logo. In 1908, demonstrating the family's long-term connection to loved ones back in Ohio, he mailed a business card to a Fluckey relative in Edison, Morrow County, and today it is preserved in the Minerd- Minard- Miner- Minor Archives.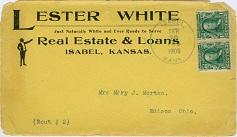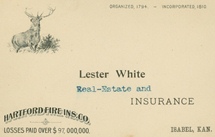 Lester's business envelope and card, 1908, sent to Mary J. Morten of Edison, OH
Lester also owned tracts of real estate in Sections 18 and 19 of Township 29 South in Range 10 of nearby Kingman County, KS.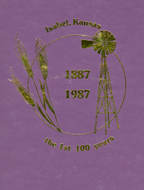 Isabel, Kansas book
Heartache gripped Lester over the years with the loss of two of his adult children. Married daughter Nona Sellers died in November 1911 in Isabel, eight days after giving birth to her only daughter Vina. Son Otis endured a paralyzing stroke at the age of 42, while shelling corn, and died within a few months, on June 28, 1921.
May herself died on June 7, 1925 and is buried with her first husband in Wichita.
In October 1912, Lester attended the 50th wedding anniversary of his uncle and aunt, James R. and Lydia (Miner) Brown, traveling to Kingfisher, Oklahoma, for the special event.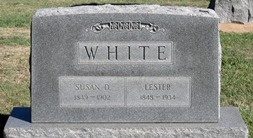 Isabel Cemetery
On Jan. 10, 1934, at the age of 86, Lester died in Isabel, and according to a family manuscript, he is "buried there in the portion of the cemetery he had set aside for the White family." A search for his newspaper obituary in the Barber County Index was not successful.
His estate was divided among his heirs, among them sons Bert and Charles, and daughter Jennie, as well as grandchildren Arlis Marion Sellers, Floy W. Sellers, Merl L. Sellers, Paul Sellers and Vina Reeves (of the family of Nona Sellers) and Harry White (of the family of Otis White). Each of the grandchildren was to receive a bequest of $5 in cash. Because the whereabouts of grandson Arlis Sellers were unknown, "and that he has not been heard from for many years," his share was forfeited to the others.
In 1987, more than a half century after his death, Lester and several of his children were profiled in the book, Isabel, Kansas, 1887-1987, The 1st 100 Years, with the chapters authored by granddaughter Marjorie (White) LeDou and niece Edith (Peterie) Hoyt.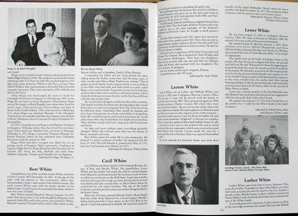 Layout from Isabel, Kansas, the 1st 100 Years, showing photographs of Bert & Maude White, Layton White, and the Lester & Susan White family
Copyright © 2000, 2006, 2007, 2010-2011, 2013-2014, 2018 Mark A. Miner