Home

Bertha L. (Brown) Keck
(1883-1966)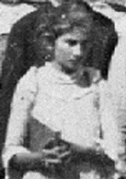 Bertha Keck
Bertha L. (Brown) Keck was born in Medicine Lodge, Barber County, KS on April 11, 1883, the daughter of James R. and Lydia (Miner) Brown.
In 1889, when she was age six, Bertha and her parents settled near Kingfisher, OK, taking part in the great Oklahoma Land Rush. During the winter of 1894-1895, Bertha and her sister Emma attended the one-room, log-hewn Excelsior Schoolhouse. The school was taught by their future sister in law, Nannie (Snyder) Brown. Reported the Logan County News newspaper, "She attended Excelsior school when both the building and seats were made of logs."
As a young woman, Bertha and her sister Emma moved with their parents to San Diego, California. She is enumerated with them there in the 1900 federal census, with her occupation listed as "at school." She apparently returned to Oklahoma when her parents moved back later in 1900.
On Nov. 5, 1902, when she was 19 years of age, Bertha married 39-year-old widower Ulysses "Curtis" Keck (1863-1943). A native of Kecksville, Martin County, IN, Curtis was the son of Lee and Mary Ann Keck. The bride and groom were 20 years apart in age.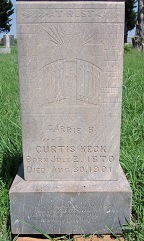 Grave of Curtis' 1st wife
~ Curtis' Background ~
Curtis grew up in Kecksville and, in 1881, at the age of 18, migrated from Indiana to Sumner County, KS. Then, in 1889, he took part in the Oklahoma Land Run and staked his claim five miles north of Crescent, Logan County.
There, in 1892, he married 22-year-old Kansas native Carrie B. Clack (1870-1901). They raised a young orphan girl, Ethel Bell Hawkins, but had no other children of their own.
After eight years of marriage, living in Oak View Township, Logan County, Carrie died at the age of 31 on Aug. 30, 1901. Her remains were interred in Oakview Cemetery in Lovell, Logan County, where a legible stone marks the site today. Inscribed on the lower face of the upright marker is this epitaph:
Carrie thou has from us flown
To the regions far above
We to thee erect this stone
Consecrated by our love.
~ Bertha's and Curtis' Married Life Together ~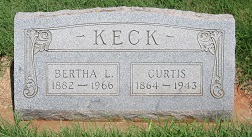 Oakview Cemetery near Crescent
The federal census enumeration of 1910 shows Curtis and Bertha in two separate Logan County locations. One lists them in Lovell, Oak View Township, with Curtis working as the proprietor of a short-order restaurant. The other gives their home as Marshall Township, next to their married foster daughter Ethel, with Curtis laboring there as a farmer.
They are said to have donated a portion of the homestead farm for a church. They are known to have been members of the Crescent First Methodist Church.
It's said that on their farm, the Kecks did not have electricity. To listen to the radio, they had to employ a battery operated model. "Back then," recalls a grand-nephew, "it took a battery about the size of a car battery. There was a shelf underneath the top of the table but it opened to the rear of the table instead of in front of the table. That way they could hide the cables that went from the radio to the battery from public view."
In about 1920, the couple left their longtime farm and moved into the town of Crescent.
During the summer of 1923, Bertha and her aging widowed father traveled to California, presumably to visit her sister and brother who resided in the San Diego area. Ten days after their return to Crescent, the father died in their home.

Humorous farming postcard -- "carving watermelons in Oklahoma"
Curtis died at home on July 9, 1943, at the age of 80. His remains were placed into eternal repose in the rural Oakview Cemetery in Lovell. An obituary was printed in the local newspaper, saying "Of the large Keck family there are six bothers and sisters who preceded him. Other survivors are a sister, Mrs. W.A. Killion, Plainville, Ind., and two brothers, Rusaw, Troy, Kans. and Frank, Augusta, Kans."
Bertha outlived him by 23 years, and spent her final years in the Crescent Nursing Home. There she died on April 17, 1966, less than a week after her 83rd birthday. She was placed into rest beside her husband following a funeral service preached by Rev. Charles Burchardt and Rev. John Daniels, held at the Methodist Church.

Final resting place for Bertha and Curtis Keck
~ Foster Daughter Ethel Bell (Hawkins) Fry ~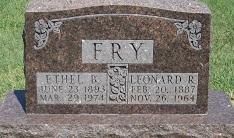 Crescent Cemetery
Foster daughter Ethel Bell Hawkins (1893-1974) was born on June 23, 1893 in Lovell, Logan County, KS. She was a lifelong resident of the Crescent/Lovell areas.
The identity of her natural parents is unknown, other than her father was from Texas and her mother from Kansas, and both died when Ethel was a baby. She was raised by Curtis and Carrie Keck, and then after Carrie's death, by Curtis and his second wife, our Bertha.
When she was about 16 years of age, on July 29, 1909, Ethel married 21-year-old farmer Leonard Robert Fry (1887-1964), the son of William Wadsworth and Victoria A. (Languein) Fry. He was a native of Junction City, Geary County, KS and migrated with his parents to Oklahoma during the Land Rush of 1889.
Their children were Frank Edward Fry, Forest L. Fry and Donald William Fry.
The 1910 U.S. census lists them in Marshall Township, Logan County, residing next door to Ethel's foster parents. By 1920, they had relocated within the county to a farm near Lovell, Oak View Township. They remained there until about 1952, after Leonard retired from farming and his declining health caused them to move into Crescent. They were members of the Crescent First Christian Church, and Leonard belonged to the Modern Woodmen of America, a fraternal life insurance society.

Green, fertile Crescent
Following an "extended illness," Leonard passed into eternity on Nov. 26, 1964. Following a funeral service preached by Rev. Berwyn Dodson, at the Christian Church, his remains were lowered into rest at the Crescent Cemetery in Crescent. In an obituary, the Logan County News reported that his survivors included his sister Mamie Denny, brothers George Fry, John Fry, Fred Fry, Edgar Fry and Ed Fry, as well as 10 grandchildren and 10 great-grandchildren.
Ethel survived her husband by almost a decade. She died in the Guthrie Nursing Center on March 19, 1974, at the age of 81. She rests beside Leonard. Her funeral service was officiated by Rev. Dr. Richard P. Yaple. A local newspaper reported that she was survived by 10 grandchildren and 15 great-grandchildren.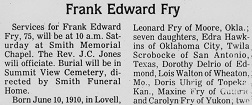 1986 obituary
Son Frank Edward Fry (1911- ? ) was born in about 1911 in Lovell, Logan County. He married Margaret (?) (1910-1960). They initially dwelled in Lovell and had these children -- Leonard Fry, Edra Bell Hawkins, Twila Mae Scrobocke, Lois Walton, Dorothy Jane Delrio, Doris Uhrig, Maxine Fry and Carolyn Fry. Frank was a longtime farmer and road construction laborer. The family pulled up stakes in 1938 and relocated to Guthrie, Logan County. In 1940, the federal census shows them residing on Washington Street in Guthrie. That year, Frank earned a living as a stone mason. Sadly, Margaret passed away in 1960 at the age of 50. In 1974, while living in Guthrie, he was named in his mother's newspaper obituary. Frank died in the Guthrie Retirement and Care Center on May 14, 1986 at the age of 75. Funeral services were held at Smith Memorial Chapel led by Rev. J.C. Jones. Burial was in Summit View Cemetery. A newspaper obituary noted that his survivors included 14 grandchildren and three great-grandchildren.
Grandson Leonard Fry lived in Moore, OK.

Granddaughter Lois Fry ( ? - ? ) married (?) Walton. In 1986, their home was in Wheaton, MO.
Son Forrest L. Fry (1913- ? ) was born in about 1913 in Logan County. In 1964, his home was in Casper, Natrona County, WY. By 1986, he had migrated to Ann Arbor, SC.
Son Donald William Fry (1920-2012) was born on Feb. 23, 1920 in Logan County. On June 27, 1941, at the age of 21, Donald married 16-year-old Lexy Lee Hager (1925-2014). She was the daughter of John and Lavone (Keller) Hager. the couple produced one son, Donald Fry. They apparently resided in or near Crescent. By 1964, they had moved to Wichita and then in 1974 dwelled in Salina, Saline County, KS. Lexy is said to have been employed in the accounting department of Cessna Aircraft. Donald passed away on March 14, 2012. He was buried in the same cemetery as his parents -- Crescent Cemetery in Crescent, Logan County. Inscribed on his red barré granite marker were the words from the Lord's Prayer, "Hallowed by thy name." Lexy joined him in death on July 25, 2014. [Find-a-Grave]