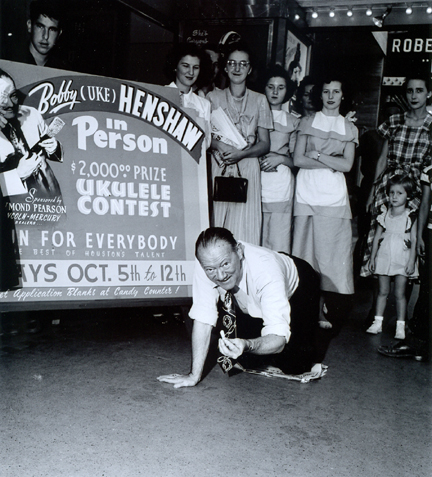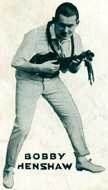 Vaudeville entertainer Charles Robert Henshaw -- whose stage name was Bobby "Uke" Henshaw -- was a noted vaudeville entertainer whom Variety once called a "vaudevillian known for his prowess on the ukulele." He made a name for himself in select national and international circles. He also endorsed a commercial line of ukuleles that carried his name and were made in Sorkin, NY.
Seen here, at the Interstate Theater in Houston, TX, he prepares to push a peanut across the floor with his nose in a promotion for the Raymond Pearson Lincoln Mercury dealership. The date of this image was Sept. 29, 1950, and was taken by Bob Bailey Studios.
The son of James "Edgar" and Alice Elizabeth (Hoge) Henshaw, Uke was a native of Wheeling, West Virginia. He came from a family known for its entertainment talents. One of his cousins was singer Annette Hanshaw, once named by Radioland Magazine as "most popular woman singer" in the nation and whom The New York Times praised as "one of the most prolific recording singers in the late 1920's and early 30's." Another cousin was Frank W. Hanshaw Jr., president of the Arnold Agency of Atlanta, whose clients over the years included Les Brown and the Duke Blue Devils Orchestra, Nat "King" Cole, the Four Lads, Stan Kenton and Bobby Darin.
This photograph is courtesy of the Center for American History at the University of Texas at Austin.
Copyright © 2008 Mark A. Miner