Bobby 'Uke' Henshaw
a.k.a. Charles Robert Henshaw (1896-1969)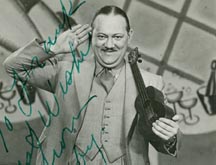 The grand salute
Bobby "Uke" Henshaw (1896-1969), christened "Charles Robert Henshaw," was born on Jan. 13, 1896 in Wheeling, Ohio County, WV, the son of James "Edgar" and Alice (Hoge) Henshaw.
Bobby was nicknamed after the ukulele musical instrument and was a noted vaudeville entertainer who made a name for himself in select national and international circles. The trade magazine Box Office credits him with having "introduced the ukulele to England and then toured Europe with it..." He also played small parts in a number of other now-obscure films.
His second cousin was the well-known singer Annette Hanshaw, named in a 1935 poll by Radioland Magazine as "most popular woman singer" in the nation and praised by the New York Times as "one of the most prolific recording singers in the late 1920's and early 30's." Another second cousin, Frank Wayne Hanshaw Jr., was a talent agent for Nat King Cole, Jackie Gleason and many other singing stars.
Bobby was a fifth generation West Virginian, dating back to his great-great grandfather Burket Minerd, a War of 1812 veteran and a settler in Preston County circa 1812. When Bobby was about age nine, though, his parents moved from Wheeling, where his father had been a salesman, to Columbus, the capitol of Ohio, where the father found employment as a manager of the Coca Cola Bottling Works. Later, the family moved again, to St. Louis, MO.
As an adult, Bobby had blue eyes and brown hair with a round, full face.
During World War I, when he registered for the military draft, Bobby was residing with his parents at 1371 Union Avenue in St. Louis, and was self-employed in show business. In 1919, after years spent away from Columbus, he returned to perform at the city's famed Broadway Theatre. In a short review, the Jan. 7, 1919 issue of the Columbus newspaper, The Ohio State Journal, said that Bobby, "who formerly lived in Columbus, coaxes hitherto unheard airs from the ukulele. His mimicry of musical instruments is a novelty and was well received."
Also during World War I, he lent his name and publicity photograph for the covers of sheet music entitled "Say a Prayer for the Boys 'Out There'," written by Bernie Grossman and Alex Marr, and published by Joe Morris Music Co., 145 West 45th Street in New York. It was billed as "the greatest patriotic ballad of the season." Another piece of sheet music on which his photo appears and published by Morris, was the 1918 "We're Going Over the Top (We'll Be Marching Thro' Berlin in the Morning)," written by Arthur Lange, Bernie Grossman and Andrew B. Sterling.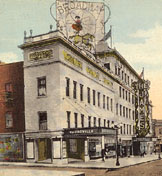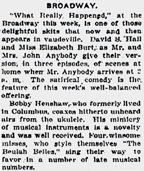 Old postcard view of the Broadway Theatre where Uke performed in Columbus, Ohio, and a local news review
Variety once called him a "vaudevillian known for his prowess on the ukulele" and the New York Clipper dubbed him "The Human Ukulele." In April 1920, the Clipper reported that Bobby "sails in June for Paris, where he has been engaged to appear in the Follies Bergere and Alhambra Theatres."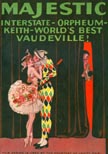 1924 program book
In August 1921, while performing at the Pantages Theatre in Oakland, CA, the Oakland Tribune reported that "Bobby Henshaw pleases with his imitations of musical instruments and lively funmaking. Towards the end of his act Vera Van Atta, his pretty partner, makes her appearance and proves and accomplished cornet player." Ten years later, on Feb. 6, 1931, the Oakland Tribune said that "On the stage this week is a Fanchon and Marco 'Idea' entitled 'Vaudeville Echoes' in which a group of standard big-time acts are presented.... The Four O'Connor, not to speak of the younger generation, present a dancing turn that brings the show to a halt; and other sketches are provided by Bobby (Uke) Henshaw; Ed and Jenny Rooney and Dureen Rae."
Bobby married his first bride, Vera Margaret Van Atta (1899- ? ), a native of Lima, Allen County, OH, in about 1920. She apparently also was a vaudevillian or musician. She is known to have assisted Bobby during a performance of "The Merry Mimic" at the Majestic Theater in Dallas, TX during the week of Aug. 24, 1924. The attractive cover artwork is seen at right, with the Henshaw Van Atta program listing below.
Circa 1923, Bobby and Vera sailed to Europe on the ship USS Homeric to perform in Great Britain, Germany, France, Belgium, Holland and Switzerland. When the federal census was taken in 1930, Bobby and Vera, and her mother Gertrude and brother Virgil, were residing together in Malverne, Nassau County, NY. Their home was on Riveria Court. Bobby and Vera declared their occupations as actors in vaudeville.

Theatre program from Bobby and Vera's performance in Dallas in 1924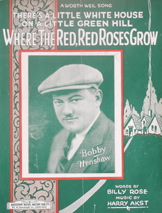 Milton Weil Music Co., 1925
In 1925, Bobby was pictured prominently on the cover of the sheet music entitled "There's a Little White House on a Little Green Hill Where the Red, Red Roses Grow." This sheet music was published by Milton Weil Music Co., Inc., of Chicago, with words by Billy Rose and music by Harry Akst.
Again in 1926, he lent his image for the sheet music title page of "Honolulu Moon," with words and music written by Fred Lawrence, and published by Leo Feist, Inc., of New York.
Bobby is known to have appeared in a number of Hollywood films between 1935 and 1950. The first, the 1935 Variety, features the trials and tribulations of running a music hall, but Bobby was not named in the credits. He also appeared in bit parts in Oh, You Beautiful Doll (1949), Beyond the Forest (1949), The Set Up (1949) and Return of the Frontiersman (1950). More detail on each of these films may be found below in a chart of his career film appearances. (Bobby's name appears today in one form or another in connection with most of these productions in the online film database of Turner Classic Movies.)
During the weekend of Jan. 19-22, 1928, Bobby is known to have performed vaudeville at the Loew's Greeley Square in New York, located at Sixth Avenue and 30th Street. He is listed in the Loew's Weekly program pamphlet, preserved today in the Minerd-Minard-Miner-Minor Archives.
According to Hanshaw family researcher John Woodruff, "Other descriptions of Bobby's act can be found in ... the Kansas City Times, March 10, 1919, the New York Star, Mar. 18, 1920 and Variety, Jun. 24, 1920."
Sometime during the late 1920s or early '30s, Bobby and Vera divorced. In the mid-1930s, he married again, to Doris Harding (1910- ? ), a native of Cambridge, Guernsey County, OH. They had at least one son, Robert Kent Henshaw, born in Hoboken, Hudson County, NJ in 1934. The following year, 1935, they moved to Southern California, living at 6220 De Longpree in Hollywood.
During the 1930s, Bobby made a number of ocean voyages to Europe and Greenland to perform. In early August, 1938, he is known to have given a performance in West London, England, at the Shepherd's Bush Empire. In fact, a promotional booklet once said of Bobby that during the span of 35 years, "he has entertained around the world -- circling it 3 complete times."
In addition to films, Bobby appeared on early television broadcasts, and an effort is being made to learn more about these early performances. For example, in September 1938, he performed comedy on BBC Television (the British Broadcasting Corporation) in a program entitled "Cabaret," lasting for one-half hour. Also on the show were his wife Doris Harding, the Norwich Trio (Gollywogs) and a presentation by Harry Pringle.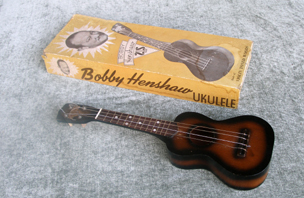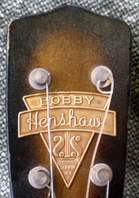 Bobby's endorsed ukulele brand, manufactured in Sorkin, NY
He also produced a commercial line of baritone ukuleles and tenor guitars, as well as Master Strings, under the "Bobby Henshaw" brand, manufactured in Sorkin, NY. These frequently can be found today for sale in antique shops and on eBay. In promoting the brand, a booklet was published bearing Bobby's portrait, entitled Hints By Bobby "Uke" Henshaw for the Baritone Ukulele. The booklet in part said: "If any artist is qualified to say what a good instrument should be, it can only be Bobby -- and his choice is the Henshaw Uke. He know it's made of the finest quality woods and is true in every respect."
~ World War II Years ~
In early 1942, Bobby is known to have performed at The Post Street in Spokane, WA (January) and with Sunny Bernet in Chicago (March). With World War II raging in Europe, Bobby was drafted in the fall of 1942, but had to undergo hernia surgery at the French Hospital in New York before he could officially join the U.S. Army. Once the operation was successful, he was given the rank of second lieutenant and was shipped overseas to Europe.
He and his troupe of USO performers toured far-flung military outposts, where the "boys sure need entertainment at the bases," he wrote in a letter published in The Billboard (July 3, 1943). "Sometimes we play where they are isolated for six and eight months, and it is a pleasure to hear them laugh... I have read The Billboard since first starting out in show business with Bert Lamont's Cowboy Minstrels. Have read it in South Africa, Australia, India, England, Egypt and Ireland." Among his fellow USO group performers were Freddy Lightner, balloon expert and dancer Wally Boag; juggler Jim Pennman, magician Len Gunn and pianist/accordion player (?) Davidson.
In response to a wartime article in The Billboard headlined "Is Show Business a War Necessity?", he wrote in response: "Ask any boy in camp, home on leave or overseas if entertainment isn't necessary for war workers, fighters and home defenders. Also their parents. They will all say 'Yes!'"
By September 1944, Bobby had completed his military service, and returned stateside. Joining Esquire Productions in Kansas City, he formed a traveling show Heads Up, America, and began touring the Midwest. By December 1944, however, the show folded after Bobby allegedly failed to pay more than $500 in back wages to his performers. The American Guild of Variety Artists (AGVA) placed his name on a national "Unfair" list until the matter could be resolved. While Bobby traveled to the AGVA offices to protest, eight members of his performance team signed a letter claiming that he had "walked out with all the money for the show, leaving 16 people flat broke, stranded."

Deane Janis
~ Bobby's Third Wife, Singing Star Deane Janis ~
At some point in time Bobby married his third wife, Nadeen (Andrews) Paschal (June 19, 1904-1988), better known by her national stage name, "Deane Janis." She was the daughter of Frank Patterson and Lena R. (Cockrell) Andrews and had been married once before, in 1936, to Howard Stanley Paschal (1902-1950).
Deane was a singer and "Columbia Records star," said Box Office. She was a redheaded beauty from Omaha who appeared with the Hal Kemp Orchestra in the early 1930s. The band was noted for a sound featuring full clarinet tones and muted trumpets and performed in clubs from Los Angeles to New York to Miami.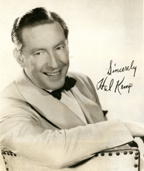 Hal Kemp
Among her more popular recorded songs with Kemp were "Boulevard of Broken Dreams" and "Remember My Forgotten Man" (1933). She also was the vocalist circa 1933-1935 for the Camel Caravan Radio Show, sponsored by Camel Cigarettes, airing on CBS-Radio.
Circa June 1934, Deane was one of the vocalists with Carol Lofner's Orchestra, broadcast nationwide by CBS on Saturdays from San Francisco. In March 1941, she was a singer with the "Your Hit Parade" show, also broadcast by CBS on Saturdays from 9 p.m. to 9:45 p.m. and again at midnight.
Deane appeared as a singer/performer in three films during the later '30s -- Roof Tops of Manhattan (1935, directed by Joseph Henabery), Behind the Mike (Universal, 1937, portraying a singer, directed by Sidney Salkow) and All-American Sweetheart (1937, portraying a singer, directed by Lambert Hillyer). Watch a clip of Deane singing the title song in Roof Tops, written by Sanford Green.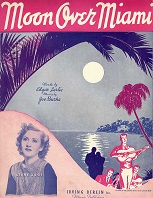 Irving Berlin sheet music
bearing Deane's photo

As a popular singer, Deane had a celebrity following all her own. She was featured in newspaper articles coast to coast, including one story in the Milwaukee Journal (Dec. 15, 1935) headlined "She Is the 1936 Model Cinderella of Radio: Deane Janis Was One Girl Picked of 80 Tried Out." The story noted that since Annette Hanshaw "has gone to Hollywood... a new singer is bewitching your ear-drums on Walter O'Keefe's Thursday night programs. [C]ritics have picked Deane Janis as the most promising newcomer on the C.B.S. network...."

Deane's photo portrait illustrated the pink and blue cover page of sheet music for the song "Moon Over Miami," circa 1935, published by Irving Berlin Inc., of 799 Seventh Avenue, New York. The tune had been written by Joe Burke and the lyrics by Edgar Leslie.

On June 10, 1936, she was featured on the cover of Radio Guide Magazine. In the article inside, written by Helen Hover and headlined "Should Society Girls Work?", Deane took the position of "No!" while Benay Venuta said "Yes!" She was quoted saying "I don't mean to sound bitter, but one particular incident in the past has convinced me that society girls who work for a thrill do so at the expanse of some other girl who needs her job if she would eat."

During the Korean War, Deane toured with the USO to entertain the troops overseas. In March 20, 1947, she suffered an accident and broke her back. She was sent back home in a cast, traveling on a hospital ship.

Sadly, at the age of 83, in March 1988, Deane passed away under her married name of "Henshaw." Her remains were placed into rest in Bellevue Cemetery in Sarpy County, NE. [Find-a-Grave]

Deane is mentioned in the books, On the Air: The Encyclopedia of Old Time Radio, by John Dunning, and The Big Band Almanac by Leo Walker.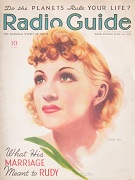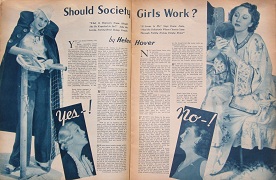 Above: Radio Guide, featuring Deane on June 30, 1936. Below, Deane's publicity photos from 1934 and 1941, as distributed to newspapers by CBS Radio. Note the editor's crop marks in the 1934 image. At lower right, she poses with Jerry Lester and Floria Vestoff, ca. March 1941, promoting Your Hit Parade.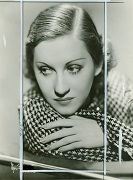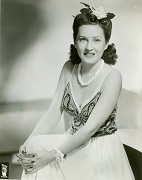 ~ Appearances on Film as Vaudeville Declines ~
Even before the war, as movies became increasingly popular, vaudeville declined in the public interest. In the postwar years, vaudeville was all but dead. Bobby thus had to re-invent his career to maintain a living in show business. Among other venues, he landed small parts in unremarkable films that are not well known today.
~ Bobby "Uke" Henshaw - Small Parts in Hollywood Films ~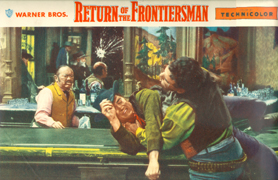 Bobby (yellow vest) avoids a barroom brawl in the
opening scene of Return of the Frontiersman
| | |
| --- | --- |
| 1935 | Unnamed part in Variety, about the trials and tribulations of running a music hall, although he was not named in the credits., directed by Adrian Brunel (or "Brumel"). |
| 1949 | Clerk in Oh, You Beautiful Doll, starring June Haver and Mark Stevens, directed by John M. Stahl, and released in technicolor by Twentieth Century Fox in November 1949. |
| 1949 | Unnamed part in Beyond the Forest, starring Bette Davis and Joseph Cotten, directed by King Vidor, and released in black and white by Warner Bros. Pictures in mid-1949. |
| 1949 | Ring announcer in The Set Up, starring Robert Ryan and Audrey Totter, directed by Robert Wise, and released in black and white by RKO Radio Pictures in April 1949. Bobby portrays a boxing ring announcer and appears on camera for all of about one minute. |
| 1950 | Announcer in Bodyhold, starring Willard Parker and Lola Albright, directed by Seymour Friedman, and released in black and white by Columbia Pictures Corp. on March 21, 1950 |
| 1950 | "Joe" the local saloon-keeper in Return of the Frontiersman, a Western starring Gordon MacRae, Julie London and Rory Calhoun, directed by Richard Bare, and released in technicolor by Warner Bros. Pictures in June 1950. |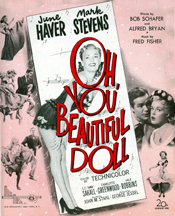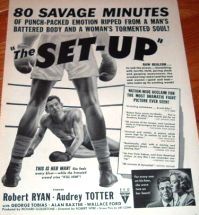 Posters from Oh, You Beautiful Doll and The Set Up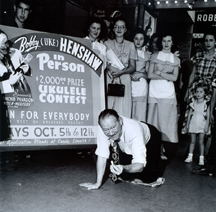 Peanut pushing contest, Houston, 1950
Seen here, Bobby prepares to push a peanut with his nose at a public appearance at a movie theater in Houston circa 1950, sponsored by the Raymond Pearson Lincoln Mercury automobile dealership. It apparently involved a ukulele contest for a $2,000 prize. This image is courtesy of the Center for American History at the University of Texas at Austin. To see an enlarged view, click for our "Photo of the Month" for December 2008.
In mid-September 1951, the industry publication Box Office reported that Bobby "and his singing wife Deane have been presenting the stage show and contest" at the Malco Theatre in Memphis, TN. "One juvenile and one adult winner is picked each day and at the end of the week grand winners are picked. Prizes included two television sets, radios, electric blankets, etc."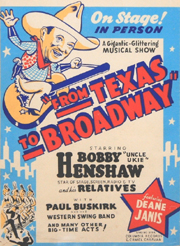 From Texas to Broadway poster
Bobby began using the alternative nickname "Uncle Ukie" later in his career, with it first known to have appeared in the early 1950s. The nickname is seen here on a poster for the "gigantic-glittering musical show" entitled From Texas to Broadway, featuring his wife Deane as well as Paul Buskirk and the Western Swing Band.
The trade publication Box Office reported in early November 1953 that "Uncle Ukie" helped open the refurbished Trinity Theatre in Dallas as headliner in the stage show Searchlights, performing with Deane and organist Paul Jordan.
When Bobby's aunt Kate (Henshaw) Robinson died in Wheeling in 1954, Bobby was mentioned in her Wheeling News Register obituary, and was residing in Dallas, TX at the time. Then in 1960, when his uncle Roy C. Henshaw died, also in Wheeling, Bobby again was mentioned in the newspaper obituary, and by then was listed as living in Kansas City.
Bobby died on Oct. 29, 1969, in Los Angeles, at the age of 75. Variety published an obituary saying that for "many years he toured the world, spending between 12 and 15 years in Australia." See a more detailed set of research data on the Hinshaw genealogy website.
Copyright © 2002-2013, 2016, 2018, 2022 Mark A. Miner