James 'Edgar' Henshaw
(1871?-1931)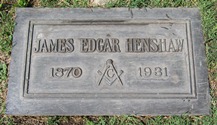 Forest Lawn Cemetery, Glendale, CA
James "Edgar" Henshaw was born "Hanshaw" in November 1870, 1871 or 1872 in either Frostburg, Allegany County, MD or in neighboring Marion County, WV, the son of Robert M. and Marian W. (Percy) Hanshaw. (Differing legal and census records are the reason for the varying birth places and years.)
As a boy growing up in Grafton, with a father who ran a prominent local mercantile business and was active in politics, Edgar was involved with many community activities. In 1876, to celebrate the nation's centennial, Edgar and his cousin Harry Hanshaw marched in a parade in Grafton among "100 young lads dressed in costumes made up of red caps, white blouses and blue pants and were led by their captain, David Lilly," said The History of Taylor County by Charles Brinkman. "These lads portrayed young America, and proudly stepped to the martial music of Marion Barker's band from Webster in the line of march."
Circa 1891, Edgar was enrolled in preparatory and collegiate classes at West Virginia University in Morgantown, Monongalia County. His name appears on university catalogues for that year.
In 1895, when he was age 25, Edgar married Alice Elizabeth Hoge (Aug. 24, 1871-1955), a native of Pennsylvania whose mother's maiden name was "Moffett." They had two children, Charles Robert ("Bobby" or "Uke") Henshaw and Marian Aldene Kelly.
Early in the marriage, the Henshaws lived in the railroad town of Burton, Wetzel County, WV. In June 1895, Edgar made news in the Wheeling Register when he came to town to attend the horse races and stayed at the Van Keuten Hotel.
The federal census of 1900 shows Edgar employed there as a commercial salesman. Within a few years, the family moved to Wheeling, the bustling county seat of Ohio County, WV.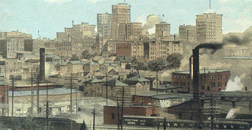 Skyline of Columbus, Ohio
Later, by 1905, the Wheeling (WV) City Directory shows that they relocated to Columbus, Franklin County, OH, where Edgar was secretary and manager of the Coca Cola Bottling Works. In 1910, he was a traveling salesman for a sign company in Columbus. They resided there on Eighth Avenue.
At the death of his uncle Dr. Guy R. Hanshaw in 1908, Edgar was entitled to a 1/32 share of the estate, which included lucrative oil and gas wells. He received an immediate payout from the estate of $57.81 in 1909. At intervals over the years, through 1942, Edgar received royalty payments from the oil and gas wells. The high point was in 1918, when he received $24.54.
The Hanshaws migrated westward during the decade of the 1910s. They are believed to have lived in Wisconsin for a few years before moving on to Missouri. When the federal census was enumerated in 1920, they made their home on Union Boulevard in St. Louis. Living under their roof that year, per the census, were Alice, Robert and Marian, as well as boarders William and Helen Shraner. Edgar's occupation was given as "salesman - steel" and son Robert's as "actor - vaudeville." In that same census, daughter Marian's birthplace was given as "Wisconsin" even though evidence shows it was actually "Ohio." Edgar's married sister Kate Robinson and her husband John also lived in St. Louis that year, where John was employed as assistant manager of a manufacturing company.
The family seemingly was constantly on the go.
The lure of a warmer climate and better opportunities in Southern California may have beckoned the family even further west. By 1930, the Hanshaws were living in Los Angeles, Los Angeles County, CA. Edgar, age 59, is listed as having no occupation. Daughter Marian, age 20, worked as a sales girl at a millinery. Son Bobby was not in the household, but his whereabouts for now are not known. Their address was 578 North Kingsley Drive.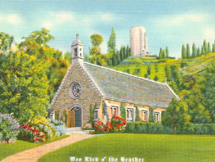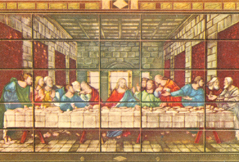 Forest Lawn Cemetery's "Wee Kirk o' the Heather" chapel, where Edgar's funeral was held, and a stained glass reproduction of da Vinci's "Last Supper" painting.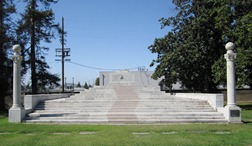 Forest Lawn landmark near the Henshaw grave
Sadly, Edgar died on or about March 14, 1931, of causes not yet learned. A death notice in the Los Angeles Times said that he was a member of the Ohio lodge of the Masons of Wheeling, WV and named his wife, children and siblings. It also asked that newspapers in Grafton and Wheeling, WV please copy the notice as well as papers in St. Louis.

Following a Masonic funeral service, he was laid to rest in Glendale's Forest Lawn Cemetery on March 16, 1931. Forest Lawn is well known as the burial site for many famed entertainers and athletes -- from Humphrey Bogart, George Burns, Nat King Cole and Sammy Davis Jr. to W.C. Fields, Clark Gable, Red Skelton, Casey Stengel and Michael Jackson, among many others.
In 1942, son Bobby received the last royalty payment as Edgar's "sole heir" of their portion of the Dr. Guy Hanshaw estate.
Alice remained in Los Angeles for the rest of her life. She died there at the age of 80 on March 27, 1955. She rests beside her husband for eternity at Forest Lawn Cemetery, in a section devoted to the Masons organization, near a large Masons memorial. A visit to their grave in September 2011 by the founder of this website revealed that she is buried in an unmarked grave, while Edgar has a flat bronze marker on his gravesite.
~ Daughter Marian Aldene (Henshaw) Kelly~
Daughter Marian A. Henshaw (1909- ? ) was born in 1909.
In 1930, when the federal census was taken, she was age 20 and made her home with her parents in Los Angeles. That year, she was employed as a sales girl in a millinery store.
She was wedded to Edward C. Kelly ( ? - ? ). They resided in the Los Angeles area.
Marian may have been bedridden later in life.
She died on or about March 28, 1939 at the age of 29 or 30. Funeral services were held at Forest Lawn Memorial Park in the Wee Kirk o' the Heather chapel. A death notice appeared in the Los Angeles Times stating that she was the "daughter of Mrs. Alice Henshaw."
Copyright © 2002-2005, 2008, 2011, 2012, 2018 Mark A. Miner