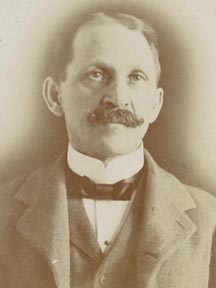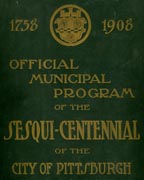 Book naming Corwin
As Minerd.com and our national family reunion plan to support the City of Pittsburgh's 250th birthday in 2008, we pay tribute to Corwin D. Tilbury. Corwin served as a Pittsburgh City Councilman 100 years ago, in 1908, and was on the committee to celebrate the 150th birthday. The son of Amy (Minerd) Tilbury Thorne, Corwin and his brother Mentzer Tilbury were raised on an eastern Indiana farm, the grandsons of Indiana pioneer John Minerd Jr.
Perhaps coincidence, possibly not, Corwin and his wife Eva (Marsh) Tilbury moved to the Pittsburgh area in the early 1900s, some 90-plus years after his great-grandfather, John Minard Sr., had left the area as a pioneer of Ohio. They made their home in the East Liberty and Oakmont sections.
In 1906, Corwin was elected to the Select Council of Pittsburgh City Council. He served for three years, until 1908. He held a leadership role during the city's 150th anniversary in 1908, and is mentioned in the Official Municipal Program of the Sesqui-Centennial of the City of Pittsburgh (1758-1908).

Some of the highlights of the 1906-1908 era in Pittsburgh were: a 1907 flood that left the city under 14 feet of water; Andrew Carnegie's dedication of the Carnegie Institute (now Carnegie Mellon University); an annexation that made Pittsburgh the sixth largest U.S. city; and the performance of all-time Pittsburgh Pirates star Honus Wagner, who won three straight batting titles, setting the stage for the Pirates' 1909 World Series championship team.
This is one in a series of photographic images published on Minerd.com in 2007-2008 to acknowledge the family's collective, long-term contributions to Western Pennsylvania, and to help the Allegheny Conference on Community Development celebrate the city's 250th birthday.
Copyright © 2007 Mark A. Miner