Amy (Minerd) Tilbury Thorne
(1831-1916)

Amy Tilbury Thorne
Amy (Minerd) Tilbury Thorne was born on June 29, 1831 near Scio, Harrison County, OH, the daughter of John and Barbara (Shaeffer) Minerd Jr.
She and her parents were pioneer settlers of western Ohio and eastern Indiana, and later, as an adult, she was one of the first of our known cousins to migrate to the great city of Chicago.
In 1840, when Amy was a young girl, she and her parents left Harrison County. Using "a good team of horses and a substantial wagon," a newspaper once said, they traveled across the state, a "very tedious and slow" journey. The family settled in Van Wert County, OH, and in 1845 moved to a farm along the Ohio state line in Allen County, IN.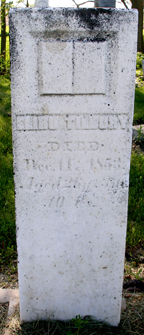 Grave of Amy's 1st husband
On April 4, 1849, Amy married Elihu Tilbury (1827-1853) in Allen County, IN.
They may have resided just across the state line in Van Wert County, OH, and had two sons, Mentzer E. Tilbury and Corwin D. Tilbury.
Sadly, Elihu died after just four years of marriage, leaving his wife alone to raise their two young sons. He passed away of unknown causes, at the untimely age of 26 years, three months and 10 days, on Dec. 11, 1853. His remains were laid to rest in the Flat Rock Lutheran Church Cemetery near Monroeville, Allen County. A tall thin grave marker was erected at the site, and today it stands tall and fairly legible despite its age.
Recalling the event much later in life, son Corwin wrote: "When my father died I was taken on horseback by uncle Jim to grandfather's, I on one horse and M.E. on another with my mother and that was my home until my mother married again six years later. So do you wonder why I feel as I do about that old farm?"
The inscription on Elihu's grave has been recorded and published in two different booklets on file today at the Allen County Public Library in Fort Wayne, IN. They include Madison-Monroe Township Cemeteries and A Collection of Cemetery Inscriptions of Allen Co., Indiana, collected by the Mary Penrose Wayne Chapter of the National Society of the Daughters of the American Revolution in Fort Wayne, and compiled by Alberta Minor Flint.
In about 1859, Amy married to her second husband, Jacob Thorne (1823-1898), a native of Lordstown, Ohio who was nine years older than his bride. They went on to have three children of their own -- Leona Leoti Thorne, Annette "Nettie" Blood and Willis Edward Thorne.
When the federal census was taken in 1860, the Thornes resided in Bourbon, Marshall County, IN, where Jacob labored as a lumberman. That year, Jacob's 18-year-old daughter or sister Susan Thorne lived under their roof as a "housemaid." Circa 1863, when their son Willis Edward Thorne was born, they made their home in Etna Green, Kosciusko County, IN.
By 1866, Jacob had found work in Chicago as a carpenter, and the family moved to the Windy City. The census of 1870 shows the family in the city's Fifth Ward, with son Mentzer working as a "clerk in store" and Leona, Nettie and Willie in school. He eventually rose in his profession to be considered a "contractor."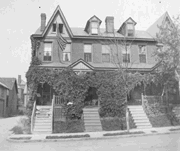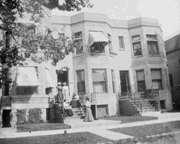 Amy's Chicago townhouses. At right, 4217 Vincennes Avenue.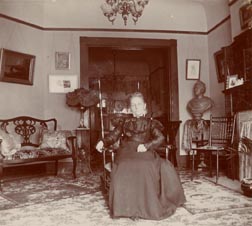 Amy in her parlor, late 1880s
The Thornes lived in townhouses in Chicago, outfitted in Victorian furnishings, judging from old photographs. When the Great Chicago Fire swept through the city from Oct. 8-10, 1871, the Thorne residence was out of range of the conflagration, and thus spared from any damage.
Amy is seen here seated in her Victorian-style home in Chicago in the late 1800s. In all, she lived at her final home at 4217 Vincennes Avenue for 22 years, from 1894 to 1916.
Jacob suffered a stroke in about 1889. He endured the resulting paralysis for the remaining nine years of his life.
Amy's father lived to the ripe old age of 98. When he died in 1898, Amy was living in Chicago. She and all but one of her living siblings attended the funeral. The terms of the father's will stated that she was to receive a cash payment of $100 within four years.
Amy received a second blow just two months later. Her husband Jacob, who had been paralyzed from his stroke, died at the age of 78 on May 7, 1898. At the time, he had lived in Illinois for 32 years.
A terse obituary appeared in the Chicago Tribune stating that the funeral was held at his "late residence." He was buried in what became the Thorne family plot (J-2) at Wood Lawn Cemetery.

Chicago Tribune, 1916
The 1900 census of Cook County shows the widowed Amy living with son and daughter in law Will and Jessie Thorne, and daughters Leona and Nettie, on Vincennes Avenue in the Hyde Park section of Chicago.
By 1910, daughter Nettie had married druggist Isaac W. Blood, but the couple made their home with Amy on Vincennes Avenue.
Amy passed away at her Vincennes Avenue home in Chicago on Jan. 30, 1916, at the age of 85. With her in a kidney-failure-induced coma, brought on by chronic kidney inflammation, son Corwin was with her at the end. He later wrote to his Minerd cousins back in Indiana: "Mother could not be induced to eat for a period of nearly a month before she passed away."
She joined her husband in eternal repose in Chicago's Oak Wood Cemetery, located at 1035 East 67th Street. Her obituary was published in the Jan. 31, 1916 edition of the Chicago Tribune, containing her maiden name of "Minerd," the first known publication of the family name in this venerable Chicago newspaper. The date of her death is confirmed by the website of the Illinois State Archives.
Copyright © 2002-2003, 2006, 2008-2011, 2019 Mark A. Miner