Home

Impact on Uniontown, PA
Epicenter of Growth of the Extended Minerd- Minard- Miner- Minor Clan in Western Pennsylvania Over the Span of 210-Plus Years
Jacob Minerd Sr., who was a Fayette County pioneer settler in 1791, today has an estimated 40,000 to 50,000 descendants scattered across the United States and overseas. In Uniontown, the county seat of Fayette County, hundreds of Minerd offspring have lived and worked over the ensuing 210-plus years, contributing to the city's overall economy and quality of life.
In the Uniontown Herald-Standard, Buzz Storey once wrote that the Minerd family "is one of the most extensively researched families in the country."
To recognize the contribution of the extended family, the Uniontown City Council issued a proclamation declaring July 13-14, 2003 as "Jacob Minerd Weekend" in Uniontown, for these reasons:
Symbol of Freedom – Jacob Minerd is a symbol of all the patriots of the American Revolution. Americans need to be reminded that the freedoms we enjoy require sacrifices, which in turn can have impact over the span of centuries. Minerd descendants have defended freedom by serving in the U.S. Armed Forces in the Civil War, Spanish-American War, Philippine Insurrection, World War I, World War II, Korea, Vietnam and Gulf War.
Impact on Uniontown – Descendants of Jacob Minerd have served in many influential capacities in Greater Uniontown over the past 210 years. Their achievements are spelled out in greater detail below.
Uniontown and Western Pennsylvania as Destination Points – Via our website, thousands of Minerd descendants around the world are learning that their ancient roots are in Greater Uniontown. For example, one branch left Uniontown in 1888, migrating to Kansas. Informed by our website, descendants came to our reunion in 2002, the first of their branch to return to the city in more than 110 years. The "Jacob Minerd Weekend" proclamation, announced in advance, helped attract the interest of other new reunion-goers nationwide, positioning the city as a "place to see."
Uniontown Library's Role – The Minerd.com website has more than 1,100 biographies of descendants who were born before 1900. Much of the research to identify and track their lives was done in the Uniontown Public Library. Without the library's excellent collections, this effort would have been impossible. In a full-page feature in July 2001, the Herald-Standard called the site "unique" because of its extensive biographies and thousands of photographs. In July 2002, Minerd.com received the "Best Site Pick" Award by the Golden Gate Genealogy Forum. Golden Gate said our site "is one of the best we have seen for family content, organization and serving the family historical aims and mission. The depth of information provided is awesome."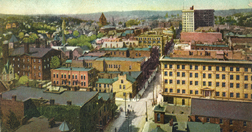 Bird's-eye view of Uniontown

Impact on Uniontown -
Government officials, including County Treasurer and Assistant Treasurer; County Poor Director; Chief County Detective; City Controller; Uniontown Zoning Hearing Board member; as well as a Connellsville Mayor who helped greet Army Chief of Staff George C. Marshall on a visit to Uniontown.

Founder of the old Minerd Funeral Home (now Barnett Funeral Home on West Main Street);

Founding pastor of the Calvary United Methodist Church and trustees/stewards of many Uniontown churches;

Physician and nursing staff at Uniontown Hospital;

Employees of the Uniontown Genius of Liberty and News-Standard newspapers;

Charity volunteers, including the President of the Fayette County Chapter, American Red Cross during World War I;

Vice president of the Braddock Memorial Park Association that erected the Braddock grave monument; and a caretaker of the gravesite in the 1870s;

Business entrepreneurs involving lumber, real estate, banking, coal and coke, insurance as well as inventors of patented railroad technology and hunting devices;

Tollgate keeper and construction contractors on the National Road at Hopwood;

Proprietor of the old Fayette Springs resort in Chalk Hill;

Township officials, judges of elections, justices of the peace and constables in nearby North Union, South Union, Little Brownfield, Redstone and Wharton townships.

The first rescuers on the scene to help victims of the Sunracer airplane crash in 1936;

2 of Uniontown's high schools

Scores of educators, including Assistant Superintendent of Fayette County Schools and the Principal of Benjamin Franklin Elementary School;

Leaders in the coal and coke industry, including plant owners as well as a Superintendent of the Filbert Mine of Frick Coke Co. and Chief Mine Inspector for the Frick company; and

Officers of the Annual Minerd Reunions from 1913 to the early 1930s.
Members of the family are mentioned in these standard historical reference books about Fayette County:
Ellis' 1882 History of Fayette County;

Wiley's 1889 Biographical and Portrait Cyclopedia of Fayette County;

Jordan's Genealogical and Personal History of Fayette County, Pa;

Haddon's 1913 A History of Uniontown;

The 1932 Fort Necessity and Historic Shrines of the Redstone Country; and

Buzz Storey's 1993 Stories of Uniontown and Fayette County.
Copyright © 2003, 2006, 2007-2008, 2022 Mark A. Miner