Edwin Stanton Gaither Sr.
(1889-1924)

Edwin S. Gaither Sr.
Edwin Stanton Gaither Sr. was born on March 21, 1889 near Chalk Hill, Fayette County, PA, the son of William Alexander and Hannah M. (Minerd) Gaither. A World War I veteran, he met a horrible death in a construction accident in West Virginia.
Edwin married Ethel Gay Smith (1893-1976).
They had two sons -- Dr. Edwin S. Gaither Jr. and Robert Alexander Gaither.
During World War I, Edwin served overseas with Company A of the 63rd Engineers, a railroad unit. He rose in rank to corporal. After the war, in the early 1920s, when he got a job building a dam in West Virginia, he and Ethel moved to Evansdale, near Morgantown, Monongalia County, WV.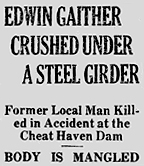 Uniontown Morning Herald
Tragedy struck on July 19, 1924 when Edwin was killed at the Cheat Haven power dam after being crushed under a steel girder. The Uniontown Morning Herald reported that:
Caught beneath a steel beam when it tipped over and fell … as he was attempting to life himself upon it, [he] was instantly killed … Gaither was employed by the Sanderson and Porter company on the concrete gang at the site of the new Cheat Haven power dam. Employes had been using the beam for some time past as a foot bridge over which they walked to their work at the scene of the concrete work … [Gaither] is said to have taken hold of the loose end of the beam and started pulling himself up. When he put his weight ton the beam, it slipped and crashed to the ground carrying its victim under it … In order to release the trapped man, acetyline torches had to be used to cut the girder several times before the badly crushed remains were rescued.
An over-eager headline writer reported the "Body Is Mangled," but another newspaper reported that the beam "had fallen directly across [his] chest and crushed his heart, causing instant death. His body was not crushed as reported and he had only a slight bruise over his heart, not even breaking the flesh. He also bore a slight cut on the finger."
Edwin's funeral was held in their Evansdale home, attended by some 1,000 members of the Ku Klux Klan, motoring to the event in some 300 vehicles. Reported the Morning Herald, "Several officials of the Klan entered the residence and placed a fiery cross of flowers at the head of the casket and after reading the Klan ritual, silently left. A small cross was later burned in a vacant field near the residence." His remains were buried at Oak Grove Cemetery in Uniontown.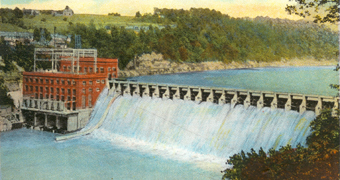 The completed Cheat Haven power plant and spillway, operated by the West Penn Railway and Power Co., near Morgantown.
Ethel supported herself after Edwin's death as a teacher in the Uniontown and South Union Township School Districts, including at the Craig School. She also was a member of the Fayette County Medical Society Auxiliary and the Asbury United Methodist Church.
Ethel passed away in 1976.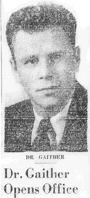 Dr. Edwin S. Gaither Jr.
~ Son Edwin Stanton Gaither Jr., M.D. ~
Son Edwin Stanton Gaither Jr. (1920- ? ) was born on Oct. 27, 1920. He was only four years old when his father was killed.
He was united in matrimony with Lucia Kirsch (Jan. 11, 1925-1994) the daughter of Leo and Lucia (Georgeson) Kirsch and a native of Woodstock, MN.
The couple bore these seven children -- Diane Gaither, Linda Beerbower, Elizabeth Gismondi, Pamela Balas, Edwin Gaither III, Timothy Gaither and Amy Gaither. Sadly, daughter Diane died in infancy.
Edwin served with the U.S. Air Force in World War II, receiving five Air Medals and two Flying Crosses. He obtained a bachelor's degree at Marietta College and taught biochemistry at Brown University in Rhode Island. Later, he obtained a medical degree at Jefferson Medical College in Philadelphia.
He specialized in radiology and opened a medical office in Uniontown. Later, he served at the Uniontown Hospital, Childrens Hospital of Pittsburgh and Aliquippa Hospital. He also worked briefly for the government, treating Indians on reservations in New Mexico. He was a member of the Fayette Lodge of the Shrine, Elks Club and Society for Pediatric Radiology. He is profiled in the 1968 book Physicians in the Transition, authored by Ralph P. Beatty, MD.
Lucia was a member of St. Mark's Episcopal Church and the Episcopal Church Women, and was active with the Bishop's Committee of the Diocese of Western Kansas.
Later in life, the Gaithers relocated to Marion, IL, where he worked at the Veterans Administration Hospital.
Edwin passed away on Aug. 28, 1985.
Lucia survived her husband by nine years and went to live in Lyons, KS. She succumbed at home on Feb. 16, 1994. Funeral services were held in Grace Episcopal Church in Hutchinson, KS, with burial beside her husband in Oak Grove Cemetery in Uniontown.
Daughter Linda Gaither ( ? - ? ) married (?) Beerbower and lived in Lancaster, PA in 1985 and Charlotte, NC in 1994.
Daughter Elizabeth Gaither ( ? - ? ) wedded (?) Gismondi and resided in Farmington Hill, MI.
Daughter Pamela Gaither ( ? - ? ) - in 1978, she was joined in wedlock with John Daniel Balas. News of the marriage was published in the local newspaper. She hosted a visit with the founder of this website circa 1999.
Son Edwin S. Gaither III ( ? - ? ) dwelled in Uniontown. In March 1999, he was wedded to Wendy E. Frank, daughter of Morley and Gay Frank and stepdaughter of Sis Frank. At the time of their nuptials, he was employed at McMonagle, Murello P.C. in Uniontown, and she with Frank's Auto Supply Inc. in Uniontown.
Son Timothy Gaither ( ? - ? ) made a home in Inman, KS.
Daughter Amy Gaither ( ? - ? ) lived in Farmington Hills, MI in 1985 and in Denver in 1994.
~ Son Robert Alexander Gaither ~
Son Robert Alexander Gaither (1923-2018) was born on March 4, 1923 in Uniontown, and was only 16 months old when his father was killed.
Robert served as a tank gunner with the U.S. Army during World War II as a member of the 3rd Armored Division. He was wounded "en route to the Battle of the Bulge," said the Greensburg Tribune Review.
After the war, became employed in sales with the American Oil Company (Amoco) in Pittsburgh.
On St. Patrick's Day 1949, in a ceremony held in the Asbury Methodist Church of Uniontown, he was joined in matrimomy with Lois Ruth Vance ( ? - ? ), daughter of George Vance of Vernon Street. At the time of marriage, she worked for Frazee Lumber Company. Their marriage endured for a remarkable 69 years.
They were the parents of Susan Gaither, Robert Stanton "Bob" Gaither and Laura Lowe.
The Gaithers belonged to the First United Methodist of Greensburg. He enjoyed grouse hunting, golf and reading.
In his final years, Robert was admitted to the Rehab and Nursing Center in Greensburg. He died there at the age of 95 on Aug. 23, 2018. Following funeral services in the family church, burial was in St. Clair Cemetery, with the American Legion Post 981 providing additional military rites. An obituary was published in the Tribune-Review.
Daughter Susan Gaither married Martin Grbach and resides in Greensburg.
Son Robert Stanton "Bob" Gaither married Katherine and lives in Sumerduck, VA.
Daughter Laura Gaither was wedded to Steven Lowe and dwells in Oakmont, nea Pittsburgh.
Copyright © 2001, 2011, 2018 Mark A. Miner