Her husband overcame serious physical and educational obstacles to become a leading entrepreneur, banker, and coal and coke industrialist of Uniontown, Fayette County. He also was active in community service and helped raise funds to erect the well-known "Braddock's Grave" national monument along the National Road (U.S. Route 40), among many other worthy initiatives.
On Aug. 17, 1893, when she was age 17, Bertha eloped to Buffalo, NY to marry 23-year-old William Arthur Stone (1870-1936), the son of Sylvian (or "Solon") and June M. "Zana" (Dean) Stone. They were six years apart in age. William was born July 17, 1870 in Carroll County, MO, and as a boy moved to West Virginia and thence to Westmoreland County, PA.
Bertha's marriage initially caused problems with her father. He later commented that she "married Mr. Stone against my wishes and protests." The newlyweds moved to Kansas City, where they were joined by her mother, Charlotte, who was estranged from her husband.
The couple returned from Kansas City in February 1895, and resided in Hopwood. Bertha's parents never reconciled, and the mother moved into the Stones' home.
The Stones had five children -- Wendell Allen Stone, Bertha "Yolande" Barton, Nina Ethelyn Whyel, Arthur "Elwood" Stone and Albert Thomas Stone.
William's "rags to riches" story is especially fascinating. At age 10, he moved with his family to Fayette County, and began working in the coal fields of McClure's Station at Leith. (Leith is seen here in a rare old postcard. Note how close the worker houses at left are to the railroad tracks at center and coke ovens to the right.) He labored as a coke burner and coal miner until age 17, and then went to work at a saw mill.
William suffered a serious accident at the mill when his left leg was severely cut, and had to be amputated. Said the Uniontown Morning Herald, "This was a most serious handicap for the young man, as his education at that time was exceedingly limited. But the loss of the leg, or the lack of education did not mean that there was no future for one so ambitious and stout-hearted."
In his rehabilitation, William began intensive study at a school in Hopwood, and then began selling books as a source of income. One book in particular -- The Golden Censor -- had a profound influence, and "was most beneficial and strengthened his mental equipment as nothing else within his means could."
William sold books for a Chicago company, and used his earnings to buy a grocery, but the venture failed. He then became a door to door salesman "spending five years in street selling in the different cities of the United States." For a second time, he invested his earnings in a store at Hopwood.
In about 1898, William was named treasurer of the building committee for the new Hopwood United Methodist Church. He found an available town lot on which to erect the structure, and he also helped raise funds. On June 9, 1901, the church was dedicated with morning and evening services -- the morning's sermon was based on John 12:32, and the evening sermon drawn from Gal. 6:4. He and Bertha and other members of the White family are mentioned in an online history of the congregation.
William and Bertha both were assistant editors and managers of a small monthly newspaper, The Hopwood Chronicle, in circulation between 1907 and 1909, published by W.A. Curfman. Also joining in this effort was her uncle, Simeon T. Goff. In 1913, he launched another newspaper, The Daily Record, to support the Progressive Independent political party. It's not known how long the Daily Record remained in print.
The Stones' marriage deteriorated in 1908, and on Dec. 2 of that year, with William away at a convention in Pittsburgh, Bertha left their home. She was said to be in company with another gentleman from Uniontown, who had worked with William as an editor/manager of the Hopwood Chronicle. Her whereabouts were unknown, and the town buzzed with talk of the scandal. Adding tragedy to the already difficult situation, a week after the disappearance, Bertha's mother took her own life in the basement of the Stones' home, using a razor.
Distraught, William waited until after his mother-in-law's funeral to begin a search. He offered a sizeable $2,500 reward and hired Pittsburgh's Perkins Union Detective Agency to distribute notices nationwide and in Europe, seeking her return. Often he received a tip that she had been found, and drove to that place, only to find it a dead end.
The notice provided a detailed description of tiny Bertha. At age 32, she stood 5 feet, 5½ inches tall, weighed 126 lbs., and wore a size 3½ shoe. Her eyes were clear blue, and her hair chestnut brown. She had a small mole on her left cheek bone and two other small moles on her left cheek. She had "good even teeth" with the lower teeth "set sideways on account of crowding." The notice said she was "very fond of amusements and likes to attend theatres; reads the bible and is religiously inclined." Among her "considerable jewelry" were a star shaped diamond brooch, a watch set with diamonds, two bracelets, one plain gold and the other opal links, a diamond and ruby ring, a large turquoise ring and a small amethyst ring on the little finger of her right hand.
Martin, on the other hand, was a veteran of the Spanish American War, having served in the Philippine Islands with the 41st Regiment. Two years younger than Bertha, he stood 5 feet, 7½ inches tall, weighed 145 lbs., and had a slender build and "large hands." His eyes were brown and his hair "very black" and parted on the right hand side.
Nine months after her sudden departure, Bertha just as suddenly contacted her husband and asked him to meet in Columbus, Ohio. He made the round trip in his automobile and they returned home to Hopwood on Sept. 1, 1909. In a statement issued to the press, William asked that the entire incident be forgotten even as the Connellsville Daily Courier said her return was "the biggest sensation in Uniontown in more than a decade."
They remained married for the rest of their lives.
Obsessed with expanding his business, using his sawmill experience, William formed the W.A. Stone Lumber and Cross Tie Company. In 1899, the Uniontown Daily News Standard called him "the Hopwood hustler" and reported that he was "shipping a large amount of lumber and other material from his mountain farm. He has 50 or 60 hands in his employ, also two portable saw mills running full time."
With capital accumulated from the store and lumber ventures, William then made investments in the banking, coal and coke industries. One such transaction took place in 1906, when he acquired 111 acres of coal land in Fayette County from the Pittsburgh Coal Company, as noted in the company's Annual Report to the Stockholders for that year. He was a member of the American Mining Congress and his name appears in the organization's published reports of its annual meeting circa 1908.
William purchased shares in the Peoples Bank of Fayette County, located in a new "fine three-story brick and stone building," said James Hadden's 1913 book, History of Uniontown, Pennsylvania. When in 1911 Peoples Bank merged into the Citizens Title & Trust Company, he became a large stockholder, board member and first vice president. He remained active with the bank until 1916, when he resigned. He also helped establish the Union Trust Company of Uniontown, serving as president and director. The Citizens Title and Trust Company building in Uniontown is seen here in a rare old photographic postcard of the era.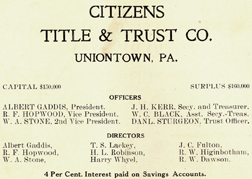 William's name on a Citizens Title & Trust advertisement in the Big Redstone Home Mutual Telephone Co. Directory, ca. 1910
William used his coalfield experience to form the Prospect Coal and Coke Company in 1902. When this enterprise exhausted its mines, he formed other coal and coke companies, serving as president and director -- the W.A. Stone Company (1904), Waltersburg Coke Company (1906 to 1921), Hiorra Coke Company (1909), Laurel Coal Company, W.A. Stone Fuel Company, the W.A. Stone Coal Company, and the Bertha Coal and Coke Company, named after his wife. He not only owned mines but also was a coal and coke broker.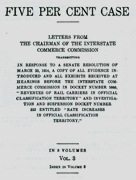 Landmark legal case
in which William testified
In March 1914, William and his longtime friend George Whyel traveled to Washington, D.C. to give testimony in hearings held before the Interstate Commerce Commission (ICC). At question was the government's continuing fear of large railroad monopolies, its reluctance to allow rail companies to raise their rates, and the negative impact that was having on the coal and coke economy. At the Willard Hotel in Washington, they underwent direction questioning about loading cars on spur tracks leading to coal mines and coke ovens. William spoke in front of a group including James S. Harlan, commissioner of the ICC, as well as future United States Supreme Court Justice Louis D. Brandeis, then functioning as an ICC official. That matter today is well known as "The Five Per Cent Case."
In his "Five Per Cent" testimony, William disclosed that he had 100 ovens at the Prospect Coal facility and 140 ovens at the Waltersburg Coal plant, both of which were served by Monongahela Railroad crews coming from Brownsville, Fayette County. These crews filled from 53 to 58 railcars each day, and hauled the loads some 10 to 12 miles to Brownsville for unloading. George Whyel revealed that his company, Consolidated Connellsville Coke Co., had 870 ovens producing 62,000 tons of coke per month.
Perhaps due to overwork and/or stress, William's health suffered as he aged. In the spring of 1922, he is known to have traveled to Mt. Clemens, MI for rest and relaxation. In the first week of 1923, William's 81-year-old father Solon Stone, who was residing with the Stones in Hopwood, passed away.
Also in 1923, William's photo portrait and standard biography were published in Western Pennsylvanians: A Work for Newspaper and Library Reference, produced by the Western Pennsylvania Biographical Association. The profile said that son Wendell was associated with William in the family firm. William was one of 109 prominent Fayette Countians to be included in this book.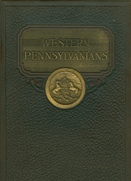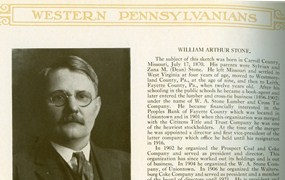 William's profile in the 1923 book Western Pennsylvanians
Further tragedy struck in March 1930 when son Albert was living in El Paso, TX. Albert and his uncle James Francis Stone were killed in an auto accident in New Mexico, while on a business trip visiting a family-owned mine in Silver City, NM. One of William's mines was located near Silver City, NM, where James had been overseeing plant operations in the late 1920s. In March 1930, Albert was dispatched to the plant "with some instructions." While driving together on location, said the Daily News Standard, "both [James and Albert] were instantly killed when the car in which they were driving ... was wrecked over an arroyo [dry gully]."
~ Braddock's Grave Project ~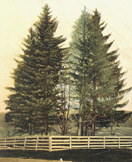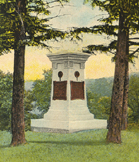 Braddock's Grave -- before and after installation
William understood the importance of history and tourism to the economic well-being of the Uniontown and greater Fayette County region. In 1913, he served as Vice President of the Braddock Memorial Park Association to erect a large, prominent memorial along Route 40 at Chalk Hill, PA. The site is seen here before and after installation of the monument. (Click for more Minerd.com images of the site.)
The monument honors the memory of British General Edward Braddock, who was mortally wounded in battle during the French and Indian War, near present-day Pittsburgh. Braddock was brought back to Chalk Hill, where he died. His aide-de-camp, George Washington, presided over the burial, and ordered the grave dug in the middle of the road to keep Indians from exhuming and scalping the corpse. Years later, when Braddock's bones were found during road repair, they were reburied among a stand of nearby pine trees, surrounded by a fence. (Bertha Ingles' step-cousin, William "Alexander" Gaither, was caretaker of the site for many years.)
In 1913, a 25-ton granite monument installed on the site, purchased by the Braddock Memorial Association. The landmark is a popular tourist stop today, and is administered by the National Park Service as part of the Fort Necessity National Battlefield. William's name is on a plaque on the monument.
Yellow arrow marks William's name on the Braddock grave monument
Active in the community, William served as president of the Fayette County Chapter of the American Red Cross during World War I and helped raise badly needed funds. He also was a member of the Uniontown Country Club and the Uniontown lodge of the Elks. Circa 1915, he served on the board of trustees of Adrian College in Michigan as elected by the General Conference of the Methodist Protestant Church.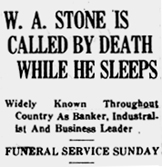 Uniontown obituary, 1936
~ Final Years ~
The Stones resided in what a local newspaper once called "the palatial homestead at Hopwood, called 'Wilastone Place'."
William died in his sleep, on March 19, 1936, at the age of 66. He had taken a nap before lunchtime, with instructions that he not be disturbed. When their married daughter Yolande arrived to join them for lunch, but he did not respond to the lunch call, she went to his bedroom and found him gone. The cause was a heart attack or stroke, newspapers said.
The news generated large headlines in the local Uniontown newspapers. The funeral was held at the home of their son Wendell in Uniontown, presided over by Rev. Dr. William Blake Hindman of the First Presbyterian Church.
Bertha outlived her husband by almost a decade. She moved into Uniontown to spend her final years. When her son Wendell and daughter in law Virginia returned from a vacation to Mexico in April 1940, they brought her a gift of a brooch, which she wore with her "Chic Spring" outfit, said the Uniontown Morning Herald.
She died on July 3, 1945, at the age of 69. The Uniontown newspaper reported that she "passed away quietly while visiting at the home of Mrs. Theodore Pearsall of Farmington. A member of a prominent local family, Mrs. Stone was beloved by a wide circle of friends. Her death provided a distinct shock to the entire family."
They're buried side by side at Hopwood Cemetery, but under separate stones.

The Stones' graves at Hopwood
~ Son Wendell Alden Stone ~

Wendell A. Stone
Son Wendell Alden Stone (1896-1981?) was born on April 22, 1894 in Hopwood. He attended Adrian College.
During World War I, Wendell served in the US Army. He enlisted May 12, 1917 and trained at Fort Niagara and Camp Meade. He was commissioned a first lieutenant and shipped overseas on July 1, 1918 as a member of Battery F, 312th Field Artillery, of the 79th Division. A photograph of Wendell later was published in the book, Uniontown's Part in the World War.
Wendell settled in Uniontown, and made his residence at South Beeson Avenue and Berkeley Street in Uniontown. When his brother Arthur attended the University of Michigan, Wendell traveled to Columbus, Ohio in October 1922 to join his brother among 72,000 fans who watched the Michigan-Ohio State game, marking the opening of Ohio State's new stadium.
In 1923, Wendell was mentioned in a profile of his father in Western Pennsylvanians: A Work for Newspaper and Library Reference, produced by the Western Pennsylvania Biographical Association. The profile said that Wendell was associated with his father in the family firm.
On Nov. 21, 1925, at the age of 31, Wendell wed Virginia Smith Semans ( ? -1973), daughter of Thomas Breckenridge and Virginia (Smith) Semans of West Berkeley Street in Uniontown. Rev. William Hamilton Spence performed the nuptials in the First Presbyterian Church. Reported the Uniontown Morning Herald, "Only the members of the two immediate families and close friends were in attendance. Mr. and Mrs. Stone left by automobile immediately following the ceremony for a honeymoon tour through the west."
Wendell and Virginia were very active in the Uniontown business and charitable community. In fact they were mentioned in several thousand news stories over the decades of their life together. He is not to be confused with "Wendell H. Stone" who operated a gasoline station in Uniontown.
The Stones had at least three children, Virginia Bell Wickerham, Thomas W. "Timmy" Stone and William Allen Stone.
Circa 1925, he joined the American Oil Company (Amoco) in Pittsburgh, with the company purchasing full-page advertisements in Uniontown newspapers to announce their expansion. The business was affiliated with the Pan American Petroleum and Transport Company, which "places at our command unlimited quantities of the highest grade crude oils with necessary pipe lines, refineries, tankers and other facilities," the ad read. "It make it possible for us to produce petroleum products in very large quantities and in fine quality."
Virginia was an active in sports, culture and politics in the region, and was considered "one of the most favorably known women of the city," in the words of the Uniontown Morning Herald. In the summer of 1926, she won a tournament sponsored by the Women's Golf Association of Western Pennsylvania, held at the Bedford Springs Resort. She maintained her connections to the golf association and in September 1955 was elected president, Virginia was president of a women's auxiliary of the First Presbyterian Church. Active politically, she chaired the Fayette County Young Republicans fundraising drive in October 1948 in support of presidential candidate Thomas Dewey. In November 1948, she was appointed the Uniontown Recreation Committee, and in April 1951 was tapped to co-chair Uniontown's annual fundraising crusade to benefit the American Cancer Society. As well, she was active with the Great Meadows Chapter of the Daughters of the American Revolution (DAR).
Wendell and his brother in law Thomas Whyel were members of the board of directors of the Uniontown Izaak Walton League, and in May 1944 Wendell was named president. In October of that year, he was elected first vice president of the state association in Harrisburg. He also served as District 11 Chairman of the Westmoreland-Fayette Boy Scout Council circa 1946. In January 1952, he was named to the Uniontown Municipal Authority for a five-year term.
In the late summer of 1929, they took a two-week driving trip into Canada, with Nova Scotia as their destination. Loving to watch athletics and musical performances, they are known to have attended Pitt-Notre Dame football games in Pittsburgh, watched the Preakness horse races in Baltimore and to have heard George Gershwin in concert in Pittsburgh. Wendell enjoyed taking his sons to Canada to fish.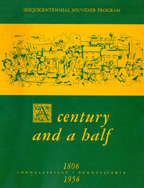 Book naming Wendell
In 1956, when Connellsville celebrated its sesquicentennial (150th) anniversary, Wendell served on the Industrial Exposition Committee and was named in the official program booklet, today preserved in the Minerd-Minard-Miner-Minor Archives. He was elected first vice president of the Pennsylvania Game Commission in 1946, was a member of the Pittsburgh Rotary Club, and served as chairman of the City of Uniontown Parking Authority circa 1959.
Virginia passed away on Aug. 2, 1973, in the Mount St. Macrina Nursing Home.
Wendell is believed to have moved late in life to Stevensville, Queen Annes County, MD, and to have died there in July 1981, at the age of 86.
Daughter Virginia Belle "V.B." Stone (1926-2008) attended Ogontz Junior College in Philadelphia. She then enrolled at the Ohio Institute for Medical Assistants in Cleveland. She wed Lt. William Wycoff Wickerham (1924-2006) in July 1952. They lived in the Pleasant Hills section of Pittsburgh and had at least two children, Wendell Earl Wickerham and Jenny Wickerham. William died at age 82 on April 27, 2006. Virginia passed away at the age of 81 on Jan. 30, 2008, in Pleasant Hills. They are believed to rest in Jefferson Memorial Park.
Son Thomas W. "Timmy" Stone ( ? - ? ) attended prep school at the Gow School in South Wales, NY, circa 1949. By 1951, he was a student at Nicholas Junior College, and in 1954 was enrolled at Lehigh University. He married Lois Marlene (Bowden) deForest, daughter of Harold Lambert Bowden in September 1958. At the time, Tim was associated with Amoco's Philadelphia division, and the newlyweds made their home in Berlin, NJ. Circa 1973, he lived in Baltimore.
Son William A. Stone ( ? - ? ) was a student at Lawrenceville Preparatory School in Lawrenceville, NJ. He began his undergraduate studies at Yale University in September 1948. In 1955, he was a lieutenant in the U.S. Air Force, stationed at Wright Air Force Base on Dayton, Ohio. He and his wife made their home in New York in November 1961. In 1973, he resided in San Francisco.
~ Daughter Bertha "Yolande" (Stone) Barton ~
Daughter Bertha "Yolande" Stone (1897-1993) was born on Jan. 31, 1897. She married Richard Roberts Barton (1897-1967).
They had two children -- Jean S. Hunt and Nina S. Mario. When the federal census was taken in 1930, the Bartons lived near Uniontown, with Richard's occupation listed as "proprietor - florist shop." That year, Yolande's widowed mother made her home in their residence.
Richard owned several businesses over the years -- Barton's Flower Shop in Uniontown, a greenhouse at the coal patch town of Leith, Fayette County, and the Hygiene Ice Plant in the Uniontown area. In late 1931, during the grip of the Great Depression, he accepted employment with the American Oil Company (Amoco) in Roanoke, VA. The following spring, he was assigned to Amoco's territory in Bluefield, WV, and his wife and daughters eventually joined him there. He received a promotion and transfer to Richmond, VA in August 1934.
Later, they moved to Mt. Lebanon (1943) and McKeesport (about 1947), both suburbs of Pittsburgh. Their home in McKeesport was at 620 Versailles Avenue.
Richard died on Oct. 15, 1967, in McKeesport Hospital, at the age of 70. His passing was front page news in the Uniontown Morning Herald. Funeral services were held in the H. Melvin Jaycox Funeral Home in McKeesport. At the time, daughter Jean Hunt resided in the White Oak section of Pittsburgh, and daughter Nina Mario in Westport, CT.
Yolande was "proprietor of Barton's Distributing Company," said the Uniontown Herald-Standard. She outlived her husband by more than a quarter of a century. She passed away on Dec. 19, 1993, at the age of 96.
Daughter Jean Stone married Charles W. Hunt.
Daughter Nina Stone wed Anthony Mario and lived in Westport, CT.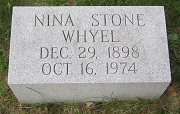 Oak Grove Cemetery, Uniontown
~ Daughter Nina Ethelyn (Stone) Whyel ~
Daughter Nina Ethelyn Stone (1898-1974) was born on Dec. 29, 1898.
On Jan. 6, 1920, when she was age 21, Nina married 23-year-old Thomas M. Whyel (1896-1969), the son of Fayette County coke pioneer Harry and Elizabeth Ellis (Prentice) Whyel, and stepson of Florence (Williams) Whyel (1875-1924).

Thomas M. Whyel
Nina and Thomas lived on Hillcrest Lane in Uniontown, and later on Derrick Avenue. Their three known sons were Harry Warren Whyel , William S. Whyel and Robert M. Whyel.
Thomas was a veteran of World War I, serving with the Naval Aviation Service, attached to Company 21, U.S. Aviation Corps. During the war, he was assigned to Boston, Key West and Miami. He was an advanced training school instructor in Pensacola, FL and was discharged honorably in February 1919.
He worked for his father's many business interests in Uniontown. The father, said the 1923 book Western Pennsylvanians, "has been active and successful in the coal and coke industry, having interests in numerous companies which have done a large and splendid business." Among the companies in the family's ownership or control were the Whyel Coke Company, Fayette Fire Brick Company, Monroe Coal Company of Ohio, Citizens Title & Trust Company and Meadow Brook Fuel Company. Of the father, the Western Pennsylvanians book said that:
He started out in his business career about 1884 by opening the Smock Mine owned by a brother and J.D. Boyd and Presley Moore. Later he became identified with Colonel J.M. Schoonmaker's plants at Brownfield, Pa. After four years of service with Colonel Schoonmaker he was appointed assistant superintendent to his brother, Adolph, who then had charge of the Leith Coke Works, at that time belonging to Mr. H.C. Frick individually, and was appointed by Mr. Frick to this position. A few months later it was merged into the H.C. Frick Coke Company. He was then appointed as superintendent of the plant, his brother having met with a fatal accident. He had complete charge of this plant for fourteen years. He then entered the coal business with his brother, George, in 1902, under the name of the Whyel Coke Company.
Thomas enjoyed hunting in Canada, and in the fall of 1921 traveled for four weeks with Donald Stone to Maine and New Brunswick. "Most of the traveling was accomplished by boat, sled and by foot," said the Uniontown Morning Herald. "While enjoying the numerous adventures in the Canadian Wilds, they shot some good game and had some especially fine duck hunting."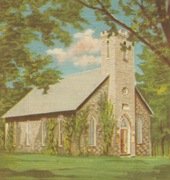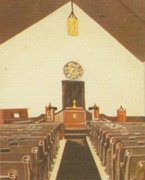 Mountaintop Whyel Chapel at Jumonville Methodist Training Center near Uniontown, a "quiet place of worship" given to the community by the Whyels in 1941
Nina enjoyed raising turkeys as a hobby. The Morning Herald once said that "Every morning to the day, you'll find her at the Whyel Farm, just a'doting over the fancy birds ... and seeing to it personally they're getting the best of everything ... What a festive thought for the next holiday!" The Whyels were "ardent horsemen" and enjoyed taking holidays involving horseback riding. In August 1934, they spent a month at the Jumonville Hotel, "taking their horses with them to spend the autumn days riding over the mountain bridle paths," said the Uniontown Morning Herald.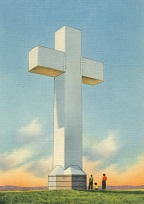 60-ft. tall Cross of Christ
at Jumonville, a place of
contemplation and prayer
Thomas, Nina and their sons are enumerated together in the federal census of 1930. Anna Kurchins and Helen Stefancin were servants in the household. That year, Thomas' occupation was listed as "operator - coal and coke."
At some point Thomas founded his own firm, Bridgeview Coal Company while remaining president of Whyel Coke after his father's passing. He served in leadership roles with the Uniontown Hospital Association and Gallatin National Bank. He also was active with the local chapter of the Izaak Walton League and Rotary Club.
After the death of Thomas' step-mother, the father donated the real estate underlying the Jumonville Methodist Training Center to the Pittsburgh Conference of the United Methodist Church. This generous bequest included the renovation of a beautiful old stone chapel, which was re-dedicated on Aug. 2, 1941. The plaque reads: "This quiet place of worship is given in loving memory of Florence Williams Whyel, wife of Harry Whyel. Where her footsteps fell there bloomed the flowers of devotion, happiness and love."
In an interesting commitment to community service, Thomas and his father and son were active in the Rotary Club of Uniontown and were pictured together -- as "three generations" -- in The Rotarian magazine in January 1943. The caption noted that Thomas' father was a past district governor. He was mentioned in the October 1959 edition of Soaring, the newsletter of the Soaring Society of America, in an article about the flight of the glider Condor many years before, in September 1929, in which he served as the deputy timer of the National Glider Association. They were members of the Trinity United Presbyterian Church of Uniontown.
The Whyel coal and coke businesses employed 600 people during World War II, and the coke they produced went directly for production of steel used for military equipment and weaponry.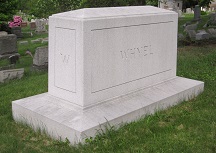 Prominent marker for the Whyels
at Oak Grove Cemetery, Uniontown
Unfortunately, the Whyels separated in the 1940s. Nina filed for divorce in Volusia County, FL, to escape the notoriety and publicity that such an action in Uniontown would have brought. The divorce decree was finalized in April 1949, when Nina was living in Daytona Beach. Thomas married again to Frances Van Voorhis, and they resided on Brownfield Lane.
As a divorcee, Nina made her home on Hillcrest Lane, while spending her winters in Daytona Beach. She was an active organizer of reunions of her high school class, Uniontown 1917, and enjoyed traveling to Virginia to visit her son. On one such driving trip, in October 1963, her vehicle skidded off the road in Keyser, WV, but she escaped with minor bumps and bruises.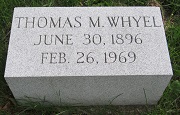 Oak Grove Cemetery, Uniontown
Thomas died on Feb. 26, 1969. He was laid to rest in Oak Grove Cemetery in Uniontown.
Nina outlived him by five-and-a-half years. She died in her home at the age of 75 on Oct. 16, 1974, with burial at Oak Grove Cemetery in Uniontown. At the time of her death, she was survived by five grandchildren.
Son William Stone Whyel (1922-1997) was born in 1922. He attended Penn State University circa 1941, where he met his first wife. At the age of 20, on Aug. 15, 1942, William married Gloria Gladys Greene, daughter of Raymond Lent and Hazel (Austin) Greene of Richmond Hill, Long Island, NY. Their nuptials were held in St. Stephen's Cathedral in Harrisburg, the Pennsylvania state capitol city, with Rev. Clifford W. French officiating. On their marriage license, William gave his occupation as "farmer" and she gave hers' as a student in Cleveland, OH. Afterward, they honeymooned in Florida. Upon returning William joined the Rotary Club of Uniontown and prepared for a career in business. William then served with the Army Air Force as a pilot during World War II. He had a close call with death in July 1944 while in training at bomber flying school in Fort Worth, TX, when the airplane "cracked up," said the Uniontown Morning Herald, and he "suffered a broken collar-bone." On June 30, 1947, he wed his second wife, Elaine White (1923-1978), daughter of J.W. White of Clarksburg, WV, formerly of Uniontown. The ceremony was held at Jumonville Chapel, also known as Whyel Chapel, which William's grandfather had donated several years earlier to the United Methodist Church. One of the ushers at their wedding was a distant cousin, Robert A. Gaither, son of Edwin Stanton Gaither Sr. At the time of marriage, Elaine was employed by Turner Automobile Company. They had at least three children, Thomas White Whyel, Robert McCullough Whyel and Patricia Elaine Whyel. They resided on Brownfield Road near Uniontown. Tragedy rocked the family on June 28, 1952 when three-year-old son Thomas drowned when he "slipped and fell in the children's swimming pool at Uniontown Country club," reported the Uniontown Morning Herald. Later in the 1950s, the family moved to Locust Hill Farm in White Post, VA. William enjoyed visiting his mother in Uniontown and attending the annual state farm show in Harrisburg, PA. He died on Dec. 11, 1997 and was interred in the family plot at Oak Grove Cemetery in Uniontown. Elaine survived him by less than six months. She passed on May 2, 1978.
Son Harry Warren Whyel (1925-2017) was born on Sept. 10, 1925. As a high school student, Harry played saxophone and clarinet with local bands and in nightclubs and bars. At the age of 16, he attended the Culver Academy preparatory boarding school for the summer, playing in the academy's band. He might have pursued a musical education at Julliard Music School, but World War II intervened. Harry served as a private first class in the U.S. Marine Corps, became an expert rifleman and was assigned to the 3rd Amphibious Corps, B Company of the 9th Amphibious unit in the South Pacific. He was sent to Okinawa and where he witnessed a number of kamikaze and banzai attacks. He also saw some of the final action during the Battle of Guadalcanal. For its extraordinary heroism in action against the enemy, Harry's 9th Amphibious Tractor Battalion received a Presidential Unit Citation. In July 1945, he made headlines when meeting an old friend, Guy Wolcott, who also was stationed in the South Pacific. Said the Morning Herald, "The boys had such a wonderful reunion and incidentally it was the first time either one had met anyone from home." He married Mary Long ( ? - ? ), daughter of Robert Brinker Long of 51 West Main Street, Uniontown. Their nuptials were held on June 20, 1947. They had three children -- Marjorie Whyel, Allen Whyel and Scott Whyel. The family resided on Hillcrest Lane in Uniontown in 1951 and on Belmont Circle in 1956. Circa 1974, they lived in Hopwood. Said the Uniontown Herald Standard, Harry " was generous and kind hearted and liked to help people. His favorite way of helping was to put students in need through college. He has paid to help 63 students complete their college educations. He loved hunting and fishing with his sons and grandsons and took family and many friends on hunting and fishing expeditions. At his ranch in Wyoming, he hosted many well-known people, including President George Bush and several of his sons." Harry died at the age of 92 on Jan. 10, 2017, with an obituary published in the Herald Standard. The family asked that any memorial donations be made to the Uniontown Public Library or the YMCA of Uniontown.
Son Robert M. Whyel made his home in White Post, VA.
~ Son Arthur "Elwood" Stone ~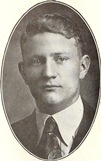 Arthur E. Stone
Son Arthur "Elwood" Stone (1901-1955) was born on April 7, 1901. He went by his middle name. He was a standout football player and business manager of his 1919 senior class yearbook at Uniontown High School, The Maroon and White. (A copy of the yearbook is in the Minerd-Minard-Miner-Minor Archives.)
Following graduation from the University of Michigan, he secured employment in 1923 as a salesman in Uniontown. He loved the outdoors, and in the summer of 1921 traveled with friend Charles Hunt to Port Huron "and places in Michigan and Canada where he has been camping and fishing," reported the Uniontown Morning Herald.
On Sept. 24, 1923, Elwood married Jean F. McMillan in Detroit, MI. Witnesses to the marriage were Dr. J.F. McMillan of Toronto, Ontario, Canada, and Mrs. W.P. Woodside, with B.W. Anthony performing the ceremony.
The Stones had two children -- Dr. William A. Stone and Bertha Yolande Alston.
Circa 1930, he made his home in Decatur, LA; in 1936 he was in Birmingham, AL; and by 1945 was back in Detroit. A news article in March 1937 referred to him as a "traveling representative with headquarters in Frederick, Md...." He then spent many years in Washington, D.C., and returned to Uniontown in mid-1954 to join the American Oil Company, where his brother Wendell also was associated.
Elwood and Jean are believed to have divorced.
Elwood suffered a fatal heart attack died at the age of 53 on Jan. 14, 1955, while attending a show at the State Theatre in Uniontown. His death was front page news in the Uniontown Morning Herald, and a notice of his passing was published in The Michigan Alumnus. Following a funeral in the Stone residence, led by Rev. William Johnston of the First Presbyterian Church, Elwood was laid to rest in the family plot in the Hopwood Cemetery. His pallbearers included Phil E. Connelly Jr., Cecil C. Connelly, William S. Lloyd, A.J. Everhart Jr., William LaClair and Dr. C. Fred Altman.
In her later years, Jean made her home in Palm Beach, FL.
At the time of Elwood's death, his son Dr. William A. Stone resided in Decatur, AL.
Daughter Bertha Yolande Stone ( ? - ? ) made her home circa 1955 in Palm Beach, FL. On June 28, 1958, she married Ronald Alston of Pittsburgh. The ceremony was held in Montreux, Switzerland. They planned to reside in Ankara, Turkey until the spring of 1959.
~ Son Albert Thomas Stone ~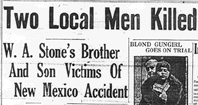 Newspaper coverage, 1930
Son Albert Thomas Stone (1903-1930) was born on May 13, 1903.
He married Mabel Rosalind Connelly (1902- ? ). They had two daughters -- Nina Jean Hugus and Dorothy Ann "Dotty" Stone. The younger daughter was born when the family was in Kansas circa 1904.
In April 1923, employed by his father, Albert and family made their home in El Dorado, Arkansas.
As described above, Albert was killed in an automobile accident in New Mexico in 1930, while riding with his uncle James F. Stone. Their remains were returned to Uniontown, where a funeral was held at the home of Albert's brother Wendell. Albert was laid to rest in Hopwood Cemetery.
Later that year, 28-year-old widow Mabel and their daughters lived in South Union Township, Fayette County.
On Sept. 16, 1939, Mabel married Jasper C. (or "M.") Sickles and resided on West Fayette Street in Uniontown. Circa 1962, she made her home in New York City.
Daughter Dorothy Ann "Dotty" Stone studied at the Marjorie Weaver Secretarial School in Washington, DC circa 1941. By 1944, she was employed as a secretary with Westinghouse Electric Corporation. She married Alvin Bortz, and they resided at 10 Shady Lane in Uniontown. Later, they made their home in the Mt. Lebanon suburb of Pittsburgh. They had at least one son, Albert Maxwell Stone, named in part for Dotty's late father.
Daughter Nina Jean Stone (1922-1979) was born in 1922 and named after her aunt, Nina (Stone) Whyel. She attended Bethany College in West Virginia. Nina married Daniel M. Hugus Sr., son of Charles G. Hugus of 145 South Mt. Vernon Avenue in Uniontown. Their wedding was held on Feb. 16, 1941, in Harrison, NY, and immediately they went to live in West Hempstead, Long Island, NY, where Dan was stationed in the U.S. Air Force. Immediately after the Japan attack on Pearl Harbor, Dan was called into active service. During the Korean War, Dan was stationed at Yokota Air Force Base in Japan. With the rank of staff sergeant, he was an armorer with the 8th Bomber Squadron. The Huguses had eight children -- among them Daniel M. Hugus Jr., John Robert Hugus, Dorothy Ann "Dotty" Bittinger, Charles Albert Hugus and Polly Ann Hugus. Sadly, the couple divorced in 1947, but reunited and remarried. They divorced again in the early 1950s after returning to the U.S. from Japan. Nina was "employed by the Uniontown Public Library for many years," said the Uniontown Morning Herald. Nina passed away in 1979.
Granddaughter Dorothy Ann "Dotty" Hugus wed Edwin M. Bittinger, son of Jacob Roy and Pearl Bittinger of Uniontown, in January 1969. At the time, Edwin was a communications technician and petty officer with the U.S. Navy in Misawa, Japan.
Copyright © 2000-2004, 2006-2007, 2009, 2011, 2013, 2017-2018 Mark A. Miner
Photographs of Bertha Ingles Stone and flyer of the Perkins Detective Agency circular, courtesy of Jonathan Lingel and the Astoria (OR) Public Library.